'Most likely a terror attack'-sez Putin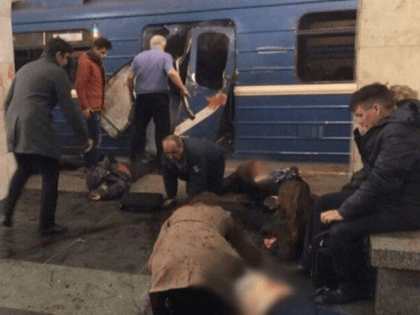 At least ten have been killed and over 30 wounded after two explosions happened on the Saint Petersburg metro on Monday afternoon. Read the original story below. Russia's international news agency RIA Novosti reports the Russian President Vladimir Putin has been alerted
St Petersburg Metro explosion: At least 10 dead after 'shrapnel-filled device' explodes in 'terror attack'
Explosion on Metro network in Russian city of St Petersburg 
At least 10 people killed and 50 reported hurt in 'terror attack'
Pictures show carriage doors blown open by explosion
Blast reported to have been caused by shrapnel-filled device
Claims bomb left in briefcase before owner moved carriages
Another unexploded device 'also found on subway system'
Bomb filled with shrapnel explodes on St. Petersburg subway, Putin says terrorism possible
See what a scoundrel Putin is? He didn't immediately rule out terrorism, the way a good Western leader would. This is a developing story, and it might turn out to something other than jihad attack, but given the propensity of jihadis to set off bombs in crowded public places, jihad cannot at this point be ruled out.
"Russia subway bomb blast: At least 10 reported dead," by Mike Arroyo, Fox News, April 3, 2017:
DEVELOPING – At least one bomb blast on a subway train in St. Petersburg, Russia, Monday killed an estimated 10 people and wounded as many as 50 more, Russian officials said, in what President Vladimir Putin called a possible act of terror.
One of the blasts came from a device that appeared to be filled with shrapnel, Sky News reported. Putin said investigators were looking into all possible causes. Russia's Fontanka newspaper reported that an unexploded device turned up at a different subway station as crews worked to deactivate it.
The train was going in between two stations in the center of the city, investigators said. Photos and video from the Sennaya Ploshchad station appeared to show wounded victims on the smoke-filled platform, and a train car with a door blown out. Frantic commuters reached out through the doors and windows, shouting, "Call an ambulance!"
Nobody immediately claimed responsibility for the blast. Andrei Kibitov, spokesman for the St. Petersburg governor, told Russian television 10 people were killed and 50 injured.
"People were bleeding, their hair burned," a witness told Russia's Life News. "My girlfriend was in the next car that exploded. She said that he began to shake. When she came out, she saw that people were mutilated."
Crews closed all subway stations in the northern Russian city and evacuated passengers, administration officials said. Ambulances and other medical teams rushed to the scene.
"The causes are not clear, it's too early. We will look at all possible causes, terrorism as well as common crime," Putin responded….