Update: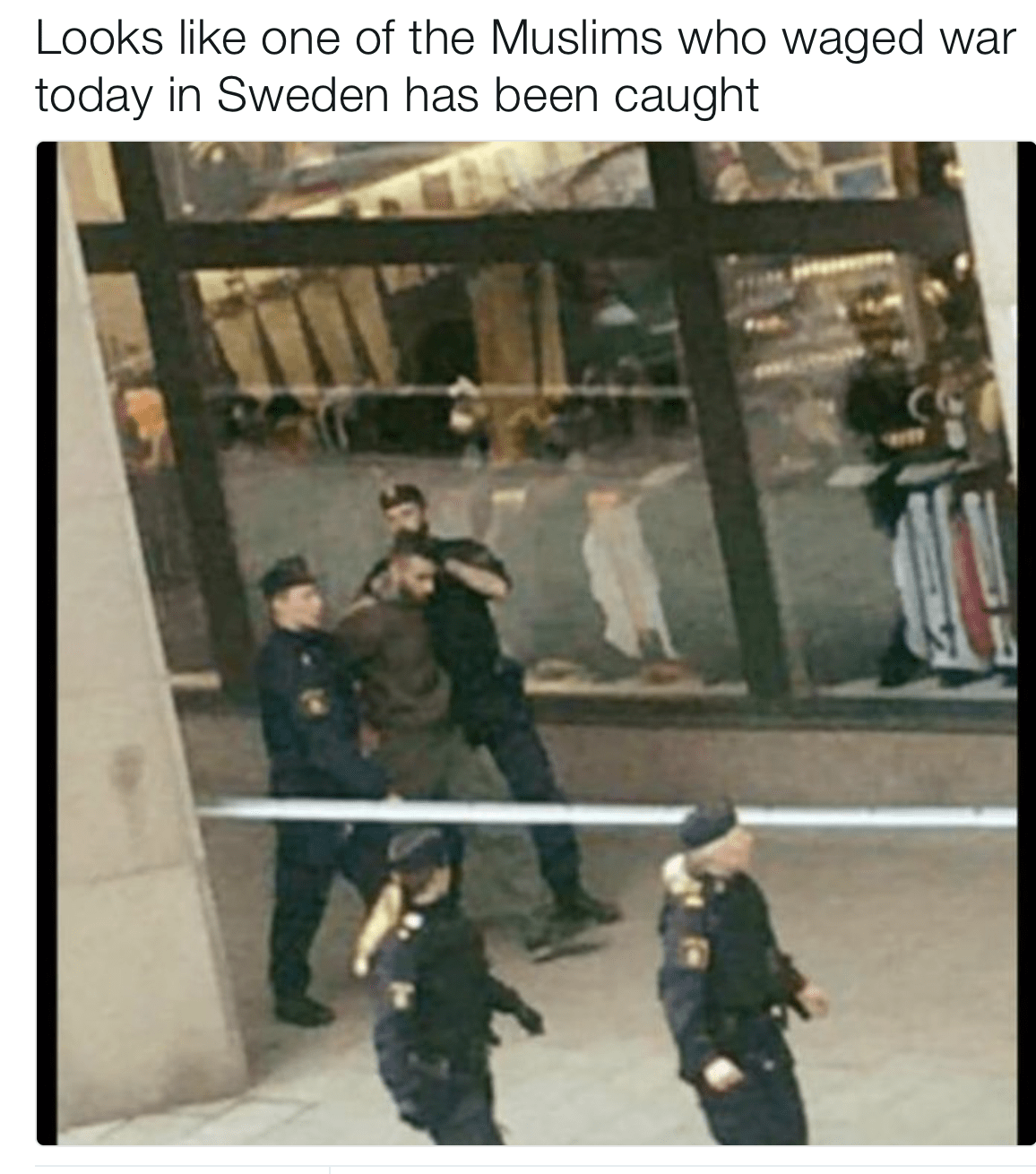 Swedish PM: Truck attack an 'act of terror'
A manhunt is underway for the driver of a hijacked beer truck that plowed into a department store in central Stockholm on Friday, killing at least three and injuring many.
Police released two photos from CCTV surveillance footage of a man wearing a grey hoodie who they said is wanted in connection to the attack.
Two men have been taken into questioning in relation to the attack, according to Sky News.
Police spokesman Lars Bystrom said: "I can confirm that we have taken in two people for questioning, but that does not necessary mean that they are suspects."
Stockholm police denied previous reports that a man had been arrested at the scene, saying that the driver had not been found.
"We have no contact with the person or persons who drove the truck," Sweden's top police chief, Dan Eliasson, told a news conference.
Related to this case:
Sweden: Manhunt on for truck attacker who murdered at least three
Swedish police released this photo of the man they're looking for. If the attacker is a Muslim, as is almost certainly the case, then this is the direct result of Sweden's immigration policies. If he is a native-born Muslim, that only shows that these policies are long-standing and that Muslims aren't assimilating. These attacks are fully the responsibility of the Swedish government for pursuing these policies and demonizing those who opposed them. This is the Sweden they wanted. Now they have it.
PHOTOS: TRUCK PLOWS INTO SWEDEN DEPARTMENT STORE
Police would not confirm how many people many people had been killed or injured. Local media reports varied from two people up to five.
Sky News reported that police believed the man had run away towards the subway station. All subway traffic has been halted.
"Sweden has been attacked. Everything points to the fact that this is a terrorist attack," Prime Minister Stefan Lofven told reporters during a visit in western Sweden.
In a statement Friday, they said that they cannot exclude this is an act of terror based on other events in Europe.
There was no immediate claim of responsibility for Friday's attack, but vehicles have been common weapons in recent extremist attacks.
SWEDEN TRUCK ATTACK FOLLOWS STRING OF SIMILAR VEHICLE ASSAULTS
Police said a truck ran over a crowd at Ahlens department store around 9 a.m. EST, injuring a large number of people.
People in the downtown area fled in panic, and Stockholm's Central Station for trains and the subway, which is a few hundred yards from the scene, was evacuated.
Spokeswoman Towe Hagg would not confirm reports of shots fired in other parts of the city.
A government source told Reuters all Swedish government offices had been closed. All ministers were safe, the source said.
Sweden's King Carl XVI Gustaf said in a brief statement that the Swedish royal family had noted the attack "with dismay" and sent condolences to the families of the victims and injured.
"We follow developments but as of now our thoughts go to the victims and their families," he said.
SWEDEN TORN OVER HOW TO HANDLE INCOMING TERRORISTS
Homeland security officials say they are monitoring the situation.
Chancellor Angela Merkel's spokesman said the German government's "thoughts are with the people in Stockholm, the injured, the relatives, first responders and police."
Steffen Seibert said Friday on Twitter following the apparent attack in Sweden: "We stand together against terror."
Russian President Vladimir Putin has sent a telegram of condolence to Sweden's monarch saying "Russians mourn together with the people of Sweden."
Photos from the scene showed a beer truck sticking out of the department store, and Aftonbladet daily reported that Swedish beer maker Spendrups said one of its trucks had been carjacked earlier Friday.
"It's one of our distribution vehicles which runs deliveries. During a delivery to the restaurant Caliente someone jumped into the driver's cabin and drove off with the car, while the driver unloads," communication director Mårten Lyth told TT news agency.
POLICE IN NORWAY TO BEGIN CARRYING WEAPONS AFTER STOCKHOLM ATTACK
Live television footage showed smoke coming out of the upscale Ahlens department store on Drottninggatan Street, which the truck smashed into. The department store is part of Sweden-wide chain.
"We stood inside a shoe store and heard something … and then people started to scream," witness Jan Granroth told the Aftonbladet daily. "I looked out of the store and saw a big truck."
A witness said the truck came out of nowhere, Sky News reported.
"I went to the main street when a big truck came out of nowhere. I could not see if anyone was driving it but it got out of control," the person said. "I saw at least two being run over. I ran as fast as I could from there".
Europe has reeled from a string of terror attacks involving drivers ramming trucks into populated areas. In July 2016, a truck plowed into a crowd at a waterfront promenade in the French tourist hotspot of Nice, killing 86 people. Police killed the driver, Mohamed Lahouiaej Bouhlel. The Islamic State terror group claimed responsibility.
Just over two weeks ago in London, a driver linked to radical Islam crashed his rented SUV into a crowd on Westminster Bridge before attacking an officer on the grounds of Parliament. A fifth victim of his rampage died Friday: a Romanian woman who fell into the river below. Dozens of other people were wounded. The killer, Khalid Masood, was shot dead at Parliament.
AHLENS DEPARTMENT STORE FAST FACTS
At about this time last year, the Iraqi government warned Sweden that ISIS may have been plotting to attack civilian targets in Stockholm, NBC News reported.
Sweden has produced more ISIS fighters per capita than almost any other European nation, the International Center for the Study of Radicalization and Political Violence reported last year.
Friday's crash is near the site of a December 2010 attack in which Taimour Abdulwahab, a Swedish citizen who lived in Britain, detonated a suicide bomb, killing himself and injuring two others.
Abdulwahab rigged a car with explosives in the hope that the blast would drive people to Drottninggatan — the street hit Friday — where he would set off devices strapped to his chest and back. The car bomb never went off, and Abdulwahab died when one of his devices exploded among panicked Christmas shoppers.
Fox News' Catherine Herridge The Associated Press contributed to this report.