Australia:
The Turnbull Government's Budget taxes more, spends more and leaves us with a bigger deficit. The Government says it will finally post a surplus in 2021 of $7 billion – but that's only because it is hiking the Medicare levy by 0.5 per cent. No tax hike, no surplus. There's also a bank tax we'll all pay for. Why vote Liberal if you get Labor taxes?
Meanwhile in "moderate" Indonesia:
More Islam means less Liberty and less basic human rights.
Stop Islamisation, support Australia's Liberty Alliance: www.vote1ala.org
Police deployed in Jakarta as opponents demand outgoing Governor Basuki 'Ahok' Purnama's dismissal and imprisonment.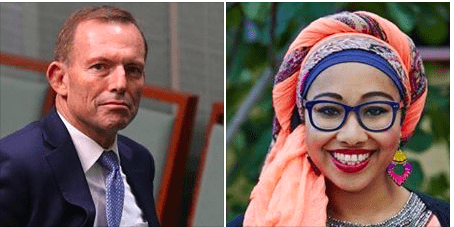 We allow a Muslim activist agitprop Yasmin Magied to disrespect our country and Anzacs without any retribution.This insulting piece of work made a public claim Islam is the most feminine "religion"?? in the world then went on to blaspheme ANZAC one of our most important and sacred cultural events.Julie Bishop allows her to remain in her government job.A Christian politician in Indonesia utters an innocuous remark about the Koran and is sentenced to 2 years in prison. What does that tell us? It tells me we are dealing with a very dangerous ideology and we must stop it's spread in Australia.
Police are investigating a complaint of blasphemy against actor and comedian Stephen Fry, according to reports.
Update:
Irish police dropped the blasphemy investigation on Stephen Fry because they couldn't find enough offended people.
Police in Ireland have dropped the "blasphemy" investigation against British TV personality Stephen Fry after it became clear that nobody cared very much.
Christian Governor in Indonesia Found Guilty of Blasphemy Against Islam
The NYT reports on the Christian governor Ahok's blasphemy case without mentioning what caused the blasphemy offence. Pathetic.
JAKARTA, Indonesia — An Indonesian court found the Christian governor of the country's capital, Jakarta, guilty of blasphemy against Islam on Tuesday, sentencing him to two years in prison in a case widely seen as a test of religious tolerance and free speech.
The governor, Basuki Tjahaja Purnama, was defeated last month by Anies Baswedan, a former minister of education and culture, in an election in which the blasphemy case, and religion, was a major issue.
Mr. Basuki began his sentence on Tuesday. Deputy Governor Djarot Saiful Hidayat is to serve as acting governor until October, when Mr. Anies takes office.
Blasphemy is a crime in Indonesia, a secular democracy with the world's largest Muslim population. The sentence was harsher than what prosecutors had asked for; they had recommended two years' probation on a lesser charge, which would have spared Mr. Basuki prison time.
Mr. Basuki told reporters that he would appeal, as supporters outside the North Jakarta District Court looked on in shock.
Hard-line Islamic groups opposing Mr. Basuki were seen celebrating.
Mr. Basuki's 16-point defeat last month was seen as a sign of the increasing power of Islamic conservatives, who have pressed for the adoption of Islamic law, or Shariah, throughout Indonesia.
Shortly after the verdict, the governor was taken to Cipinang Penitentiary in Jakarta, which houses criminals including drug dealers and rapists. Under Indonesia's procedural code, the governor was not eligible to remain free during his appeal because he had faced a possible sentence of five years or more, according to legal experts.
Mr. Basuki, known as Ahok, became governor of Jakarta, the country's political, social and economic center, in 2014 when his predecessor and chief political ally, Joko Widodo, became president. Mr. Basuki, who is ethnic Chinese, was only the second non-Muslim governor in the city and had hoped to become its first directly elected non-Muslim leader.
He had been leading in the polls last year, but in September his campaign faltered when he tried to address attacks from Muslim hard-liners who argued that the Quran prohibited Muslims from voting for a non-Muslim. Mr. Basuki said those who made that argument were misleading Muslims, a statement that was interpreted by some as insulting the Quran.
Conservative Muslim groups organized several rallies against him, demanding that he be jailed for blasphemy. Mr. Basuki and his supporters asserted that the protests were orchestrated by his political rivals to sabotage his chances of re-election.
In what appeared to be a show of strength by the national government a day before the verdict, the security minister, Wiranto — who, like many Indonesians, goes by only one name — announced that legal action would be taken to disband the Indonesian chapter of Hizb ut-Tahrir, an ultraconservative Islamic political movement that had participated in some of the protests against Mr. Basuki.
Hizb ut-Tahrir rejects democratic governance and says it aims to create a Pan-Islamic state among predominantly Muslim countries, by force if necessary. The group has been tolerated in Indonesia despite openly rejecting the secular, democratically elected government and the pluralist, multireligious national ideology, known as Pancasila.
Indonesia has more than 190 million Muslims and smaller numbers of Christians, Hindus and Buddhists among its population of 250 million.
The five-judge panel decided unanimously that Mr. Basuki "proved legally and convincingly guilty of committing the criminal act of blasphemy," the head judge, Dwiarso Budi Santiarto, said in reading the ruling.
The blasphemy law dates from 1965, and only a handful of people were prosecuted under its terms during the next 40 years, according to Andreas Harsono, an Indonesia researcher for Human Rights Watch.
However, he said, the number of people convicted of blasphemy skyrocketed to 106 from 2004 to 2014, during the presidency of Susilo Bambang Yudhoyono, Mr. Joko's predecessor. Mr. Yudhoyono's son was eliminated in the first round of the governor election in February.
Mr. Yudhoyono twice held news conferences to deny that he had orchestrated the protests against Mr. Basuki's candidacy.
"It's a sad day, and it's frightening," Mr. Andreas said. "If the governor of Indonesia's largest and most complex city, and who is an ally of the Indonesian president, can be brought down and humiliated this way, what will happen to normal Indonesian citizens?"
Gregory Fealy, an associate professor at Australian National University who specializes in Indonesian politics, said that given Mr. Basuki's heavy loss in last month's election and continued demands by hard-line Islamic groups that he be jailed — including at a street rally on Friday — he had little chance of acquittal.
"Indonesian judges tend to err on the side of public opinion," he said. "That often has a big impact on how they make their decision."
Some analysts said that the panel of judges had taken reports that Mr. Basuki had slandered Islam as a personal insult — rather than looking at the legal merits of the case — and noted that during the reading of the verdict one judge had emotionally recited the Quran verse that the governor was convicted of insulting.
Douglas Ramage, managing director for Indonesia of Bower Group Asia, an investment advisory firm, said that foreign companies might delay investments in the country until after the presidential election in 2019, when Mr. Joko will face challenges from opposition parties that were accused of helping to topple Mr. Basuki.
"It introduces what no investor wants to see in any country, and that's volatility and increased political uncertainty," Mr. Ramage said. "This verdict was not expected; the prosecution had asked for probation."
NEWS ANALYSIS

Indonesia Governor's Loss Shows Increasing Power of Islamists

Jakarta Governor Concedes Defeat in Religiously Tinged Election

Governor of Jakarta Issues Tearful Denial as Blasphemy Trial Opens in Indonesia

Indonesians Seek to Export a Modernized Vision of Islam

So what did Ahok say that enraged Muslim sensitivities?

He was accused of blasphemy for saying: "Ladies and gentlemen, you can't vote for me because you're being lied to by Al Maidah verse 51 and so on." But he apparently didn't really say that the Qur'an was lying to Muslims; rather, he said that certain people were lying to Muslim voters by invoking a passage of the Qur'an: "So don't believe people – deep down ladies and gentlemen, you can't vote for me because [these people] are lying to you using Al Maidah verse 51 and so on."

Lost in the controversy is the substance of the Qur'an passages he mentions. Here is Al Maidah verse 51: "O you who have believed, do not take the Jews and the Christians as allies. They are allies of one another. And whoever is an ally to them among you — then indeed, he is of them. Indeed, Allah guides not the wrongdoing people." (Qur'an 5:51)

Does that passage indeed lead some Muslims not to vote for or support Jewish or Christian candidates? It is a question worth asking, but when the subject is raised, as in this instance, it is immediately hijacked by claims of Muslim victimhood on the one hand, and Islamic supremacist menace on the other.

"Ahok denies saying the Quran tricks people against voting for him, says his words were edited out of context," Coconuts Jakarta, October 7, 2016:

Many have suspected that underhanded attacks based on race and religion would play a large part in attempts to defeat Jakarta Governor Basuki "Ahok" Tjahaja Purnama in his 2017 re-election bid. Although the official campaign season hasn't even started yet, Ahok has been hit with a viral video, cut out of context, attempting to frame him as anti-Muslim.

Ahok, who is a Christian of Chinese descent, has recently been accused of blasphemy towards Islam after a video clip supposedly showed him saying to an audience in Kepulauan Seribu (The Thousand Islands) that the Islamic holy book of Quran is tricking Muslims to not vote for him in the upcoming 2017 election.

This is the full translation of Ahok's speech in the above video:

"Ladies and gentlemen, you can't vote for me because you're being lied to by [the Quranic chapter] Al Maidah verse 51 and so on. That's your right. So if you feel you can't vote [for me] because you're afraid to go to hell after you've been dumbed down, that's fine. This is your personal calling. This program will continue regardless. So, ladies and gentlemen, don't ever feel bad that you can't vote for Ahok."

From just that, one could see how the 30-second video would offend Muslims, as Ahok seems to imply that the Quran is tricking people against voting for him. And many Muslims were indeed offended, with several groups, including the Indonesian Ulema Council (MUI), announcing plans to report Ahok to the National Police's Crime Investigation Agency (Bareskrim) today for blasphemy.

Not only that, Muhyiddin Junaidi, head of International Affairs at MUI, said that Ahok is lucky that MUI is getting law enforcement involved, because "if we were in Pakistan or India, he (Ahok) would have been killed."

Yesterday, Ahok responded to the allegations by posting a clarification on his official Facebook page. In it, he urged people to w
atch his speech in full as he says the clip was cut out of context to make it appear like he insulted the Quran, which he said he would never do because he doesn't like to politicize sacred scripture.

Below is the full video with the translation of the longer part of the 30-second video clipping above, with some words adapted linguistically to fit the context of Ahok's words in its entirety (from 23:40 to 25:35):

"Ladies and gentlemen, you shouldn't worry. The election has been moved forward, so if I'm not re-elected, I'll step down in October 2017. So if these programs are going to run, you will still be able to reap the benefits from me. Even if I'm not re-elected as governor. I want to tell you this so you'll be enthusiastic [about the program]. Don't think that oh, if Ahok's not chosen, then his programs will disappear. No, I'm here at least until October 2017. So don't believe people – deep down ladies and gentlemen, you can't vote for me because [these people] are lying to you using [the Quranic chapter] Al Maidah verse 51 and so on. That's your right. So if you feel you can't vote [for me] because you're afraid to go to hell after you've been dumbed down, that's fine. This is your personal calling. This program will continue regardless. So, ladies and gentlemen, don't ever feel bad that you can't vote for Ahok."

Although many netizens have been calling for Ahok to be punished for the perceived blasphemy, many have also come to his defense, especially after the clarification….