Ramadan Day 1: Massacre of Coptic Christians in Egypt
At Least 26 Dead
Ramadan begins today. It is the month of jihad, the month when Muslims strive to please Allah more fervently. And so because murdering Infidels who are considered to be at war with Allah is a pious act, there is generally more bloodshed during Ramadan than during the rest of the year.–Robert Spencer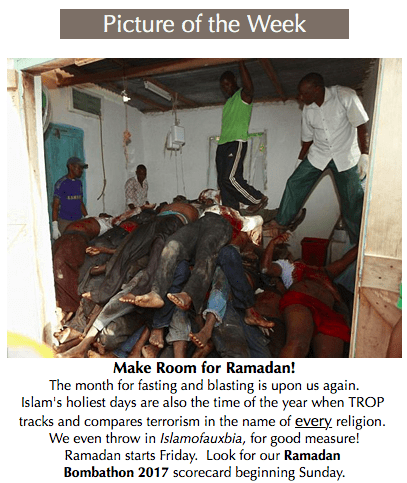 The Maute group forced nine civilians off their truck at a checkpoint in Marawi City in the Philippines and murdered them after they were identified as Christian,–DAILYMAIL.CO.UK, 
Share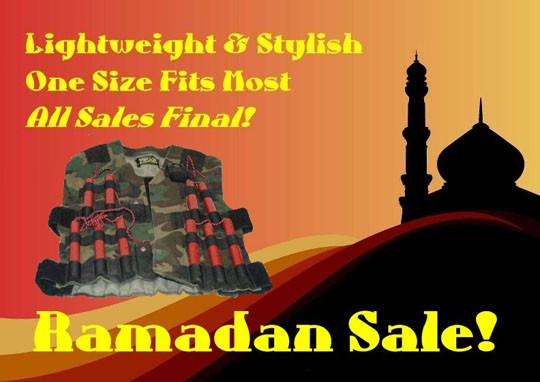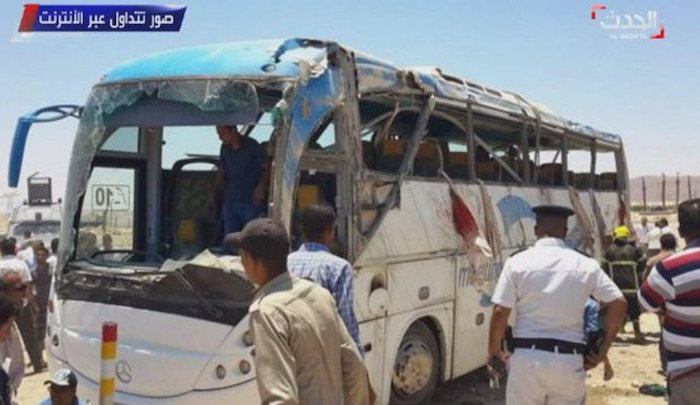 "26 killed, 26 injured as gunmen fire on Coptic Christian convoy in Egypt," Straits Times, May 26, 2017:
Because its Ramadan, which these murderers call "holy"
Attackers struck in Minya province 155 miles south of Cairo, Egypt this morning
At least 23 are dead and dozens more injured after a gunman opened fire on a bus carrying Coptic Christians south of Cairo in Egypt, it has emerged.
The vehicle was in a convoy taking Coptic Christians to the St Samuel Monastery…See More
Manchester Evening News: These are the Victims
A FURIOUS dad launched a blistering attack on political correctness as he argued…    
Share
Robert Spencer The Road to Manchester
INN: Europe Chose to Sacrifice Its Children to the Islamic Moloch Daniel Greenfield: Manchester's Appeasing Politicians and Police Have Blood on Their Hands
Michelle Malkin: The Forgotten Slaughter of the Innocents
Immigration has become colonisation – particularly by one rejectionist faith:
.
Leftists and Muslims, on campus and off, consistently oppose counterterror efforts because they supposedly demonize Muslims. Meanwhile, the jihad terror threat is very real and growing quickly. What would the students at Salford University say now, after their former schoolmate Salman Abedi committed jihad mass murder? Is there anything that the left will allow in the way of resistance to jihad? No — it all demonizes Muslims. As far as the left is concerned, we all must simply lie down and die.
"Students at Manchester bomber's university 'tried to BLOCK Government anti-terror scheme,'" by Harry Walker, Express, May 25, 2017:– Geller Report
If more Muslim Australians means more local terror threats, is it time to "shut the gate?" asks News Ltd columnist Andrew Bolt.
Bolt told Leon Byner on FIVEaa:
"If we have twice the proportion of Muslims than we do now — like Britain does… and we face the greater threats… is this really how we want to live, with police everywhere, like in Britain now with the army called out into the street? Is that how we want to live?"
"The question for us now is this: if you think say doubling the number of Muslim Australians would increase also the number of terrorist threats, wouldn't it make more sense to shut the gate?"
Is it time to "shut the gate"? asks News Ltd columnist Andrew Bolt.