More pictures and info here from 9news
MANCHESTER ATTACKED
20 people have been killed and many more injured in an apparent terror attack during an Ariana Grande concert in Manchester, England.
Children and the disabled are among the victims:
Jane Pearson, 46, a high school English language mentor from Chadderton, Greater Manchester, had gone to the concert with her daughter, Rachel, 21, as a birthday treat. She told PA the arena was packed full of young children.
Mrs Pearson said: "It's the worst kind of people who could even consider doing something like this and quite frankly those sort of people, they deserve the worst punishment ever.
"I can't imagine what goes in to the heads of these people that want to hurt children? And families who have come together for such a happy occasion. It's disgusting. It's absolutely disgusting."
A father has described seeing "carnage everywhere" in the wake of an explosion at Manchester Arena that left around 30 people, including children and disabled victims, lying on the floor.
The man, named Andy, said he was blown "about 30ft" by a blast that shook the building as he waited to collect his wife and daughter at the end of a concert by US artist Ariana Grande.
He said he later saw panicking families trying to find loved ones in the wake of the incident on Monday night.
He told BBC News: "It's shocking what happened. Just carnage everywhere. There was a good 20 to 30 of them [victims]. Some were young kids, some were disabled people."
Unconfirmed reports claim a suicide bomber was responsible for the attack.
The suspected terrorist blast in the foyer of the Manchester Arena where thousands were enjoying an Ariana Grande concert comes on the anniversary of the murder of Lee Rigby in 2013.
The British Army soldier, 25, was mown down outside the Royal Artillery Barracks in Woolwich, South London, by two men who used knives and a meat cleaver to kill him in the street.
UPDATE II. Caroline Overington:
And who are the victims?
Young people.
Young girls, mainly.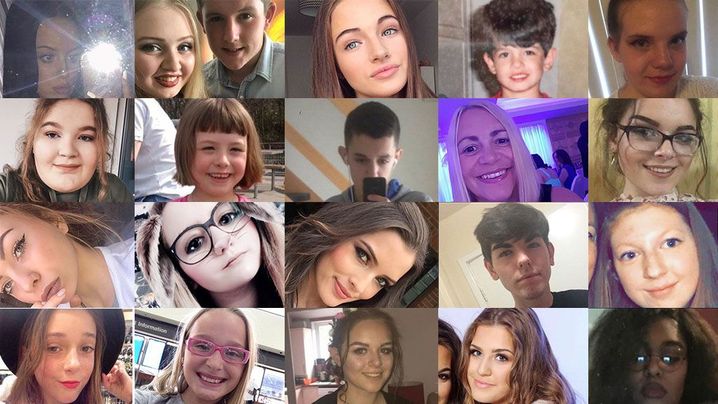 Teeny-boppers and their parents, who were doing that brilliant rite-of-passage thing: going to a concert.
Ariana Grande! They'd gotten tickets to see Ariana Grande!
And probably for many of them, it was their first concert. The kind that gives teenage girls heart palpitations and these days, the boys aren't far behind. You can imagine them, feeling all grown up, bouncing up and down as she belted out her favourites.
In the wake of a deadly suspected explosion at Ariana Grande's Manchester concert, some local businesses have taken in hundreds of displaced children and concertgoers' loved ones have made desperate pleas for information.
Workers at the Steven Charles Snooker Centre, a brief walk from the arena, have reunited up to 100 children with their families, employee Amy-Jane Entwhistle told 9NEWS.
Ms Entwhistle said she and other volunteers had taken in "between 60 to a hundred childr…
The alleged explosion at Manchester Arena which has killed 19 people has exposed the kindness of strangers as local businesses take in hundreds of displaced…