Update:
'Don't forget your duty as a Muslim. Choose a candidate to kill & polling station to burn.'
An article in the terror group's propaganda magazine, Rumiyah, reportedly called for the deaths of Marine Le Pen and Emmanuel Macron when the country goes to the polls on Sunday.
A French edition of the magazine the article is said to state: 'Don't forget your duty as a Muslim. Choose a candidate to kill & polling station to burn.'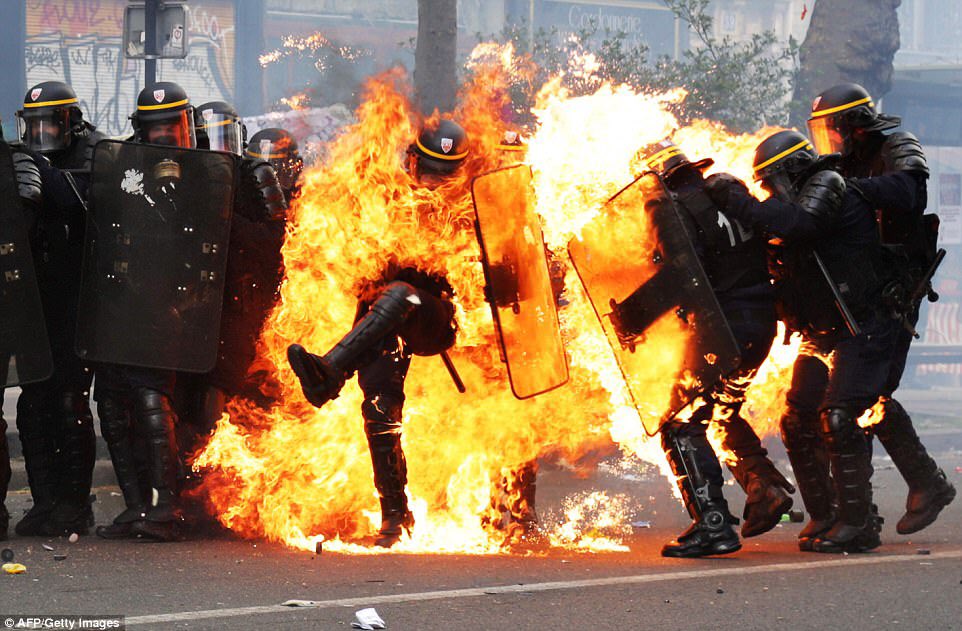 Throwing Molotov coctails at police to protest Le Pen. How do you say "backfire" in French?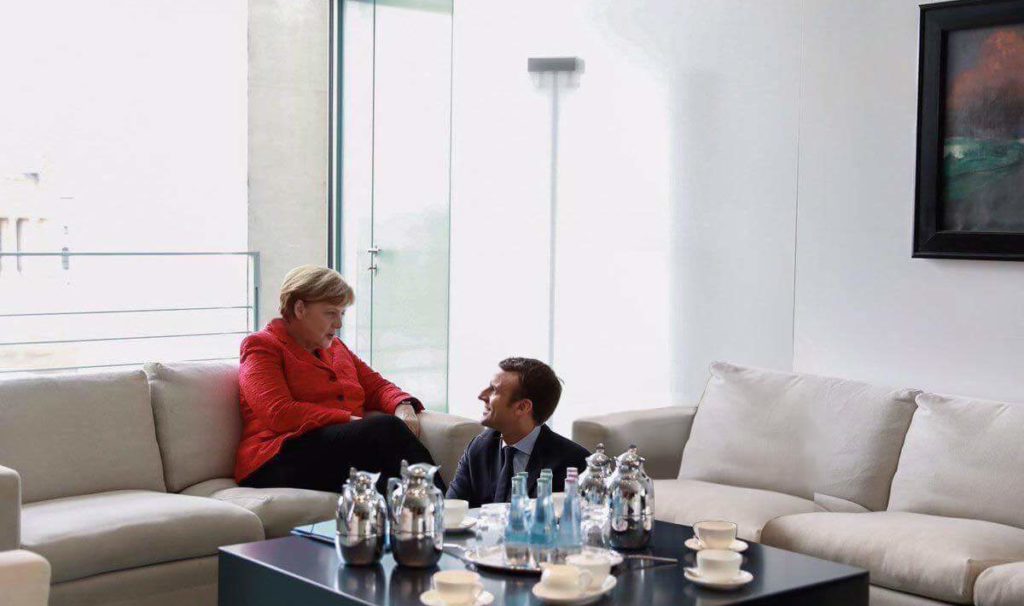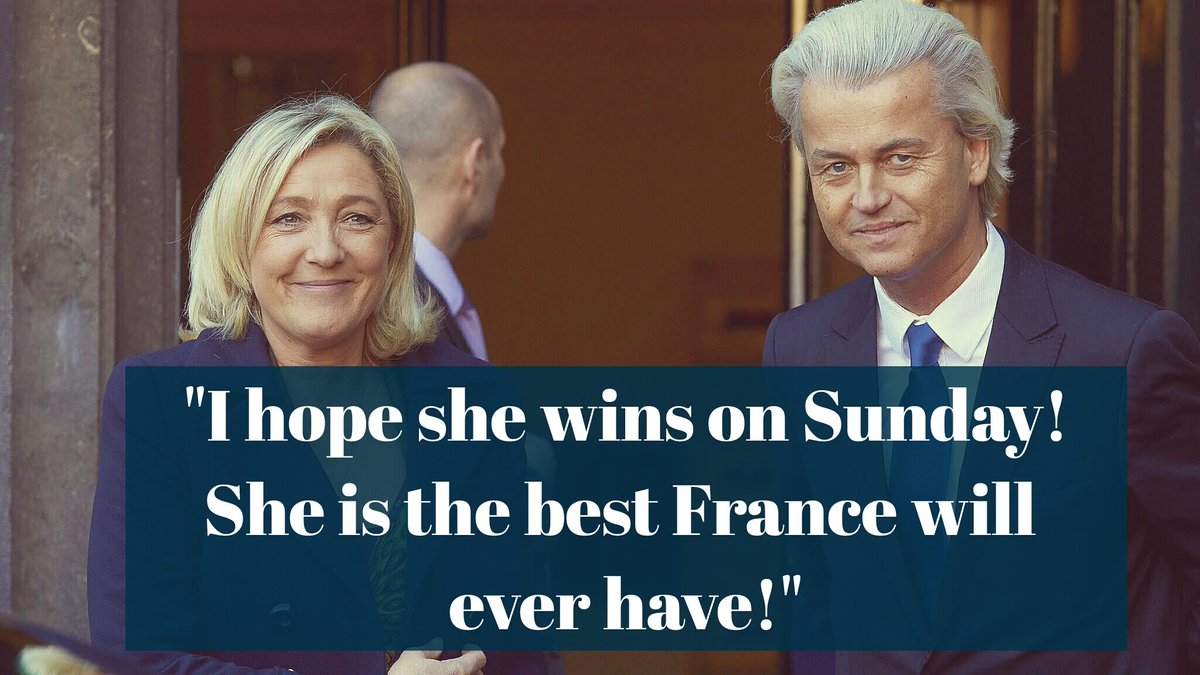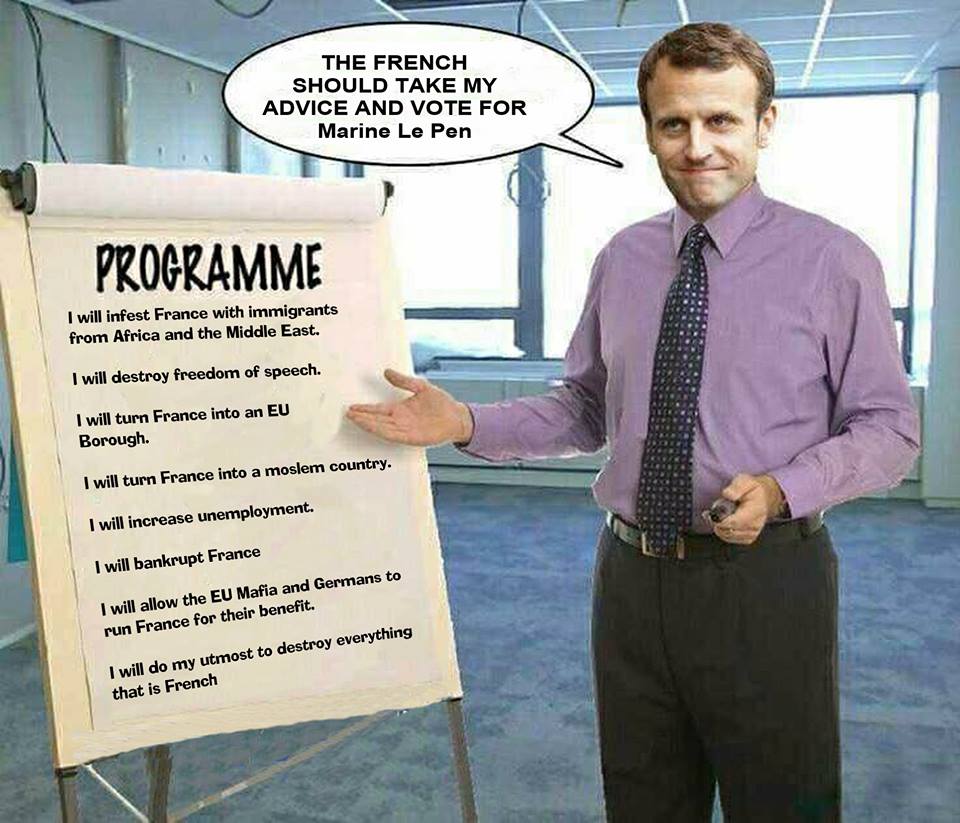 A "radicalised" former solider known to authorities has been arrested near a French military base in Normandy, and weapons found nearby. The arrest of the unnamed 34-year old suspect comes two days before the second round runoff in France's presidential elections between "centrist" Emmanuel Macron and
…Read More…
.
Austria's Hofer predicts Le Pen defeat
The Global Elite are fighting to elect #Macron! George Soros and his EU puppets MUST BE STOPPED!
"I don't believe that Le Pen can win," Hofer told a TV talk show late on Thursday, forecasting that Macron will win 59 percent and Le Pen — who enjoys friendly relations with Hofer's Freedom Party (FPOe) — 41 percent.
An interviewer confronts the French  with their own cowardice
thanks to Vlad Tepes
ISIS urges its French supporters to 'burn polling stations and murder candidates
Au revoir, France. Let us wear upon our sleeves the crepe of mourning as a great nation commits suicide.
"Macron stretches lead in last throes of French presidential campaign," by Mathieu Rosemain and Andrew Callus, Reuters, May 5, 2017:
Centrist French presidential candidate Emmanuel Macron extended his lead in the polls over his far-right rival Marine Le Pen on Friday, the final day of campaigning in a tumultuous election race that has turned the country's politics upside down….
The National Front's Le Pen would close borders and quit the euro currency, while independent Macron, who has never held elected office, wants closer European cooperation and an open economy….
An Ifop-Fiducial survey on Friday afternoon, hours before official campaigning closed at midnight, showed Macron on course to win 63 percent of votes in the second round and Le Pen 37 percent, the best score for Macron recorded by a major polling organization since mid-April….
In other news from Scaramouche:
What they really teach is "Kill the Joooos!"
Update: MEMRI debunks Abbas's "we teach peace" malarkey.
Update: Dear President Trump–Mahmoud Abbas is personally responsible for the high salaries to terrorists.
.
It is telling of the arrogance and ignorance in parts of our media, when 'populism' is denounced as if it were a bad stench. What is democracy about, if not the popular vote? …See More
Stand with ALA today and tomorrow: http://australianlibertyalliance.org.au/
NEW YORK • As if Western politics were not volatile enough, a wave of recent elections seems to offer contradictory evidence as to whether populism is advancing or receding.. Read more at
straitstimes.com.