Clit nicking & hijabbery:

 

Big Steps Forward for Women
Woman who voluntarily underwent what she describes as 'female circumcision' tells Tucker that the outlawed procedure is a cultural practice that should not be referred to as mutilation:
Tucker Takes ON A FEMALE REFUGEE ACTIVIST Whom Refuses To Say The Words… FEMALE GENITAL MUTILATION
BBC: Hijab Wearing Basketball Players 'Big Step Forward for Women's Sport'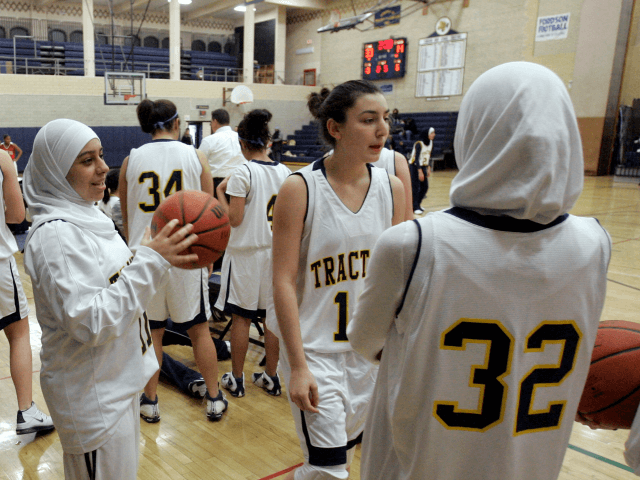 The tax-payer funded BBC on Thursday claimed that new rules allowing women to wear a hijab during basketball matches represent "a big step forward in women's sport".
The organisation made the claim on the BBC Sport Facebook page, over the news that the International Basketball Federation (FIBA) had changed a ruling that did not allow female basketball players to wear the hijab during matches, on the grounds that it was a safety issue. 
However, the claim was poorly received by the page's followers, who contended the decision is, in fact, a step backwards rather than forwards.
"In what way is this a big step forward? The hijab is an oppressive garment for men to control their wives. But yeah, if it makes the beeb feel more virtuous then let's pretend it's progressive," user Nathaniel Shelley wrote.
Another user, Codey Sharp, wrote: "This is a step backwards, allowing women to be oppressed even whilst playing sport, marvellous."
In 2014, the Qatari women's team were forced to withdraw from the Asian Games after being denied permission to wear the garment during matches.
Last month, the BBC lauded an Australian photographer's response to what he called a "tragic" rise in "anti-immigrant sentiment" in his homeland by taking the all-encompassing piece of Islamic female clothing known as the burqa and using it as an art prop, describing it as "critique of the rising far right and Islamophobia".
BBC Radio host Roger Bolton recently described the organisation's coverage of religion as a "mess" because its young metropolitan liberal staff are "dangerously out-of-touch".
You can follow Ben Kew on Facebook, on Twitter at @ben_kew, or email him at bkew@breitbart.com