Thanks to Islam, Melbourne is becoming culturally enriched:
BOLT: MELBOURNE BOLLARDS?
—LET'S call them what they really are …Muslim refugee monuments dedicated to all the jihadists our politicians let in through our open borders.
These barricades in our own Streets are because we don't barricade our borders.
(Japan last year took in 28 refugees last year—no terrorist attacks)
https://www.facebook.com/theboltreport/videos/451065858584882/
LIVE NOW: When we don't barricade our borders, we must barricade our malls and public squares with stones of stupidity instead. MORE http://bit.ly/2r8HjNa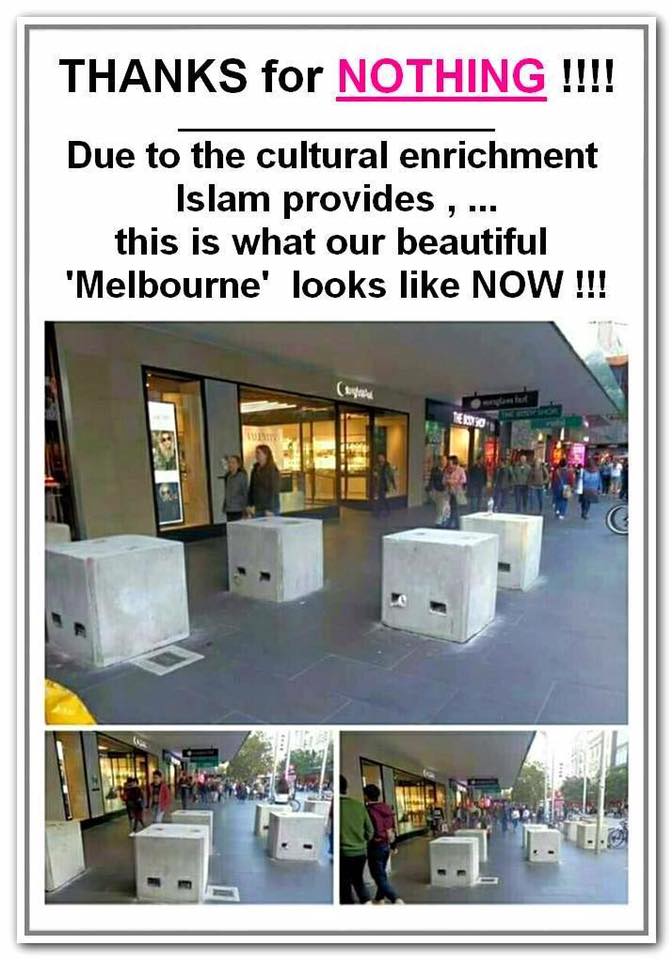 Expect more of this:
A manhunt is underway for four men who rained terror on a cinema in Sydney's west by storming inside screaming 'Allahu Akbur' – just one week after the deadly attack in Londonistan.DAILYMAIL.CO.UK
.
This sign gets a lot of leftoids & Muslims hot and bothered:
When Muslims noticed a billboard, they immediately demanded the removal of the "racist and Islamophobic" message. However, the uproar forced the billboard's…