The diversity of victims probably won't score a mention either.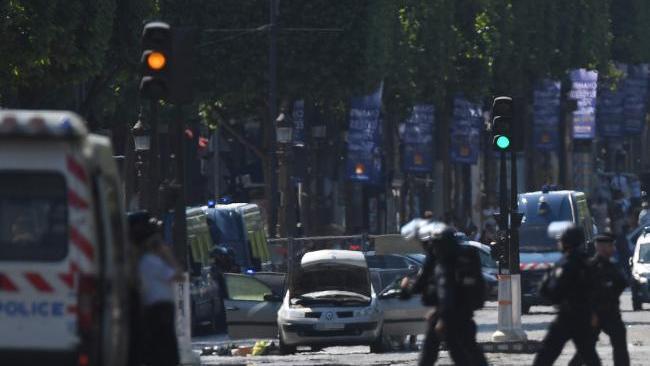 The car used in the attack
ISLAMIST  JIHAD ATTACK BY CAR
A CAR loaded with gas bottles and guns rammed into a police van in Paris leaving the driver dead in what the interior minister said was an "attempted attack".
Police sources told AFP that a Kalashnikov rifle, handguns and gas bottles were found in the white Renault Megane. Sources said the suspect had links to Islamist extremism and was on the radar of authorities.
Finsbury Mosque Terror: What They're NOT Telling You
Australian terror forces on high alert for ISIS attack during Ramadan
Australian security forces brace for Islamist 'Night of Power' amid fears of a terrorist attack TOMORROW – as pro-ISIS supporters say they'll wage a 'war on the streets'
Counter-terror forces in Australia are on high alert with fears Islamic State is set to launch a series of attacks around the world on Wednesday, a key date of Ramadan.
'Night of Power', which falls on the 27th day of Ramadan, has been a notorious target for ISIS terrorists, who slaughtered 20 people in a Bangladesh restaurant last year.
And now, in the wake of last month's Manchester attack and Monday's incident at a London mosque, there are fears ISIS could be set to again ramp up attacks, forcing Australian authorities to be extra vigilant, Nine News reports.
Islamic State is reportedly set to target key Ramadan date the 'Night of Power' 
Pro-ISIS channels are promoting a war on the streets after latest London attack
'Night of Power', the day Mohammed revealed the Quran, falls this Wednesday
In 2016, ISIS terrorists killed 20 foreigners in attack at a Bangladesh restaurant
Australian terror authorities are reportedly on high alert following spate of terror