What next? Conversion? Submission?
Greens leader Richard Di Natale and his party organised a dinner featuring a hardline Islamic preacher Sheikh Mustapha Sarakibi who opposes anti-terror laws…
DAILYMAIL.CO.UK
Theresa May has said the Finsbury Park mosque attack justifies her plan to impose a raft of regulations on the internet.
INDEPENDENT.CO.UK
.
For those who know something about the Finsbury Park Mosque, it's very ironic that it should now be condemning a form of Terrorism (car ramming attacks) that it wholeheartedly promotes when the targets are non-Muslims.
.
MUSLIM COUNCIL OF BRITAIN COMPARE DOUGLAS MURRAY TO ANJEM CHOUDARY
The MCB is using this incident to shut down critics of Islam. Despicable.
Miqdaad Versi, the Assistant General Secretary of the MCB, told the Daily Politics: "Many parts of the media spread this hate. You talk very much about hate speech being unacceptable and not tolerated and now we know the BBC and others will not have Anjem Choudary on the TV, despite having them on in the past.
"What about the same people on the right? What about people like Douglas Murray who just last week came on this show and said less Islam is the answer to terrorism.
"Giving a platform to people like that to spread their hate is unacceptable," he concluded.
 Any criticism of Islam is "hate".  All criticism of Islam is "unacceptable. Theresa May would agree.
A FATHER-OF-FOUR from Wales has been identified as the alleged terrorist arrested on suspicion of ploughing a van into a group of Muslims leaving a mosque in London, killing one.
DAILYTELEGRAPH.COM.AU
.
BBC Targets Kids with Fake 'Islam Means Peace' Claim Following Finsbury Park Attack
Islam does not mean "peace," it means "submission"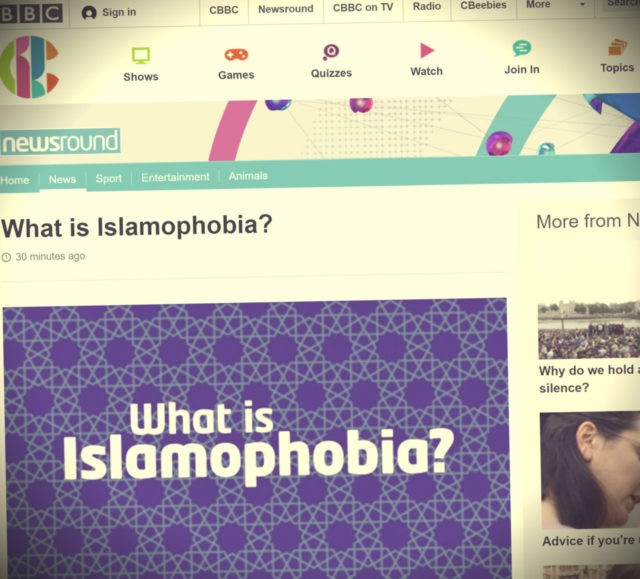 The British Broadcasting Corporation (BBC) has published a story entitled "What is Islamophobia?" containing misleading information such as the common trope that "Islam means peace".
Published just hours after the terrorist attack outside Finsbury Park mosque, the BBC's article is hosted on their CBBC (Children's BBC) website. It begins: "Following recent events in the news you might have been hearing a lot about Islam and maybe the term 'Islamophobia' – but what does this mean?"
It states:
Islam is over 1,400 years old, dating back to the 7th Century.
The Islamic word for God is Allah.
The word "Islam" comes from an old Arabic word meaning "peace."
In reality, the word "Islam" actually means "submission", implying submission to Allah.
"Allah" however is Muhammad's fig leaf. Islam demands submission to Islam. Allah is a non entity. (More)
To stop these Muslims from openly declaring their support for a genocide-minded jihad terror group would be "Islamophobic," and remember: Theresa May has vowed to stamp out "Islamophobia."
"Hezbollah supporters call for Israel's annihilation at London rally," Times of Israel, June 18, 2017:
Hezbollah and Palestine supporters staging a sit-down protest brought part of central London to a standstill on Sunday afternoon.
A few hundred people marched down Regent Street, behind the Palestinian and Hezbollah terror flag, before sitting down at the junction with Oxford Street shortly after 4.30pm on Sunday.
Many carried banners with messages including "Boycott Israel", "Freedom for Palestine" and "Zionism = racism".
The demonstration wound its way through the capital's retail heart, which was busy with shoppers.
A man on a loudspeaker led the protesters in chants of "Free Palestine".
One speaker then blamed the devastating In Grenfell Tower fire, which has left at least 58 people dead, on Israel supporters. Addressing the crowd at Grosvenor Square, he said: "Many innocents were murdered by Theresa May's cronies – many of which are supporters of Zionist ideologies. Some of the biggest corporations who are supporting the Conservative Party are Zionists. They are responsible for the murder in Grenfell. The Zionist supporters of the Tory Party."
A counter protest, organised by Jewish groups including the Zionist Federation, was also held nearby, featuring speakers from the Board of Deputies, Jewish Leadership Council, Zionist Federation, and other communal groups.
Speaking to Jewish News after addressing the counter-demonstration in Grosvenor Square, Matthew Offord MP condemned the flying of Hezbollah flags in Central London.
He said: "There are Hezbollah flags being flown. When they were flown in 2015, outside Number 10, I spoke with the then Home Secretary who agreed with me, that as Hezbollah is proscribed under the Terrorism Act, they should not be doing so.
"The Police have a different legal opinion, and they feel that the political wing of Hezbollah is different from the paramilitary wing, and as such they allow them to do so.".
Addressing what action he think can be taken, Offord, who was re-elected in Hendon two weeks ago, said: "I'm going to continue to press the new HS to have this proscribed under the terrorism act, so that Hezbollah flags, as with ISIS flags, should not be flown on the streets of London."
Simon Johnson of the Jewish Leadership Council said they'd "already made this representation in our annual meetings with the Prime Minister, for each of the last two years" with regards to the flying of Hezbollah flags….