Imam accused of recruiting jihadis to fight for the Islamic State
Hate cleric arrested in Birmingham 'who preached to the Bataclan bomber' is now using human rights laws and legal aid to fight extradition to Spain
Tarik Chadlioui, 43, was arrested at the request of Spanish police, who say he is the spiritual leader of a jihadist network but is now using human rights laws to fight extradition from the UK.
.
Tarik Chadlioui, 43, arrested by UK police at request of Spanish authorities
He is accused of inspiring Bataclan theatre suicide bomber Omar Mostefai
But the imam is trying to use human rights laws and legal aid to fight extradition
He claims he has a right to a family life in Britain after living here for two years 
Update: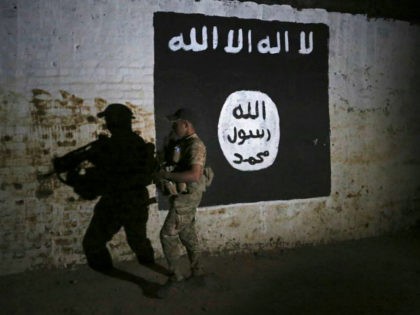 Security chiefs faced questions last night over how a hate preacher suspected of radicalising a Paris terrorist was allowed to live in the UK for two years.
Tarik Chadlioui, 43, was arrested yesterday at the request of Spanish police, who say he is the spiritual leader of a jihadist network.
He is accused of inspiring Omar Mostefai, who blew himself up during the Bataclan theatre siege that claimed 89 lives in Paris in 2015.
Chadlioui has urged his followers – including 29,000 on Facebook – to wage holy war against 'infidels', promising paradise in return.
Yet the Moroccan imam was allowed into Britain two years ago under EU freedom of movement rules because he holds a Belgian passport.
He is now trying to use human rights laws to fight extradition to Spain and is likely to apply for taxpayer–funded legal aid, claiming he has a right to a family life here.
Yesterday the Mail revealed that two Romanian fugitives cannot be extradited because jail cells in their homeland are too small to comply with rulings from the European Court of Human Rights.
Chadlioui was arrested at his £800-a-month rented home in Birmingham he shares with his wife, who recently gave birth to their eighth child.
Chadlioui claims he has been making a living selling perfume to mosques and market stalls.
But Spanish investigators believe he has been flying in and out of Britain for clandestine meetings with jihadis recruited through the hateful sermons he has posted on YouTube and other social media.
Ranil Jayawardena, a Tory member of the Commons home affairs committee in the last parliament, said: 'It is absolute critical that we make sure we take back control of our borders to ensure we can stop suspected terror sympathisers getting into Britain.
'It is unacceptable that those who want to divide us and stir up havoc on our streets should be able to come here.
'Ending free movement rules will guarantee we have complete say over who we allow in.'
Yesterday, Chadlioui appeared before Westminster magistrates to face extradition proceedings.
Chadlioui, who is not thought to speak English, sat with his arms folded, listening through an Arabic interpreter.
Benjamin Joyes, representing the Spanish authorities, said: 'It is alleged that the requested person with several others as a member of an organisation gave support to the terrorist organisation Islamic State by means of propaganda and incitement of new members to join the organisation.
'He produced audio-visual material for the recruitment of jihadis on his YouTube channel for indoctrination and posted symbols and banners for Islamic State on social media.'
Chadlioui produced his Belgian passport as an identity document before moving into his five-bedroom terraced house in Sparkbrook.
His landlord, who asked not to be named, said the terror suspect told him he ran shops in Belgium.
The landlord added: 'He told me he travelled to Belgium a lot because of his businesses, and sometimes imported goods from Egypt. But they would never let me in the house.'
A neighbour said Chadlioui was led out of the house handcuffed and wearing his pyjamas during yesterday's early-morning raid, adding: 'The children were very pleasant.
'I don't think they went to school too often – at one point people from the school came around knocking to find out why they hadn't been attending.'
Spanish investigators smashed an alleged IS network connected to the imam yesterday, arresting four men in Majorca and another suspect in Dortmund, Germany.
A spokesman for Spain's national police described Chadlioui as a radical cleric who allegedly acted as the spiritual leader of the group held in Majorca.
He said: 'The investigation began in 2015 when a series of videos were discovered on a website which showed the process of indoctrination, recruitment and subsequent journey to Syria of a young Muslim living in Spain.
'The film promoter was identified as a Salafist imam, who is now under arrest in the UK and being investigated by several European countries.
ATTACKS LEFT 130 DEAD 
The Bataclan Massacre took the lives of 89 people.
It was part of a series of coordinated attacks by Islamic State terrorists across Paris on November 13, 2015, which cost the lives of 130 people. Another 352 were injured.
Three of the gang stormed a concert by Californian band Eagles of Death Metal held at the Bataclan theatre, forcing the audience to lie on the floor before they began shooting.
The terrorists killed 89 during the siege which lasted for two hours and forty minutes.
Two of the killers detonated their explosive belts as police arrived at 12.30am.
All seven of the terrorists involved were wearing suicide vests; six of them took their own lives and one was shot dead by police.
'The Salafist preacher, whose public persona was very well known by European police forces and intelligence services, devoted himself in private to recruiting people to fight in Syria and collect money for the region.'
Also known as Tarik Ibn Ali, Chadlioui was born in Morocco but moved to Belgium, where he is said to have become the spiritual leader of Sharia4Belgium.
The group took inspiration from Islam4UK, formerly led by convicted hate preacher Anjem Choudary.
He has also been linked to the radical German-based Dawa FFM, which wants Sharia law.
Peter Cuthbertson, of the Centre for Crime Prevention think-tank, said: 'Britain bears far more than our share of the burden of these foreign fanatics taking advantage of asylum rules and freedom of movement to live here – and often live off the British taxpayer.
'These hate preachers and Islamic terrorists are just another reason to bring immigration back under proper control.'
Brussels rules mean that Britain could not have stopped the hate preacher from coming to the UK.
European Union citizens can only be turned away if there is a 'genuine, present and serious' threat.
Yesterday, Chadlioui's lawyers launched a battle against his extradition, citing his right to a private life under article 8 of the Human Rights Act.
Saba Ashraf, defending, said: 'To remand someone of good character who is the sole financial carer for eight children on the basis that he might be a member of an Islamic group seems to be onerous.'
District judge Shenagh Bayne refused bail and remanded Chadlioui in custody ahead of a hearing at the same court next Wednesday.
Security chiefs have already embarked on potentially humiliating investigations into why they missed the danger posed by terrorists who brought bloodshed to Manchester and London in the past two months.
Related: