So now the Mustards & their multicultural fellow travelers have their "Christian" terrorist. Thanks to taxpayers money, the mosques will be protected by Londonistans Muslim infested police 'service', and Theresa May, along with the likes of Sadiq Khan, will babble stupidly about "shared values" and all that infuriating nonsense we all have to endure thanks to Islam, the ultimate replacement project.
What's Pauline Hanson's got to do with it?
"I'm asking Pauline Hanson, on national TV, to condemn what's happened at Finsbury Park." Ali Kadri #TheDrum
Seriously.  Let this clown condemn the teachings of Muhammad, then we can talk.
To Islamophilic  Theresa May & other Western politicians:
Your job isn't to stamp out the non-existent "Islamophobia", but to stamp out Jihad!
The declaration by Prime Minister May that she means to "stamp out Islamophobia" is chilling. That sounds extreme. Why do we not hear those same vows and proclamations to stamp out when the slaughter (and there is a great deal of it) is Islamic?
"We continue to await details of the isolated van incident at the terror-tied Finsbury Park mosque in London that left one man dead. If it was deliberate, I condemn in the the strongest terms the act of violence as a response to jihad terror."
The declaration by Prime Minister May that she means to stamp out "islamophobia" is chilling. That sounds extreme. This incident was isolated and singular. Why do we not hear those same vows and proclamations when the slaughter (and there is a great deal of it) is Islamic?
The rush to call it terror juxtaposed with the reluctance to do the same when it is Islamic terror is telling. "Terrorism" is the "use of violence or threat of violence especially against civilians in the pursuit of political aims, religious, or ideological change." This attack, if that is indeed what it was, is no such thing. There is no violent political movement. There are no calls or manifesto for such violence (unlike the Quran). On the flipside, this is the very definition of a "lone wolf" — a madman who goes off his rocker.
So now the government will crack down on innocent people because this lone, evil act validates the equivalence narrative that the left has been trying to make happen for years.
This kind of retaliation was only a matter of time. Jihadis can't continue to bomb, mow down, and slaughter citizens and expect no reaction, time and time and time again. Especially when people see law enforcement and the government jumping to aid the side of the enemy.
The UK now faces the real possibility of tit-for-tat sectarian violence in mainland Britain — a civil war by any other name.
Meanwhile, the umma marches on: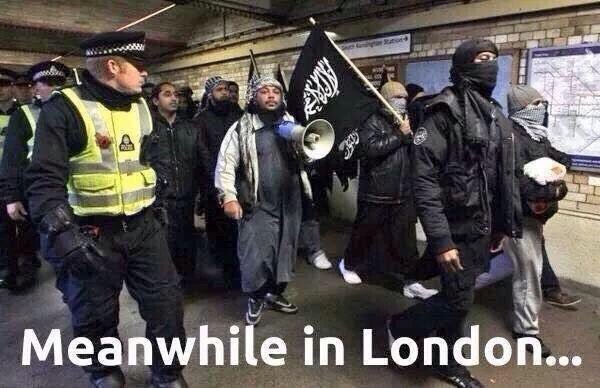 'EVERY BIT AS SICKENING' MAY VOWS TO STAMP OUT ISLAMOPHOBIA AS POLITICIANS FLOCK TO SCENE
THERESA MAY VOWED TO STAMP OUT ISLAMOPHOBIA AFTER THE FINSBURY PARK MOSQUE TERROR ATTACK AS JEREMY CORBYN ARRIVED AT THE SCENE TO CONSOLE VICTIMS.
By Tom Parfitt, The Express, Jun 19, 2017:
The Prime Minister said there had been "far too much tolerance of extremism" in recent years, including anti-Muslim hatred.
She branded the attack in north London "every bit as sickening" as recent Islamist attacks but insisted Britain would not be broken by terror.
Mrs May said: "Terrorism, extremism and hatred take many forms, and our determination to tackle them must be the same, whoever is responsible.
"This Government will act to stamp out extremist and hateful ideology, both across society and on the internet."We will be reviewing our counter-terrorism strategy and ensuring that police and security services have the powers they need."And we will establish a new commission for countering extremism in the same way that we have fought racism."
Islam is not a race, PM May.
The PM made the comments outside Downing Street after chairing a meeting of the Government's emergency Cobra committee.Meanwhile, Labour Party leader Mr Corbyn arrived at the scene in Finsbury Park which sits inside his north London constituency.He was said to be "overcome" with emotion and "distraught" as he spoke to religious leaders in the area.Mr Corbyn said: "Together, our community will get through this tragedy."
GETTY
Mrs May added: "This was an attack on Muslims near their place of worship."And like all terrorism in whatever form, it shares the same fundamental goal."It seeks to drive us apart and to break the precious bonds of solidarity and citizenship which we share in this country. We will not let this happen."
GETTY
Sajid Javid spoke to residents as he visited the scene of the attack
Cabinet minister Sajid Javid, who is Muslim, spoke briefly to concerned residents as he visited the scene of the attack this morning.He said: "The perpetrator of this attack, and those terrible attacks that we saw recently in Manchester and London, their intention is to seek to divide society."My message to them is that they will always, always fail."This Government will always take a zero-tolerance approach to hate crime, including anti-Muslim hate crime, wherever we find it."