Obviously, our "candles and teddy bears" reactions have not helped us yet, and we need to do something entirely different.
But nothing will be different:
Tough talk from the Prime Minister Theresa May, who in the course of that tough talk repeats the same old tired nonsense about jihad being a "perversion of Islam", which means In Britain today it's business as usual.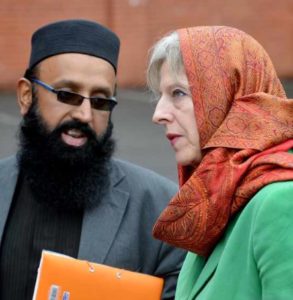 There are people who care less about vehicles plowing into innocent people and more that those vehicles currently run on fossil fuels.
 MSNBC host asks if there is risk of "overreaction" to London jihad murders
A variation of the theme: "Muslims fear backlash…"
Sadiq Khan, Muslim brother & mayor of Londonistan: 'There is no reason to be alarmed'
Khan, who became London's first Muslim mayor last year and has become known for making bizarre remarks about terrorism, told Londoners that there was nothing to be alarmed about as the city ramps up its police presence in the wake of the attack.
Sadiq Khan was sworn in on the Koran. It shows:
"Climate change remains one the biggest risks to humanity. Now more than ever world leaders must recognise and act on this threat."
Sadiq Khan, Mayor of London:
Trump's ignorant view of Islam could make both our countries less safe. It risks alienating mainstream Muslims. London has proved him wrong
Flashback:
Khan also reportedly said that London is "one of the safest global cities in the world if not the safest global cities in the world" just hours after the attack.
Khan has become well-known in America for his politically correct statements about terrorism. In September, Khan said terrorism is "part and parcel of living in a big city" and in May last year called Trump's views on Muslims "ignorant."
In 2016, London Mayor Sadiq Khan stated that then-candidate Donald Trump's "ignorant" view of Islam could prompt heightened attacks on the United States.
– MILO NEWS
London's Muslim mayor Sadiq Khan has continued his pro-Hillary Clinton tour of the United States by declaring that (Muslim) immigrants into the West should not be forced to assimilate.
His comments come hot on the heels of the Chicago press exposing his connections to radical Nation of Islam leader Louis Farrakhan.
Mr. Khan, who was elected to be London's mayor in May 2016, has also used his trip to claim that Republican candidate Donald Trump is "playing into the hands" of the Islamic State.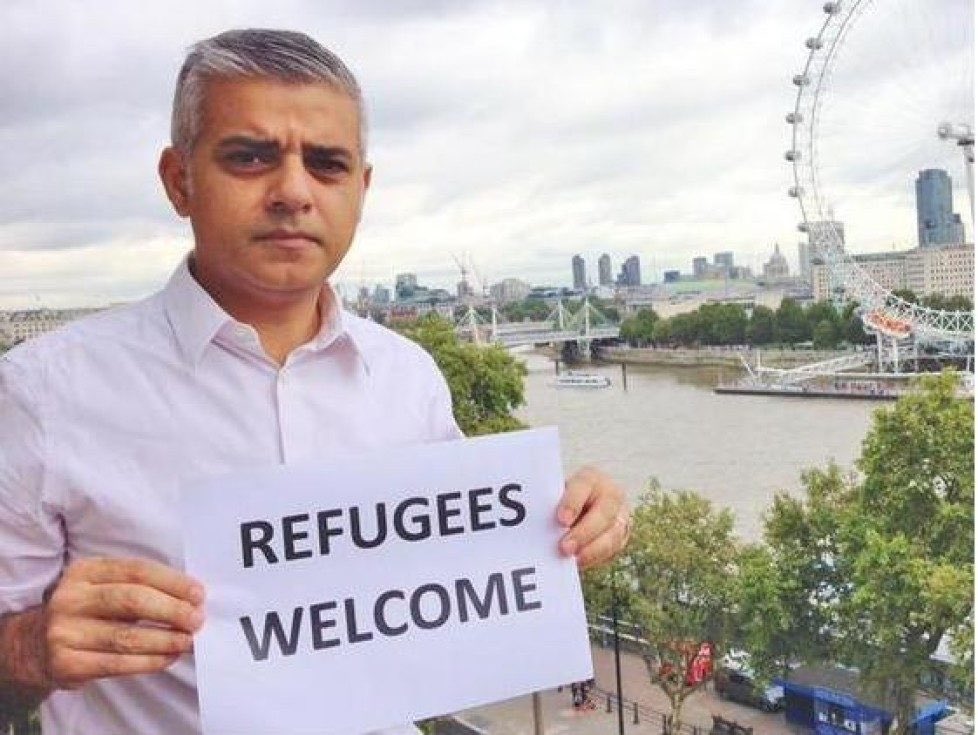 London's Mayor Sadiq Khan said President Trump's temporary travel ban was shameful & cruel.
'It will only get worse!'
Donald Trump blasts Sadiq Khan over London terror attacks
Theresa May says the internet must now be "regulated….."
"It is an ideology that is a perversion of Islam" – Theresa May. Business as usual then.
It's a curiosity that the higher the Muslim population a western country has the more Jihad attacks. Almost as if there is a connection….
The left has already proved to be too fearful of Islam to take real action against jihadis. Let me assure you, these measures will be used to silence my colleagues and me. Free exchange of ideas is not the problem. Islamic texts and teachings that exhort to jihad is the problem.–
|
BY
PAMELA GELLER
It's what the Elitist have been planning.
New international agreements should be introduced to regulate the internet in the light of the London Bridge terror attack, Theresa May has said.–INDEPENDENT.CO.UK
According to a new report, Sadidiq Khan, the Mayor of London, may be too closely tied to extremist groups to have any real desire or ability to fight terrorism.
Disobedient Media reported: In 2016, Prime Minister David Cameron was widely criticized in the UK when he claimed that London mayor Sadiq Khan had ties to the terror group ISIS. An investigation by Disobedient Media has determined that Khan has ties not just to organizations associated with ISIS, but also groups such as Hamas, Al-Nusra, Al-Qaeda and the Muslim Brotherhood. During his time as mayor, London has seen an increase in terror incidents with concerning indications that terror groups wish to stage a major attack on the City of London. Rather than focusing on combatting terror, Khan has used his forum to tell Londoners as well as citizens in other parts of Europe and the United States that the West must learn to live with terrorism as a part of daily life. Khan's extreme flirtation with radical Islamic extremism raises serious questions about his commitment to fighting a wave of extremist fueled terrorism that only continues to spread after a number of attacks and police operations in London and other areas of the UK.
I. Khan Has Been Affiliated With Organizations Tied To Hamas, Al-Qaeda, Al Nusra, ISIS And The Muslim Brotherhood
A. Khan's Relationship To Figures Tied To Hamas And The Muslim Brotherhood
Khan has openly associated in the past with individuals and organizations tied to Palestinian terror group Hamas. During his time as a legal advocate, Sadiq Khan served as the Chief Legal Advisor of the Muslim Council of Britain's legal affairs committee. Khan was a member of a delegation organized by the Muslim Council of Britain in 2003 to protest what they described as "indiscriminate" arrests of Muslims for alleged terror ties. The Muslim Council of Britain was placed under investigation by the British government over "irregularities" surrounding £1,263,000 in aid given to it by the government. In the past it has admitted to funding groups tied to both Hamas and Palestinian Islamic Jihad and is banned from Israel as a result of its ties to terror. On September 19th, 2004, Khan spoke at an event which included Ibrahim Hewitt; Hewitt has decreed on record that adultery should be punished by stoning. Hewitt serves as the Chairman of The Palestinian Relief and Development Fund (Interpal), an organization which has been labeled as a Terrorist Entity by the United States Department of the Treasury for providing support to Hamas and acting as a part of its funding network in Europe. Despite the US Treasury's designation, Labour Party Leader Jeremy Corbyn has described Hewitt as a "very good friend."
That same year, Khan spoke out in defense of Qatar-based Egyptian cleric Sheikh Yusuf al-Qaradawi, who has praised suicide attacks and decreed that homosexuality is a crime under Islam. Qaradawi has travelled directly to Gaza for the purpose of providing Hamas with ideological legitimacy and stated that Palestinian suicide attacks against the nation of Israel are justified. Qaradawi was also barred from entering into the United States in 1999, the UK in 2008, and France in 2012. In 2007, Khan and Jeremy Corbyn were present at a tenth anniversary celebration of the Palestinian Return Centre (PRC). The PRC is accused by the Israeli government of being affiliated with Hamas and had invited Hamas Minister of Refugee Affairs Atef Ibrahim Adwan to speak at the same event the year before.
B. Khan Supported Convicted Taliban Sympathizers
In 2009, Khan acted as a member of an international campaign which sought to resist attempts to extradite Babar Ahmad and Syed Talha Ahsan for their role in providing material support to the Taliban and Chechen jihadist groups via a number of websites they ran under the name of Azzam Publications. Ahmad and Ahsan were ultimately extradited to the United States, where they pled guilty to terrorism charges.
Read full story @ (Link: disobedientmedia.com)