Update:
"Sadly, her family and I have been provided with almost no additional information from law enforcement regarding what happened after police arrived," the fiance of Australian woman Justine Damond, who was shot dead by a police officer in Minneapolis, says.
Officer Mohamed Noor shot the 40-year-old bride-to-be more than once from the passenger seat of his police vehicle.
She called the cops because she was assaulted by the same Muslim cop earlier. Mohamed arrived at the scene and shot her dead to eliminate the witness. Does that make sense? (More)
Minneapolis: Muslim cop who shot woman in cold blood had three complaints against him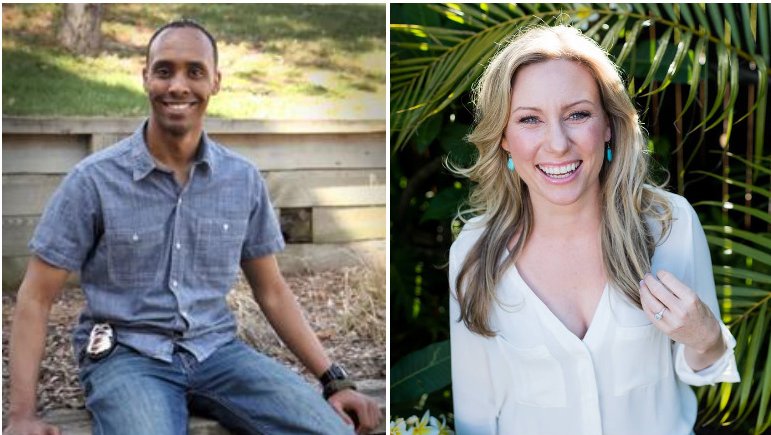 We don't have any indication at this point of why Mohamed Noor killed Justine Damond. There is no evidence now that he is a jihadi or that this was a jihad attack. But with three complaints against him in two years, he seems at very least to be dangerously reckless and/or incompetent. His presence on the force appears to be a manifestation of the general anxiety to avoid charges of "Islamophobia": Minneapolis officials were so anxious to have a Somali Muslim police officer that they put Mohamed Noor on the force and kept him there when his obvious shortcomings would have had a non-Muslim officer fired or not hired in the first place.
"The cop with only two years experience who shot pyjama-wearing Australian woman, 40, dead through the DOOR of his squad car while his bodycam was off after she called 911 over 'home intruder,'" by Hannah Moore and Josh Hanrahan, Daily Mail Australia, July 17, 2017:
The police officer who shot and killed an unarmed Australian woman in mysterious circumstances after she called 911 to report a disturbance behind her upscale Minneapolis home has been identified.
Mohamed Noor, who joined the department in March 2015, reached over and shot Justine Damond, 40, multiple times from the passenger seat of his squad car while she spoke to his colleague on the drivers side in a back alley.
Both officer's bodycams were off and the squad car camera not recording when Damond – who was in her pyjamas – was killed at around 11.30pm on Saturday, just a month before she was due to marry.
The Minnesota Bureau of Criminal Apprehension (BCA) – the state agency investigating the shooting – has so far kept tight-lipped on the circumstances that led to the death of the yoga and meditation teacher.
They have admitted that no weapons were recovered from the scene and according to the Star Tribune witnesses to the shooting have described Damond approaching the police cruiser in the alley behind her house.
She was holding her cell phone and talking to an officer on the drivers side before she was shot.
The only concrete statement the BCA has made so far is to confirm that 'At one point an officer fired their weapon, fatally striking a woman'.
Noor, 31, who is the first Somali-American police officer in his precinct, has in the past been personally praised by Minneapolis Mayor Betsy Hodges.
He also holds a degree in administration and economics.
The Mayor demanded fast answers as the investigation began on Monday.
'I have the same questions you do, and I seek the same answers you seek,' said Mayor Hodges.
'This process is difficult, but I want to be sure we get this right.'
He has already retained the services of a lawyer, who said on Monday that his client is devastated at the death of Damond.
'We take this seriously with great compassion for all persons who are being touched by this,' said attorney Tom Plunkett according to The Star Tribune.
Minneapolis Chief of Police Janeé Harteau issued a statement on Monday calling the death tragic.
'I have many of the same questions and it is why we immediately asked for an external and independent investigation into the officer-involved shooting death,' said Harteau.
'I also want to assure you that I understand why so many people have so many questions at this point. I've asked for the investigation to be expedited to provide transparency and to answer as many questions as quickly as we can.'
The driver of the squad car that pulled up in the alley behind the home Damond shared with her fiance has been identified as Matthew Harrity, a community service officer since 2016.
On Monday morning the heartbroken stepson of Damond appeared outside his home and had harsh words for Officer Noor.
'Why? Why did you do it?,' said Zach Damon.
'He has no idea the impact that he had on thousands of people. No idea.'
'I hope that he wakes up every single day and thinks about it, and then I hope that he thinks about how he can be a better person because that's what she did every single day. And if you don't do that, then you're not even living, either, man.'
According to Minneapolis Star Tribune, the website Minnesota PoliceClips has audio of an exchange between dispatch and the officers involved.
One officer says that he sees a 'female standing behind a building' and 'one down' from the same location before saying they are performing CPR.
Police in Minneapolis are required to wear bodycams at all time, but they are not continually active and are manually switched on when an officer anticipates they will be needed.
It is not know why the squad car camera cannot be used in this case.
The decision to equip all police with bodycams came after the black motorist Philando Castile was shot by an officer in 2016 in controversial circumstances.
Noor, who joined the Minneapolis Police in March 2015, has had three complaints made against him in two years – including a lawsuit.
Two are from 2017 and one from 2016 is closed and according to Lou Raguse of Kare 11 is marked 'not to be made public'.
The lawsuit stems from a police call on May 25, 2017, when Noor and two other officers took a woman to hospital and she claimed that they carried out false imprisonment, assault and battery.
According to the ongoing lawsuit, the woman claimed that Noor 'grabbed her right wrist and upper arm' when moving her….