TerrorThreatReport.com
A new report reveals that at least 61 people who came to the United States as refugees between 2002 and 2016 participated in terror activities aimed at injuring or slaughtering people on U.S. soil.
This new information from the Heritage Foundation could provide new fuel to the debate over immigration policy and President Trump's recently reinstated travel ban.
The Heritage Foundation identified dozens of refugees who came to the United States and did anything from lying to authorities about ongoing terror plots, to personally taking part in terror plots themselves.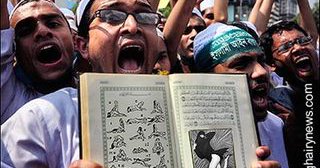 The report also presents a new problem — that none of the United State's security efforts can effectively prevent the "1.5 generation," or individuals who immigrate to the country before or during their early teens, from becoming radicalized after they have already entered the country.
What's unique about the 1.5 generation is these young refugees do not let go of the cultural values and characteristics of their home country when they reach the United States. Therefore, assimilation becomes much harder and radicalization becomes much easier.
John Cooper, a spokesman for the Heritage Foundation, says the report highlights a major problem in America's assimilation process for new refugees and immigrants.
"Given the threat that we found in the 1.5 generation, more needs to be done in the U.S. assimilation process," Cooper told Fox News. "We can't vet an 8-year-old to see if he will become a terrorist when he turns 18 or 28. Instead, we as a country need to rethink the way we assimilate refugees, and immigrants as a whole for that matter.
"In the past few decades, the United States has drifted from its strong assimilation ethos, and the terrorism in Europe paints a disturbing picture of where non-assimilation leads," he added.
Read more: http://terror-alert.com/news/new-report-refugee-terrorism-problem-is-bigger-than-you-think