Stop saying terrorist attacks won't change our way of life. They already have.
Three men are in custody, five have been shot dead and at least one remains at large after two linked terrorist attacks in Spain.
The driver, identified by reports as Moussa Oukabir, fled on foot after ploughing into crowds on Las Ramblas.
This is jihad. Jihad is waged against non-Muslims to establish sharia. You either submit to the sharia or fight back. Not with candlelight vigils. Not with  'standing together' -BS, worthless solidarity declarations or steel barriers. Tommy Robinson is right when he says  "We are at war & the enemy are being invited into our homelands. We house them , we feed them & they kill us for Allah". Just about all western politicians are in denial over the Islamic expansion project  because their policies have caused it. They own it. They are responsible for each and every Mohammedan atrocity. Meanwhile, the alt-left & CNN were more upset about Trump's General Pershing tweet than the Islamic terror attack in Barcelona. Let that sink in. Our political clown gallery feigns outrage over Hanson's burqa "stunt", offended on behalf of our spectacularly fantastic Islamic community.
Then they switch to outrage over an "extremist" terror attack in Spain,
claiming Hanson is contributing to "extremism" by wearing the burqa, by MOCKING a religion.

So tell me again: WTF caused the attack in Barcelona?…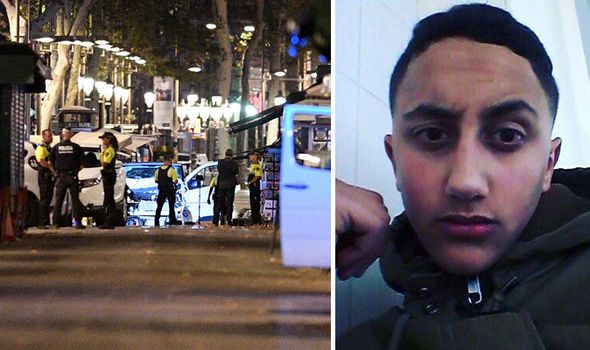 Barcelona terror suspect Moussa Oukabir hunted after 'kill infidels' rant
Police and security services across the country said they were hunting Moroccan, Moussa Oukabir, 18, who was suspected of being involved in the van attack on Las Ramblas, in which at least 13 people were killed.
Oukabir's older brother, Driss, 28, was reportedly held by police in his hometown of Ropill, around 65 miles north of Barcelona.
Barcelona and Cambrils attacks: Police name suspected van driver after five terrorists shot dead
Second terror attack in Spain at coastal resort of Cambrils
Five terrorists shot dead by police after ramming civilians
Attack comes after 13 people killed in van attack in Barcelona
Police name teenager they are hunting as suspected driver
Investigators fear terror cell had planned gas canister attack
Five terrorists wearing fake suicide belts have been shot dead by police after ramming civilians with a car in a Spanish seaside town in a second vehicle attack, as police named a man being hunted as the suspected Barcelona van driver.
Seven people, including a police officer, were injured in Cambrils – hours after a rampaging van driver left 13 people dead and more than 100 wounded around 70 miles away in Barcelona.
Police have named the suspected Barcelona van driver they are hunting as 18-year-old Moussa Oukabir. He is the brother of Driss Oukabir, a 28-year-old Moroccan who is alleged to have rented the vehicle.
Investigators revealed that a 12-strong terror cell thought to have been behind the two Spanish attacks is believed to have been planning an atrocity with gas canisters.
In Cambrils, holidaymakers ran for their lives as gunfire broke out close to the coastal town's beachfront promenade early on Friday. A British tourist told how families and residents were ordered to take cover as bullets tore through the air.
Hunt for van driver after Barcelona rampage
A manhunt continues for the driver, who escaped the scene on foot after ploughing into crowds on Las Ramblas.
news.sky.com
The attackers' vehicle overturned and the men were fired upon by police when they got out. One was reportedly brandishing a knife. Police said the attackers had been wearing explosive belts, which experts later concluded were fake.
Investigators are working on the theory that the attacks in Cambrils and Barcelona are linked to a gas explosion at a house in the town of Alcanar on Wednesday that killed one person.
A major manhunt for the driver of the van that mowed down holidaymakers and locals on Las Ramblas – a popular tourist road in Barcelona – is continuing after he fled unarmed.
Three people have so far been arrested over the attack, including Driss Oukabir, the elder brother of van driver suspect Moussa Oukabir.
The second arrested man, a Spanish national from Melilla, has not been named. The third person, who was arrested in the Spanish city of Ripoll on Friday morning, is believed to be an associate of Oukabir.
The third arrested man could have been the driver of a car that drove into a police checkpoint on Thursday night, investigators believe.
The Islamic State of Iraq and the Levant has claimed responsibility for the attack, the deadliest on Spanish soil since more than 190 people died in the Madrid train bombs in 2004. Stay with us for the latest updates.
 No group that downplays, makes excuses for or justifies this threat has any moral high ground on anything.
Islamic terrorism is by far the biggest violent threat in the world today. It's also consistently ignored or justified by the left.
Witness: Terrorist shot by police 'got up again like a horror film'
A man caught in the panic of the terrorist attack in Cambrils described the scenes as like watching a "horror film".
Fitzroy Davies, who earlier told how one of the attackers smiled at police, was visiting the town for a judo camp.
He told Sky News he saw one of the attackers get back on his feet, despite suffering police gunshots. He said:
"He came running up, he had silver stuff on him, he had a thing in his hand, and then somebody shouted 'police' and then within 30 seconds the police came.
"Next thing you know, they've drawn their guns and they were shouting at the guy and then shots were fired.
"He then fell down and then within two seconds he stood back up. He then stepped over the fence, charged the police again and the police then gave some more shots and then he fell down again.
"I couldn't understand what he was saying but he was just shouting something and he was going up and down the street and the police were saying 'stop', it must have been 'stop, stop', or whatever, and he kept charging until, in the end, they shot him."
Mr Davies said the crazed attacker was behaving "like somebody who was on drugs". He said:
"He was just going up and down the street, like ranting, raving and he was – I don't know if he was all the ticket, I don't know because he was just going up and down.
"And then when he took the first round of shots he fell on the floor, and then within two seconds, I thought I was watching a film, one of them horror films, the guy just stood up.
"Just stood up, got back up, walked over the fence and started laughing at the police.
"And as he started laughing at the police, he was walking to them and the police started to step backwards and then they shot him again. And that's when he went down."
Mr Davies said the terrorist appeared to be holding some kind of device, later thought to have been a mock trigger for a fake suicide vest.
"I think it did it's job," he said. "It made everyone fearful. And I think that's what they were looking for.
"He had something in his hand and at first everybody kept on thinking he's got something. And that's why everybody was running."
Eyewitness accounts of Cambrils shooting
00:58
Police seek teenager as suspected Barcelona van driver
Spanish police have named the man they are seeking as the suspected Barcelona van driver.
He is 18-year-old Moussa Oukabir, according to local media. He is the brother of Driss Oukabir, a 28-year-old Moroccan who is alleged to have rented the vehicle.
'Defiant' Las Ramblas reopens as Barcelona unites
Stallholders opened for business as usual along the main artery of the city. Click here for more reaction.
12-strong terror cell behind attacks, police believe
Police in Spain have said that a terror cell of 12 people is believed to have been behind the attacks in Barcelona and Cambrils  as well as the explosion in Alcanar, according to local media.
Spain toughened its antiterrorism strategy after a deadly 2004 assault on Madrid's train station and intensified its approach in 2015, but Thursday's attack in the heart of Barcelona underscores the limitations of such efforts.
Two years ago, Spanish authorities increased the country's security alert to its second-highest level and overhauled the antiterrorism law, providing for harsher penalties.
As a result, security has tightened, particularly around tourist areas. On the country's trains, passengers' bags are run through scanners before they can board, while checks at airports have also become more stringent.
However, the Las Ramblas promenade—where at least 13 people were killed and many more injured in the attack claimed by Islamic State—didn't have concrete barriers to block the assailant, despite attacks around Europe in the past year involving vehicles driving into crowds.
Spain toughened approach after 2004 Madrid assault, but assault on tourist plaza reveals gaps