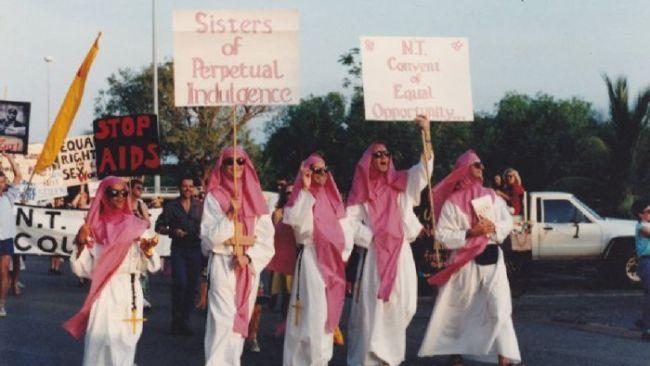 ABC promotes "Sisters of Perpetual Indulgence"
ABC WOULD APPLAUD HANSON IN PINK NUN'S OUTFIT
Andrew Bolt
The ABC defends Islam: "Pauline Hanson slammed for 'appalling and offensive' burka stunt." The ABC again attacks Christianity: "Shattering the silence: Australians tell their stories of surviving domestic violence in the church."
Nor has the ABC retracted its latest false anti-Christian smear:
Overall the international studies indicate that intimate partner violence is just as serious a problem in Christian communities, as it is in the general community.
You'd never know from the ABC that Christians are less likely to be wife beaters.
The agenda is clear.
Here is the ABC horrified by someone wearing a burqa in Parliament to criticise Islam, when the ABC honors others wearing a nun's habit in Parliament to criticise Christianity:
The Northern Territory Parliament's May sittings launched with a unique sort of reverence in 1992, when politicians were bailed up by five nuns in pink habits and heavily tinted sunglasses.
The nuns' mission — exorcise homophobia.
"We didn't just turn up," Dr Dino Hodge, one of the men behind the nun costumes, said.
"We manifested, darling."
The ABC at times seems a protection racket for Islam. It is so obvious that even ABC listeners were ringing ABC presenter Raf Epstein this morning to complain about his refusal to allow a frank debate.
UPDATE
The ABC actually likes mocking a religion, provided it is Christianity, not Islam: