Update:
Another Islamist attack. At least 16 people dead as up to three men run them down in a van. One of the attackers is believed to be Morrocan. All are Muselmaniacs.
"In the latest incident, suspects wearing suicide belts were shot dead by police in Cambrils after ramming into a crowd.
Police were pursuing a suspicious van that then drove into a pedestrian area on an esplanade, running down six people before the vehicle overturned. A police shoot-out then followed, with five attackers killed.
Firearms were removed from the scene and belts they were carrying are being treated as potential explosive devices"
An Australian woman has been seriously injured, and two other Australians are also hurt.
And in what now seems to be an unrelated attack:
Another man believed to be linked to the attack was shot dead after running over two police at a roadblock on the outskirts of Barcelona.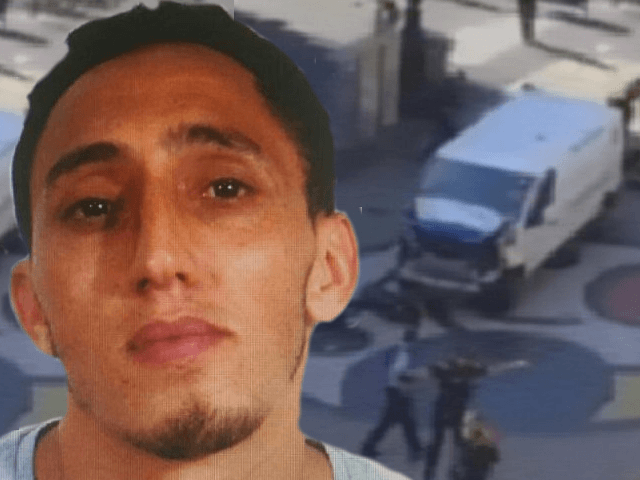 by BREITBART LONDON, 17 Aug 2017
Spanish police have confirmed a rented truck has struck a crowd on a popular tourist street in central Barcelona in what they are calling a "coordinated terrorist attack", with authorities confirming 13 dead and over 100 injured.
Update, 17:39 PM EST: According to El Mundo, the police briefing noted that, of the 100 injured, 15 are in critical condition. The newspaper notes that three of the victims are now known to be German citizens.
The man driving the car is not among the two arrested or the third killed and is suspected to be on the loose. Police say witnesses did not see him visibly armed and did not hear any Islamic proclamations from the car as it ran people over. Jihadists often shout "allahu akbar" – "allah is the greatest" – and Islamic State sympathizers, in particular, are known to pledge allegiance to "caliph" Abu Bakr al-Baghdadi during terrorist attacks.
Police did not address any reports involving the names of those arrested.
Update, 17:07 PM EST: Police have confirmed that two suspects are in custody: one, a Moroccan citizen, and the other a Spanish citizen from Melilla. Melilla is a Spanish territory on the African continent surrounded by Moroccan land.
Barcelona terror attack: Horror as 'two dead' after van ploughs into pedestrians and hostages taken at restaurant
Two people are feared dead and at least 20 people are believed to have been injured in a terror attack in central Barcelona.
A van ploughed into pedestrians along a famous promenade – sparking a manhunt for the driver – and hostages have been taken at a Turkish restaurant.
Photos posted online show victims being helped by police officers and witnesses at Placa de Catalunya in the city centre after the van struck people on a pavement.
Video shows a stampede as terrified witnesses flee through the streets after the vehicle slammed into people on tree-lined La Rambla, which is highly popular with tourists.
Local media reported that the driver of the white van fled on foot and is being hunted by police.
Locals officials have requested that metro and train stations shut while rescuers deal with the emergency, and they urged people to stay away from the crash site.
More below the fold.
Spain: Police say Barcelona truck crash is "terrorist attack"
Last June, the Islamic State published a poster depicting an SUV driving over a heap of skulls and bearing the legend "Run Over Them Without Mercy."
And the Islamic State issued this call in September 2014:
So O muwahhid, do not let this battle pass you by wherever you may be. You must strike the soldiers, patrons, and troops of the tawaghit. Strike their police, security, and intelligence members, as well as their treacherous agents. Destroy their beds. Embitter their lives for them and busy them with themselves. If you can kill a disbelieving American or European — especially the spiteful and filthy French — or an Australian, or a Canadian, or any other disbeliever from the disbelievers waging war, including the citizens of the countries that entered into a coalition against the Islamic State, then rely upon Allah, and kill him in any manner or way however it may be….If you are not able to find an IED or a bullet, then single out the disbelieving American, Frenchman, or any of their allies. Smash his head with a rock, or slaughter him with a knife, or run him over with your car, or throw him down from a high place, or choke him, or poison him….
Police confirmed that several people were injured in a "massive crash" and an investigation is underway.
Spanish media reported that 20 people were injured and there were unconfirmed reports that two people were killed.
Locals and tourists were told to avoid central Barcelona in the aftermath of the attack which occurred at about 5pm local time.
Shops have put up their shutters with shoppers inside, newspaper La Vanguardia reported.
The white van that hit the pedestrians had significant damage to its front end and was surrounded by police after it was abandoned by the driver.
Several victims were seen on the floor nearby. It's the latest in a number of attacks in Europe where terrorists have used vehicles to run down people in the street.
One of the latest attacks occurred in London in June, when three terrorists launched a van and knife attack in London Bridge and Borough Market, leaving eight dead.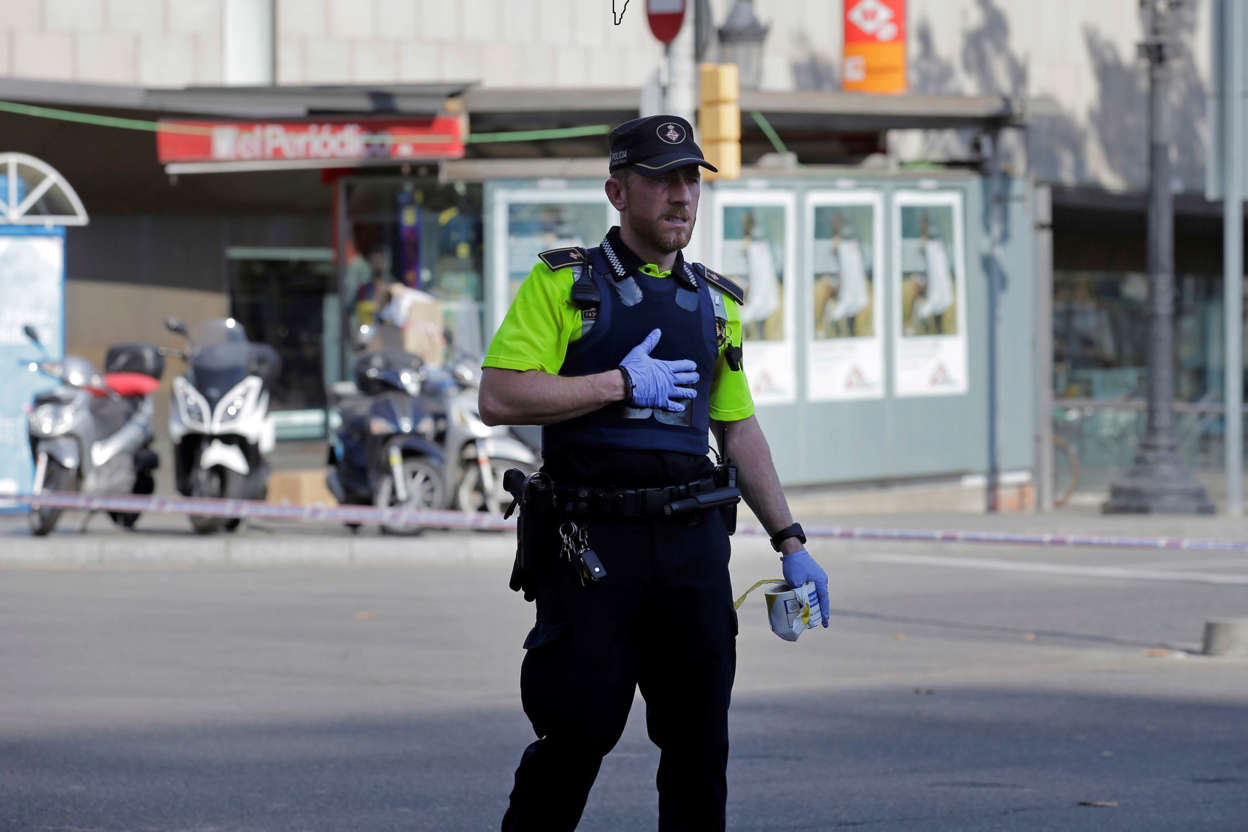 © Associated Press A police officer cordons off a street in Barcelona, Spain, Thursday, Aug. 17, 2017.
Update:
Barcelona: Hostages held at restaurant near site of vehicular jihad attack
Robert Spencer explains:
This is all according to Islamic law. Here is a salient passage on this issue from a Shafi'i manual of Islamic law:
When an adult male is taken captive, the caliph considers the interests … (of Islam and the Muslims) and decides between the prisoner's death, slavery, release without paying anything, or ransoming himself in exchange for money or for a Muslim captive held by the enemy. (Reliance of the Traveller o9.14)
A revered Islamic jurist, Al-Mawardi, agrees with Reliance of the Traveller:
As for the captives, the amir has the choice of taking the most beneficial action of four possibilities: the first, to put them to death by cutting their necks; the second, to enslave them and apply the laws of slavery regarding their sale or manumission; the third, to ransom them in exchange for goods or prisoners; and fourth, to show favor to them and pardon them. (Al-Ahkam As-Sultaniyyah (The Laws of Islamic Governance), 4.5)
"Live: Barcelona terror attack: Multiple casualties as van ploughs into crowd at Las Ramblas," by Nicky Harley, James Rothwell, and Victoria Ward, Telegraph, August 17, 2017:
At least two people have reportedly been killed and several others are injured after a suspected terrorist crashed into a crowd of people on a pavement in a popular tourist area of Barcelona.
There are also reports of a live hostage incident at a Turkish restaurant near the scene….