Today's nothing-to-do-with-Islam offerings:
2 killed in stabbing attack at French train station
Being ritually slaughtered in France is part of the price the political elite have inflicted on their citizens.

Stabber shouting 'Allahu ackbar' shot dead after stabbing travellers at train station, killing two.
Two women were stabbed to death in a train station in the city of Marseille in southern France, Sunday afternoon.
The attack took place at the Saint-Charles train station in Marseille when a man brandishing a knife began stabbing travelers waiting at the station.
One woman was killed when the attacker slit her throat; a second woman died after being stabbed. In addition to the two fatalities, a number of civilians were wounded during the attack.
The attacker shouted "Allahu Ackbar" during the attack, which, as we all know,- means nothing-to-do-with-Islam.
Edmonton: Muslim rams police car, stabs officer, rams car into pedestrians, ISIS flag found in car
Update:
After Edmonton jihad attack, Globe and Mail warns against those who "spread hatred against Muslims"
Edmonton jihadi Abdulahi Sharif is Somalian national, currently in Canada as a REFUGEE.
The Islamic State issued this call in September 2014:
So O muwahhid, do not let this battle pass you by wherever you may be. You must strike the soldiers, patrons, and troops of the tawaghit. Strike their police, security, and intelligence members, as well as their treacherous agents. Destroy their beds. Embitter their lives for them and busy them with themselves. If you can kill a disbelieving American or European — especially the spiteful and filthy French — or an Australian, or a Canadian, or any other disbeliever from the disbelievers waging war, including the citizens of the countries that entered into a coalition against the Islamic State, then rely upon Allah, and kill him in any manner or way however it may be….If you are not able to find an IED or a bullet, then single out the disbelieving American, Frenchman, or any of their allies. Smash his head with a rock, or slaughter him with a knife, or run him over with your car, or throw him down from a high place, or choke him, or poison him….
"Edmonton terror attack: Police stabbed before pedestrians hit by van – ISIS flag found," by Zoie O'Brien, Express, October 1, 2017, thanks to Robert Spencer
Video of Edmonton car ramming jihad attack
"We cannot—and will not—let violent extremism take root in our communities. We know that Canada's strength comes from our diversity, and we will not be cowed by those who seek to divide us or promote fear. Edmonton is a strong and resilient city, and I am confident that its citizens will support one another to overcome this tragic event." — Justin Trudeau
Yes. See how strong our diversity has made us?
In Australia:
Victoria Police say a young man arrested Melbourne CBD is being assessed for mental health conditions. MORE
I wish Authorities would stop treating the general public with contempt!
Resorting to mental illness is a very bad development for genuinely mentally ill people. If he was a warrior for Islam, are we going to call all soldiers mentally ill? And are all extremist religious proselytisers mentally ill?
.
This deranged Marxist intends to lay waste to the world.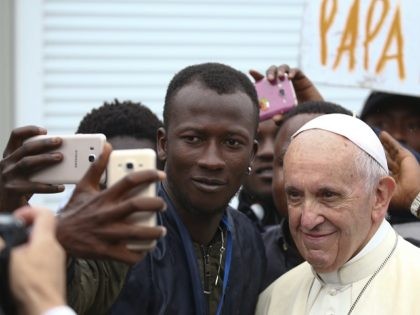 Pope Francis flew to Bologna, Italy, Sunday and met with a large group of migrants and refugees, calling them "warriors of hope" while insisting that nations open broader avenues for immigration.
Middle East Refugees to Begin Arriving to U.S. from Australia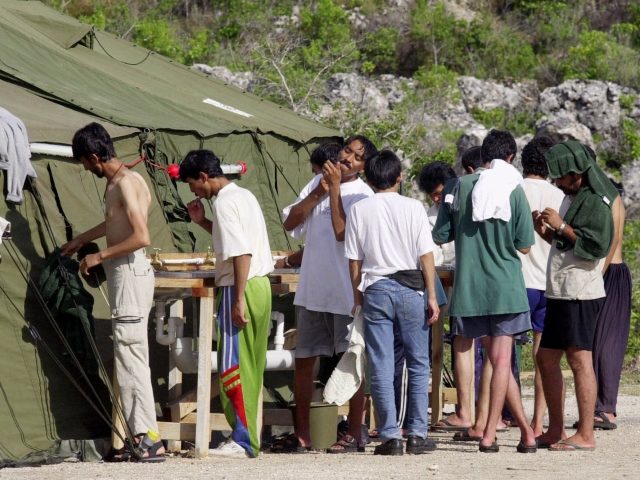 by JOHN BINDER. 1 Oct 2017
The first group of 1,250 mostly male Middle Eastern refugees is expected to soon arrive in the United States from Australia. The transfer of refugees comes after President Trump failed to shutter an Obama-era deal that could bring tens of thousands of the refugees' family members to the U.S. in years to come.
President Barack Obama signed the Australian-U.S. refugee deal during his last months in office — promising to take 1,250 Middle Eastern refugees off Australia's hands.
The refugees are being held in detention centers on Manus Island and Nauru Island. Despite Trump's original statement calling the deal "a dumb deal," the president has now broken two long-promised campaign pledges: Throwing out deals that don't benefit Americans and stopping the flow of foreign refugees.