Why is he in The Netherlands at all? Why was he in Belgium? Why can't European states take elementary, lawful steps to protect themselves from preachers of violence and sedition?
"A recording of one of Amaouch's sermons showed an ISIS flag and it is believed that many of his followers are radicalized."
.
Kuwait-based cleric asks youths not to study maths, chemistry, zoology
Summary: Kuwait-based cleric Arshad Mohsin on Friday exhorted the Muslims to stop studying arithmetic chemistry and zoology as these subjects taught things against the basic tenets of Islam Anybody who studied Darwin automatically ceases to be a Muslim, he said.   The cleric also said the Quran contained everything required for success in this world and thereafter.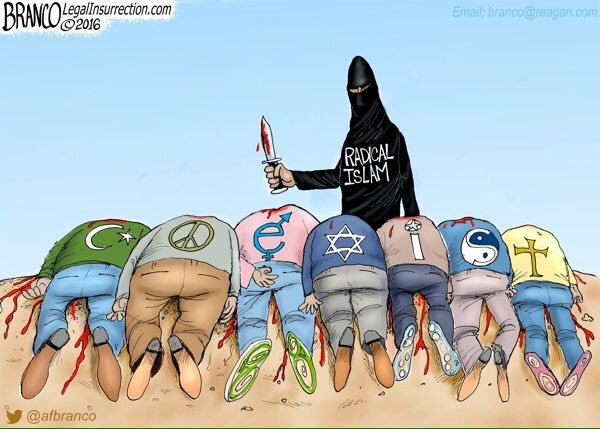 Islam, the great equalizer.
How many more times is this annoying spokeswhiner from designated terrorist group CAIR going to boohoo about Trump's new restrictions on Muslims entering the country?
thanks to BNI

I think she's a robot. Zainab Chaudry's mouth moves at warp speed repeating the same lies over and over about how America has a duty to let in as many Muslim freeloaders pretending to be refugees as possible, claiming they pose no threat to Americans. HAH!
Oh, here she is again, complaining about alleged "Islamophobia" and joined by another baghead who has memorized the CAIR handbook on 'perpetual victimhood' and how to get media attention for fake hate crimes.