Update:
While Sadiq Khan's Gestapo is chasing after phony 'hate-crimes' against Muslims, Londoners are being slaughtered by Khan's coreligionists: One dead, two injured in stabbing at same London Tube station site of jihad bombing last month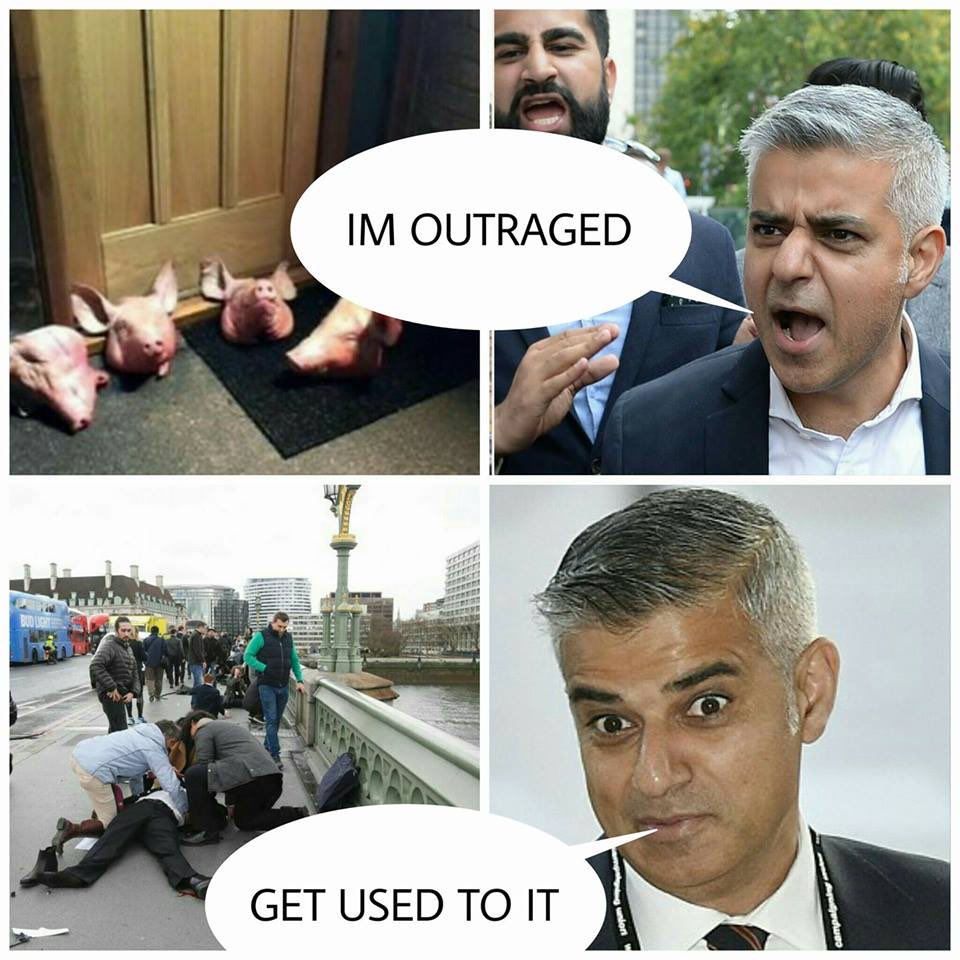 Jihad Khan(t), the Muslim mayor of Londonistan, is using the discredited, mendacious grievance mongers from 'Tell Mama' to drum up fake hate crimes, and to sic police & judiciary after  those opposing Islamisation.
Want advice about dealing with hate crime?
Contact one of our partners for support. Visit camden.gov.uk/hatecrime for full details of the organisations we work with.
Advice sessions on dealing with Islamophobia
We have a partner, Tell Mama, supporting people who have experienced Islamophobia. Tell Mama are running two drop-in sessions on 17 October with support from our commuity safety service.
Transport for London (TfL) and London's police are teaming up to encourage people to report "perceived" so-called "hate crimes", specifically targeting Muslims by going into mosques.
The police will be working with the True Vision website, used by anti-Brexit campaigners to claim the vote to leave the European Union (EU) caused "hate crimes" and Tell MAMA, a discredited "anti-Islamophobia" group that lost government funding in 2013 after exaggerating statistics to further their cause.
TfL and the Met Police will hold more than 200 "community events" and encourage reporting of hate crimes on visits to the East London Mosque and bus routes around Stratford and Whitechapel in support of National Hate Crime Awareness Week.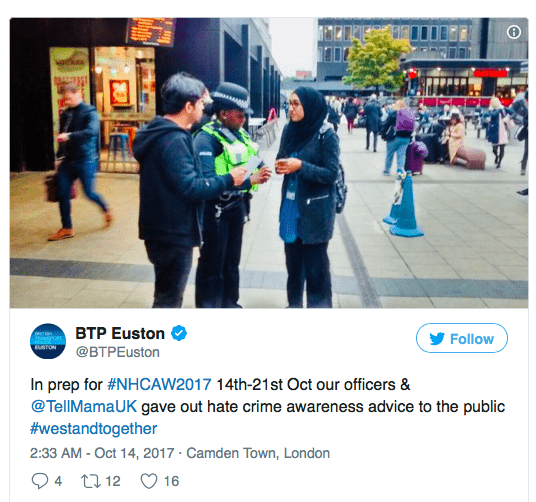 "We won't tolerate behaviour where someone is targeted because they are different or made to feel uncomfortable on their journey," British Transport Police said in a statement.

Here a reminder for Mr Khan(t):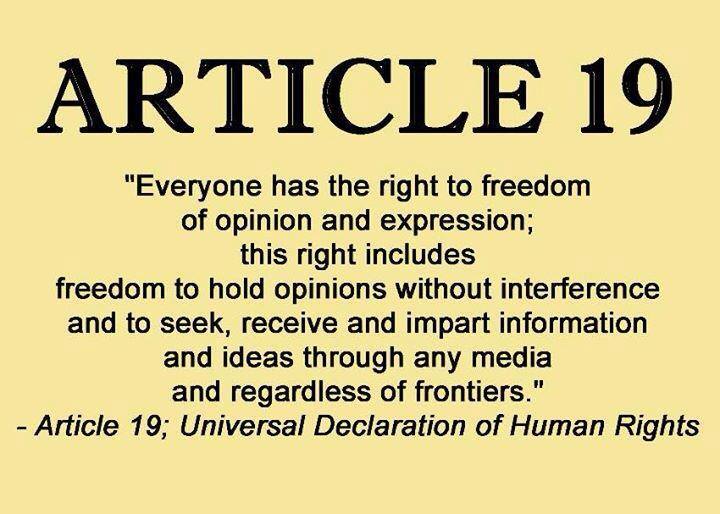 They also reaffirmed that a hate crime is a crime committed because of a "perceived difference" which can include "offensive language".
"You might want to shrug it off if it happens to you," they add. "But if you don't tell us, we won't know… even if you're not sure if it's a crime or not, you should report it so we can investigate."
The Met said they had seen "a steady increase in the reporting of hate crime, particularly racist and religious hate crime, with spikes in reporting following the EU referendum and recent terrorist attacks.
"However, this is also due to the growing willingness of victims to report crime and the improved awareness by police, along with the continued work with partners to identify offences and support victims," they added.
Nozmul Hussain, chief executive officer of the East London Mosque Trust, said: "Every so often, a member of our congregation can find themselves being abused on London's transport network, and we want to send a clear message, that you do not have to be afraid and that you can report incidents discreetly to the police.
"The Mosque and Centre is also a third party hate crime reporting site working in partnership with Tower Hamlets council, if somebody wants to report hate crime, he or she can do so through us.
"London represents one of the most diverse capital cities in the world, and we will never tolerate those that seek to divide us through hatred and bigotry we will always stand united."
Sophie Linden, deputy mayor for policing and crime, said: "Hate crime of any kind has no place in London, and the Mayor has been clear that the Met police should take a zero-tolerance approach to it. We all need to work together to tackle these awful crimes."
Last year, the London mayor's office for policing and crime (Mopac) announced it was spending £1,730,726 of taxpayers' money policing speech online after applying for a grant from the Home Office.
Sadiq Khan's office promised to set up a police "online hate crime hub" to work in "partnership with social media providers" to criminalise "trolls" who "target … individuals and communities".
Also last year, the Crown Prosecution Service (CPS) confirmed that no evidence is needed to bring a criminal complaint against someone for a "hate crime", as "reporting … is subjective and is based on the perception of the victim".