Swedish utopians teaching Mohammedan savages how to get it on with the natives. What could go wrong?
Here's a memo to those who will not learn:
They don't rape you because they do not get the fine points of Swedish dating etiquette. They rape you because they believe that 'allah' wants them to shame and humiliate non belivers and to enslave them.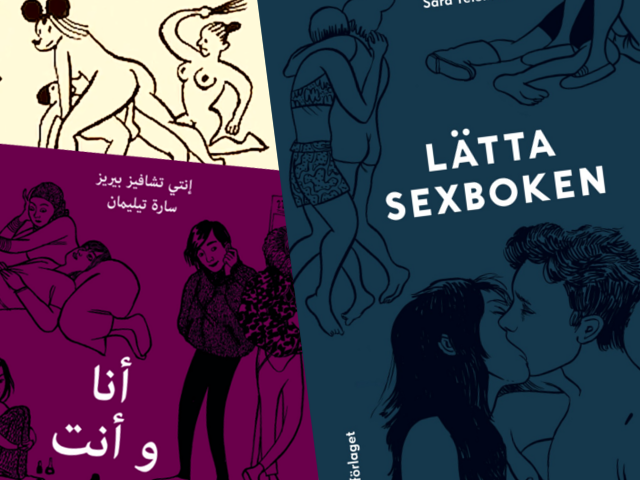 by OLIVER JJ LANE, 17 Oct 2017
A Swedish journalist is launching a new series of sex education books, which he says are aiming to answer key questions posed by newly arrived migrants about how to meet people, how to flirt, and how to have sex.
Aiming to reach as many people as possible, the explicitly illustrated book Me and You will be published in three editions. As well as Swedish, there will also be an Arabic language version "especially for those who are new to Sweden".
The books follow a previous title by the author, the Simple Sex Book for children (pictured above).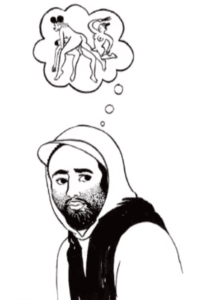 The book was featured on Sweden's TV4 Tuesday morning, where a number of the illustrations were revealed to the breakfast show's audience. In one, a bearded and hooded man is shown imagining a group sex fetish scene where one woman wears Mickey Mouse ears as she mounts a man, while another woman wields a flogger.
Another picture appears to address the issue of underage sex abuse, in which an apparently young girl embraces an adult woman, and asks whether they can have sex — the adult replies that she wants to wait.
Explaining the process of creating the book on his website, former government radio journalist Inti Chavez Perez states he "interviewed hundreds of young people, new arrivals, immigrants and born Swedish people". Answering the questions they posed, Perez explains in the book "How do you get in touch with someone in a hurry and how do you get together?", as well as, "Is masturbation dangerous?"
Elsewhere on his website, the journalist shows off his work with young Swedes, where in one class of 20 pupils of 10-12-years-old he led a "workshop on gender roles", teaching that "Gender roles and other norms are perceived. There is nothing natural or congenital in them".
When asked on Swedish television what he hoped his work would achieve, Perez replied: "I want this book to reach the classrooms for immigrants all around Sweden".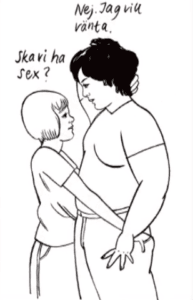 The book is only the latest in a number of recent initiatives in Sweden to close the discrepancy between long-established sexual norms in the country and the views of many of the thousands of migrants who have made Sweden their new home during the course of the migrant crisis.
Breitbart London reported in April on a new sex brochure released by an LGBT NGO in Sweden which graphically explained concepts of "Sexual Health and Rights in Sweden", with illustrations of group sex between migrants and Swedes.
Another project, this time by the Swedish Ministry of Youth and Civil Affairs, was released in September specifically tackling the concept of consent, in an effort to drive down sex attacks involving young migrants.
A March report had found that 85 per cent of suspects in gang rape cases in Sweden involved foreign origin attackers.