But… hey: the real problem is "Islamophobia", don'tcha know:
To those who've been boosting the Saudi Arabian Islamic dictatorship as "allies": the Saudi crown prince thinks that the "biggest danger of terrorism" isn't Mass Murder, but the "tarnishing" of Islam's reputation. As if its reputation isn't already in the toilet.
He isn't dismissing or discounting the death toll. He also said: "The biggest threat from terrorism and extremism is not only killing innocent people and spreading hate, but tarnishing the reputation of our religion and distorting our belief."
Many Western analysts have an enormous amount of hope already invested in Crown Prince Mohammed bin Salman, thinking that he is going to bring about genuine Islamic reform. It remains to be seen, however, as he vows here to fight against the tarnishing of the reputation of his beloved religion, whether he means that he will fight against non-Muslims who dare to notice how Islamic jihadists use the texts and teachings of Islam to justify violence and terrorism, or whether he will really take the fight to the jihad terrorists themselves. We shall see.
"We will not allow terrorism to tarnish the image of Islam, says Saudi Crown Prince at IMCTC meeting," Arab News, November 26, 2017:
RIYADH: Crown Prince Mohammed bin Salman bin Abdulaziz Al Saud, the Deputy Premier and Minister of Defense, opened here on Sunday the inaugural meeting of the Islamic Military Counter Terrorism Coalition (IMCTC) Ministers of Defense Council.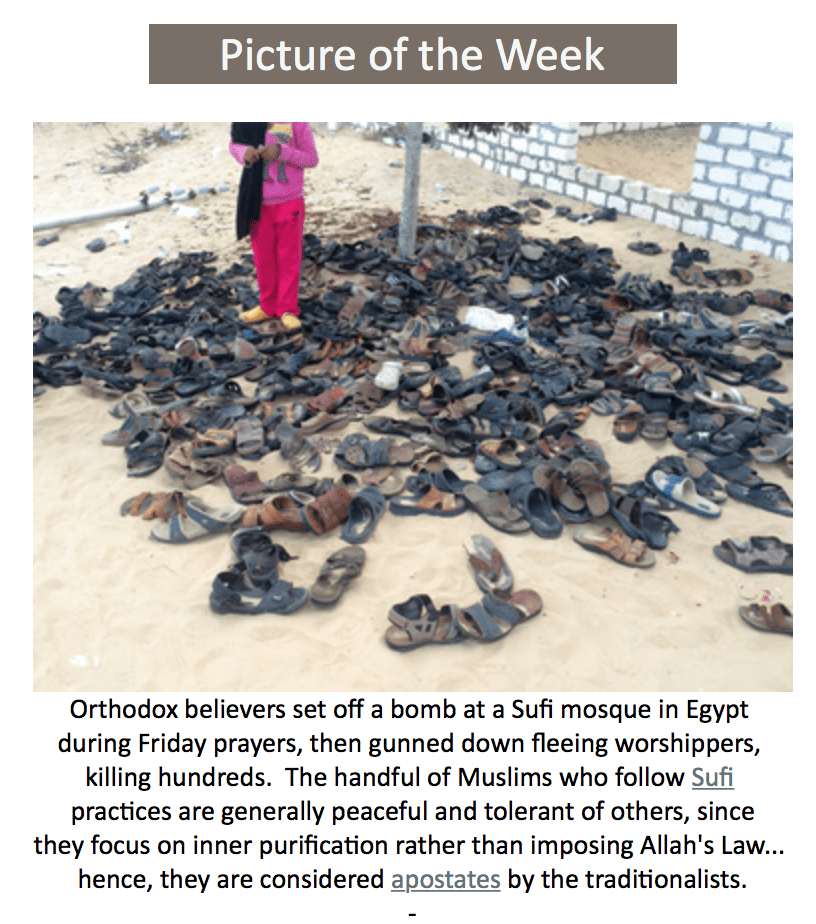 More on Egypt:
In June 2009 at al-Azhar, Barack Obama said: "For over a thousand years, Al-Azhar has stood as a beacon of Islamic learning."
In October 2001, right after 9/11, the New York Times called Al-Azhar "the revered mosque, the distinguished university, the leading voice of the Sunni Muslim establishment." It quoted a Muslim cleric: "Al Azhar is the only institution in the world that has learned the moderate Islam and taught it in a moderate way without fanaticism, and without abidi…
More from the Religion of Peace: