Not quite, not yet anyway. But Mohammedans & their leftist enablers are taking us there, every day a little more:
Runnymede Trust coined the word 'islamophobia' – now seeks to define it as anti-muslim racism – thus giving a blasphemous,  violent belief-system recognition as being a race, to be given legal protections, or something. Beware of false prophets – and the fake races that follow them] Farah Elahi on Islamophobia (runnymedeTrust)
With thanks to Mullah (pbuh)
The efforts to have the fake god of islam's murderous ideology  given the status of a race, protected by anti-discrimination laws – even as members of the 'race' cast terror into the hearts of those who are not members of the islamic 'race' …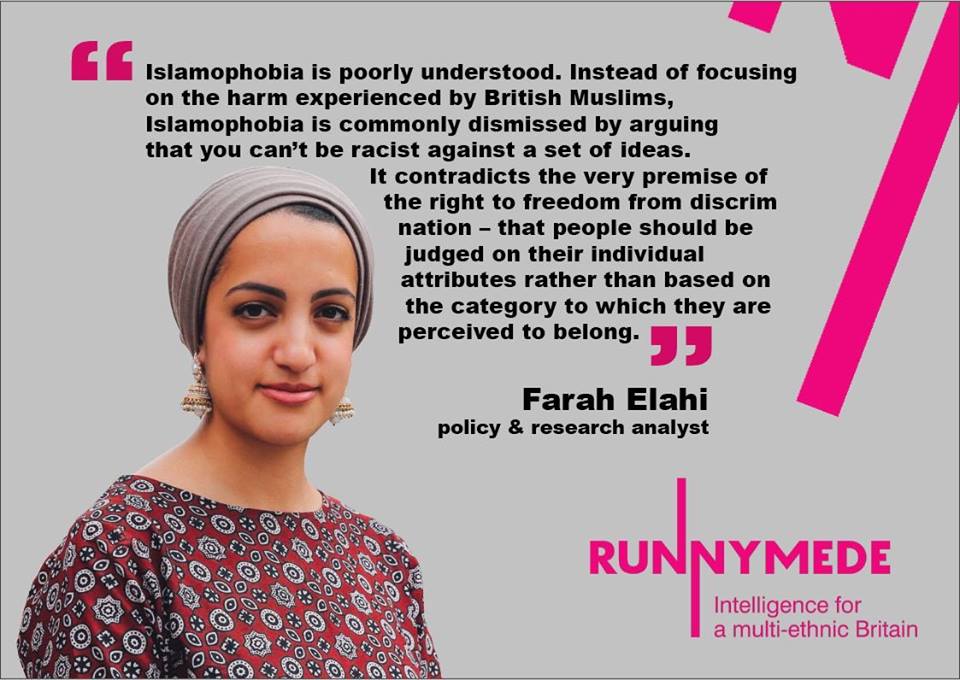 The relentless, persistent conflation of Islam (& any criticism thereof) by shrieking "racism" borders on genius. It guarantees victimhood to the perpetrators of the worst atrocities & gives license for them to continue murdering us.
'Bigotry blind spot': Baroness Warsi decries Islamophobia in UK
Arwa Ibrahim
Tuesday 14 November 2017
.
In an attempt to push the word "Islamophobia" into public discourse, the Trust's report "Islamophobia: Still a challenge for us all," which was launched at the event, features contributions from 23 academics and maps Islamophobia across society. The original report "Islamophobia: A challenge for us all," introduced the word "Islamophobia" into public discourse, but years later Islamophobia has become so prevalent that Warsi claimed it has "passed the dinner table test," an issue she raised in 2011.
Unpicking the term further, Warsi laid out what she referred to as the "seven sins of Islamophobia" as ways of understanding racisim against Muslims and how it continues to persist. …

More pushing the phony phobia; implying that being afraid of the fake god's blasphemous, abhorrent religion is 'sinful'; and promoting the Runnymede myth of the 'muslim race'  at

Middle East Eye
.
Call for new definition of 'Islamophobia' in UK
REBECCA SPONG
Wednesday 15 November 2017
.
A lack of clarity around the meaning of the word is hindering efforts to design policies that could prevent the discrimination of Muslims in the UK, whether it be in the workplace or as a victim of hate crime, the report found. …… The recommendation formed part of a wider report, released on the 20th anniversary of Runnymede's first paper on the subject in 1997, in which it is credited for coining the term "Islamophobia."
More on the 'lack of clarity' about the word that the Runnymede Trust apparently coined – but now wants to redefine the fake god's unfortunate followers as a 'race' – at Arab News
.
Sayeeda Warsi accuses UK press of hate speech and Islamophobia
Warsi said hate was a daily reality for Muslims in Britain in 2017, adding: "In sections of our press, it is relentless and deliberate. Steadily and methodically using paper inches and columns to create, feed and ratchet up suspicions and hostilities in our society, driving communities apart and creating untold – and unnecessary – fear and distress.
More tripe in support of the fake god and its fake race / religion at The Guardian