Leftist brainfarts:
"…private vehicles should not be allowed in the CBD at any time"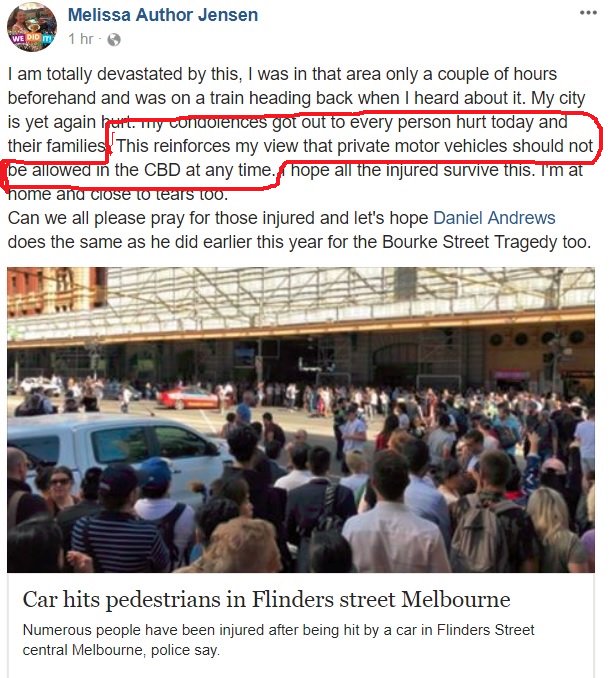 The narrative from Murdoch's proudly right-wing anti-Islam newspaper?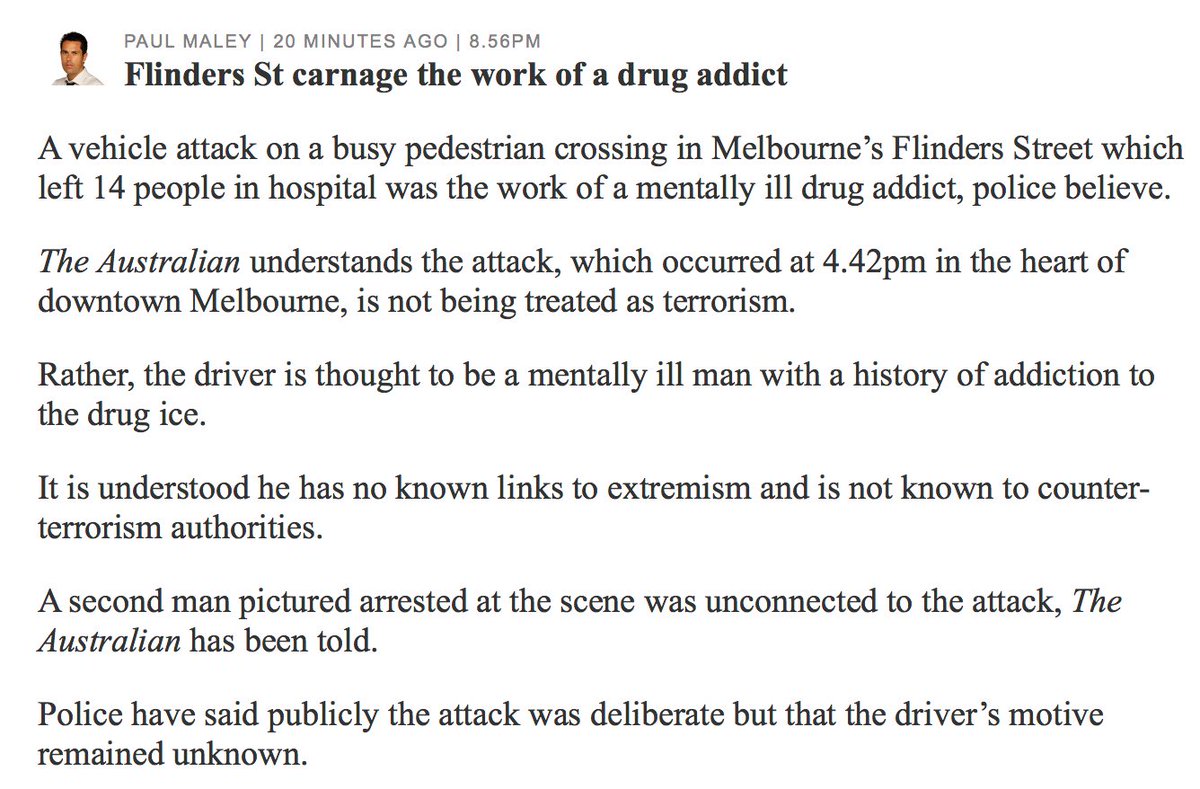 A second man arrested after the car attack in Melbourne had been filming on his phone at the scene & three knives were found in his bag. Police say they don't currently believe he is connected to the incident…
In other news:
Gas explosion at a Melbourne shopping centre with panicked Christmas shoppers evacuated – after a car 'deliberately' ploughed into pedestrians injuring 14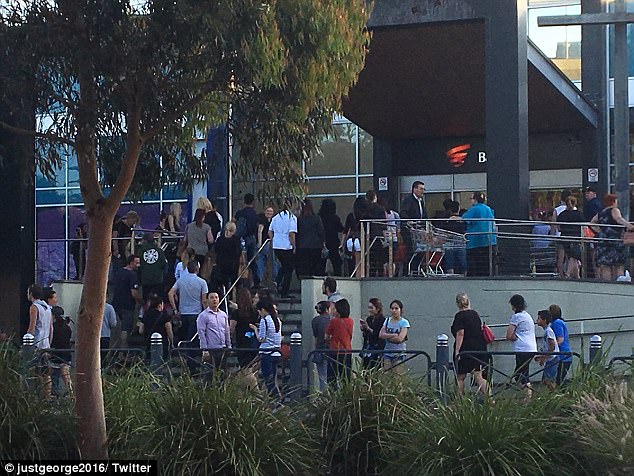 Bayside Shopping Centre at Frankston in Melbourne's south-east evacuated
The train line has been shut down with buses to be brought in on Frankston line
The Country Fire Authority confirmed an explosion occurred at Bob Jane T Marts
Witnesses reporting hearing exploding sounds shortly before a fire started 
This is the terrifying moment a gas bottle exploded at a shopping mall in Melbourne's south-east.
Frantic Christmas shoppers were evacuated from the Bayside Shopping Centre at Frankston after gas cylinders exploded at the Bob Jane T Marts tyre workshop in the complex shortly after 7pm.
Witnesses reported hearing multiple 'bangs' and visible flames, only two hours after a four-wheel drive was driven into pedestrians in central Melbourne.
ISIS issues 17-point plan to help lone wolves carry out attacks at Christmas days after poster showed a fanatic about to behead Santa in London
ISIS lone wolf guide features an image of a wolf and an extremist on horseback
Reveals how to derail trains, suggests burning churches and targeting markets
Posters show jihadists in snow outside home of a family celebrating Christmas
Another released in late November showed fanatic about to behead Father Christmas in Regent's Street
And it adds, chillingly: 'In a month you may make a bigger and more lethal bomb that could kill tens of people.'
ISIS fanatics are being urged to attack ordinary families in their homes at Christmas, burn churches and derail trains.
The terror group's propaganda chiefs have issued a chilling 17-point plan to help lone wolves mount raids over the festive period.
The guide – featuring the image of wolf and an ISIS fighter on horseback – is written in Arabic and English and reveals how to derail trains and suggests burning churches and targeting markets and important factories, according to the SITE terrorism monitoring group.
A series of posters show Santa about to be beheaded and two Jihadists lurking in the snow outside the home of a family celebrating indoors with the warning: 'Soon at Christmas.'
Militants have also been sharing an incredibly detailed pipe bomb making manual that uses Christmas lights to trigger explosions on encrypted internet channels as they call for the lone wolf attacks in the West.
The document boasts the device cannot be detected by sniffer dogs and in just two days the device could be ready to kill at least 10 people.
It has several pages of full colour instructions including photographs of how to prepare the materials, build fuses, detonators and timers from household products.
The terror group's propaganda chiefs have issued a chilling 17-point plan (pictured) to help lone wolves mount raids over the festive period
It gives bomb-makers a shopping list of items they will need, adding: '1. Inflammable substance 2. Decoration lamp (what is normally used for Christmas trees) 3. Iron pipe.'
Bangladeshi Akayed Ullah, 27, is said to have used fairy lights to detonate his home-made device close to Times Square.
An ISIS propaganda poster released late last month specifically called for an attack in that very location.
Zealots are also passing on details of an Al Qaeda terror tutorial that shows would-be Jihadis the know how to make a devastating device from items available in the high street.
The document – called Make a bomb in the kitchen of your Mom – the AQ chef – says: 'Can I make an effective bomb that causes damage to the enemy from ingredients available in any kitchen in the world? The answer is yes.
'And it is also because every Muslim is required to defend his religion and nation. The Jews and Christians have dishonoured the Muslims, desecrated our holy places, and cursed the beloved Prophet.
'Today they are holding contests for the best blasphemy of Muĥammad.
'If you are sincere in your intentions to serve the religion of Allāh, then all what you have to do is enter your kitchen and make an explosive device that would damage the enemy if you put your trust in Allāh and then use this explosive device properly. Here are the main qualities of this bomb.'
A series of posters show Father Christmas with his hands tied about to be beheaded in Regent's Street, London
The manual adds: 'Its ingredients are readily available. Buying these ingredients does not raise suspicion. It is easily disposed of if the enemy searches your home.
'Sniffing dogs are not trained to recognize them as bomb making ingredients.'
The online work also gives tips on how to communicate with fellow hardliners via encrypted messaging services.
Australians should hold this simpleton in contempt: