Car deliberately hits Melbourne pedestrians; police do not suspect terrorism
They can't . Because if they did, they  would have to start doing something about it.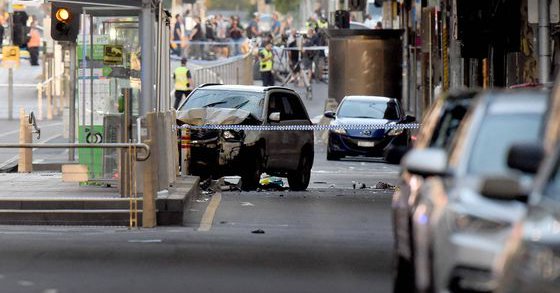 A car deliberately plowed into pedestrians injuring 19 people at a crowded intersection in the Australian city of Melbourne on Thursday, but police said they did not believe the attack to be terror-related.
In January, four people were killed and more than 20 injured when a man deliberately drove into pedestrians just a few hundred meters away from Thursday's attack. That too was not a terror attack.
"At this time, we don't have any evidence or intelligence to indicate a connection with terrorism," said acting chief Commissioner Shane Patton, who added that the driver suffered mental health issues.
#Melbourne cops seem very keen to downplay terrorism and emphasise mental illness of Afghan-background suspect. But no mention of religion. The helpless, voiceless mentally ill are drawn in but not the primary motivation of such alleged car attacks. Red Dan nods approvingly.
Time to put concrete jihadi barriers around the car parks of all drug-rehab centres. Inshallah #Melbourne
It was an act of terrorism driven by a barbaric ideology. It is a belief system that seeks to subjugate & destroy. Address the root cause of the problem and stop making it something other 'otherworldly' #StopIsam #vote1ala @AustLiberty #auspol
Drugs have been a problem in this country since it became a country. But no drug addict has ever driven his car deliberately into a crowd of people because he was having a bad day –until now… 2 brown guys with beards, coincidently.
Robert Spencer:
Muslim deliberately plows car into pedestrians, injuring 19, cops say it's not terrorism 
A mentally ill drug addict. With a criminal history. Of course. How could this possibly be terrorism? Notice, however, buried deep in this report, a most interesting detail: "Second man arrested at the scene was filing [sic] the incident and had a bag containing knives." He wasn't filing, he was filming. What kind of mentally ill drug addict decides to drive a car into pedestrians and gets a buddy to fill a bag with knives and come down and film the act? Clearly the filming was for jihad video; we have seen other jihad terrorists, such as Mohamed Merah, who massacred people at a Jewish school in France a few years ago, film their acts so that jihadis can enjoy the bloodshed and recruit others to the cause. If Australian authorities think this wasn't terrorism, but just more of the global outbreak of mental illness, they're whistling in the dark.
Last June, the Islamic State published a poster depicting an SUV driving over a heap of skulls and bearing the legend "Run Over Them Without Mercy."
And the Islamic State issued this call in September 2014:
So O muwahhid, do not let this battle pass you by wherever you may be. You must strike the soldiers, patrons, and troops of the tawaghit. Strike their police, security, and intelligence members, as well as their treacherous agents. Destroy their beds. Embitter their lives for them and busy them with themselves. If you can kill a disbelieving American or European — especially the spiteful and filthy French — or an Australian, or a Canadian, or any other disbeliever from the disbelievers waging war, including the citizens of the countries that entered into a coalition against the Islamic State, then rely upon Allah, and kill him in any manner or way however it may be….If you are not able to find an IED or a bullet, then single out the disbelieving American, Frenchman, or any of their allies. Smash his head with a rock, or slaughter him with a knife, or run him over with your car, or throw him down from a high place, or choke him, or poison him….
"LIVE: Melbourne incident the act of mentally ill drug addict," by Chip Le Grand,Tessa Akerman, Samantha Hutchinson, Paul Maley, and Paul Johnson, The Australian, December 21, 2017:
19 people were injured and several hospitalised including a small child when a driver with a history of drug use and mental issues mowed them down on Flinders St, in melbourne's [sic] CBD. Police have suggested that terrorism was not at play.

Nineteen people have been taken to hospital following a deliberate attack on a Melbourne intersection in which a rogue driver ran a red light and mowed down pedestrians.

Victoria Police revealed that fifteen of the victims are in a stable condition, and another four are in a critical condition.

Among those hospitalised are the 32-year-old driver of the car used in the attack and the off-duty police officer who arrested him.

The man who mowed down and injured 19 pedestrians in what police described as a 'deliberate act', in Melbourne's CBD, at the intersection of Flinders and Elizabeth streets is believed to be a drug addict with a history of mental health problems.

The Australian understands the attack, which occurred at 4.41pm in the heart of downtown Melbourne, is not being treated as terrorism.

Rather, the driver is thought to be a mentally ill man with a history of addiction to the drug ice.

The driver is receiving treatment for injuries he sustained when police dragged him from the car and handcuffed him in the wake of the pre-Christmas attack.

The off-duty sergeant sustained hand and shoulder injuries when he jumped in to restrain the driver after his car crashed into a tram stop. Acting Commissioner Shane Patton described him as a hero.

Police have ruled out terror as a motive, but have said they will continue to work with counter terrorism throughout the investigation.

"We don't have at this time any evidence or intelligence to indicate a connection with terrorism," Acting Commissioner Shane Patton said. "Having said that we continue to support this investigation with the counter terror command."

Mr Patton said a second man who was arrested at the scene is not believed to be connected with the car attack.

He said the second man had come under suspicion because he was filming the incident and was later found to have three knives in a bag.

Police said it was likely he would be exonerated.

The driver of the car was known to police, who said that he had a history of mental health issues and was on a mental health plan and had drug issues.

The driver also has historical assault charges from 2010 and more recent driving offences to his name, but was not on bail or under any current court order.

Mr Patton said the driver was an Australian citizen of Afghan descent and was driving a car owned by a family member.

Premier Daniel Andrews called the attack, which occurred at peak hour at one of the city's busiest intersections, as an act of "evil and an act of cowardice"

"We've seen an horrific act, an act of cowardice perpetrated against innocent bystanders," Mr Andrews said.

The man is believed to have been alone in his car when the incident occurred and police said they had seized no weapons from the vehicle but were investigating the possiblity that he was driving while impaired.

* There weren't any weapons identified when he was taken from the vehicle, police say

* Police cannot confirm if the man driving the vehicle was an Afghan refugee or born in Australia.

* There was one sole person in the car and that was the offender who is in custosy. [sic]

* A second person had a bag with three knives and at this stage Vic police do not believe he was connected with the incident

* The driver is 32 years of age and had mionor [sic] interactions with Vic police over driving offences and a minor assault in 2010.

* Police confirm they are investigating impairment in relation to the offenders driving and are still following through with those.

* Police only became aware of this male as a result of his conduct in driving and running down the pedestrians

* The car was not stolen but registered to a family member.

* polcie [sic] say it is not apt to describe it as a 'lone wolf' incident.

"This is an act of evil and an act of cowardice and one I am sure which will be condemned by all Victorians," Victorian Premier Daniel Andrews.

* Police say driver has a history of drug use and mental health issues.

* Police believe it is a deliberate act

* Second man arrested at the scene was filing [sic] the incident and had a bag containing knives

* "At this time we don't have any evidence or intelligence eto [sic] establish a connection with terrorism."

* The driver of the vehicle, a 32-year-old man, was arrested by an off-duty male police officer shortly after followed by general duties police and members from the Critical Incident Response Team (CIRT).

* The officer sustained shoulder and hand injuries during the arrest and has been conveyed to hospital.

* The driver has been taken to hospital under police guard.

* The second person arrested, a 24-year-old man, was arrested by CIRT.

* It's now believed he had no links to the incident, however he is still assisting police with enquiries.

* Nineteen pedestrians were injured during the incident and conveyed to hospital.

* Two people were also treated for non-collision related injuries.

* At this time police believe this is a deliberate act, however it is only early in the investigation.

A vehicle attack on a busy pedestrian crossing in Melbourne's Flinders Street which left 19 people in hospital was the work of a mentally ill drug addict, police believe.

The Australian understands the attack, which occurred at 4.41pm in the heart of downtown Melbourne, is not being treated as terrorism.

Rather, the driver is thought to be a mentally ill man with a history of addiction to the drug ice.

It is understood he has no known links to extremism and is not known to counter-terrorism authorities.

A second man pictured arrested at the scene was unconnected to the attack, The Australian has been told.

Police have said publicly the attack was deliberate but that the driver's motive remained unknown…