'Terror attack warning system': Speakers will be installed at more than 90 sites in Melbourne's CBD.
Can't you hear the announcement now,
"Terrorist attack. Please evacuate. Islam is a religion of peace. This warning has nothing to do with Islam. Please evacuate. Terrorist attack. Don't panic, it is someone with a mental health problem. I repeat Islam is a religion of peace!"
I am so over these band-aid solutions. Address the root cause and keep Australia safe. There is no need to protect us from other religions and ideologies but over and over again we throw millions at Muslims to try and convince them not to take the Quran literally.
In other news:
Last night, a gang of 6 Sudanese men, killed a Melbournian in cold blood and left his friend fighting for dear life.
Aussie  dead after horrific attack by machete-wielding Sudanese gang in Braybrook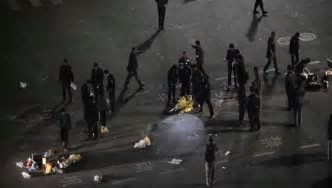 Media: Australian man murdered by machete wielding Africans. How tragic, now let's look at this week's weather. What? Investigate immigration policy? Find out how machete wielding Africans got into the country to begin with? Nah that'd be journalism. We just do propaganda here.– Blair Cotrell
What was once proletariat vs bourgeoisie; poor vs wealthy; class war in the minds of Communists, has now mutated into race war in minds of modern Leftists; people of colour vs white people. That is the extent of their entire worldview. If they deny it, they're lying.
A BRAYBROOK mother says she feels her "heart has been ripped out" after one of her sons died and the other was left fighting for life following a vicious ­attack by machete-wielding thugs.
Police are still hunting the gang, ­described as being of African appearance, after the two men were set upon in Melbourne's west on Saturday night.
The group allegedly ran them over in a silver hatchback before attacking the men with metal bars and knives.
The men were taken to hospital with life-threatening injuries. Paul Duncanson, 40, died, while older brother Shaun, 44, was last night in a critical condition after undergoing surgery.
"Shaun had three gashes in the top of his head and Paul had his throat cut," mother Cheryl Pleydell told Seven News.
"It might have been a drug feud. They bought drugs, they didn't sell any drugs."
Ms Pleydell claimed her boys would have been ­defenceless.
"My sons wouldn't have carried any weapons or ­anything with them.
"And they wouldn't have started a fight with those guys anyway.
DO YOU KNOW MORE? Email Brianna.travers@news.com.au
POLICE PUSH FOR HI-TECH ARSENAL
"I feel like my heart has been ripped out of my chest … I hope they rot in hell."
On Sunday, shocked residents of Castley Crescent in Braybrook woke to a blood- spattered crime scene.
Some described frenzied scenes in their street about 9.30pm on Saturday night.
Vi Chung's wife Lisa was feeding their young daughter upstairs when the couple heard loud noises in the street.
Mr Chung then witnessed a car trying to "run a guy over" which is when he called triple-0.
"They starting yelling, screaming and swearing at each other, it started getting louder and louder," he said.
"They were running, someone got out a metal pole. They were swinging it around.
"A few guys jumped out of the car and started attacking another man. They were swinging it (the weapon) around."
The brawl then spilt on to Mr Chung's property. One of the victims collapsed on his porch, screaming for help.
"We heard the garage door bang, he was yelling out for help … 'Help, please help, someone help', the man said."
Lisa Chung described the incident as "pretty freaky".
"I'm glad my husband didn't step in otherwise he might've been caught up in it," she said.
"It's pretty scary, pretty freaky.
"It sounded like a car accident, it sounded like a car had rammed something hard, you could hear the car accelerate and then brake suddenly several times. Then you heard the car speeding off.
"It sounded like it was hitting something hard."
Neighbour Karen Barnard's dogs started barking when the disturbance begun in her street.
"This street is notorious for hoons so I didn't take much notice at first until I heard the yelling," she said.
"Someone was getting bashed so I rang triple-0."
"I could see 4-5 men laying into this guy … saying 'where is he, where is he,' and then they took off in their car."
Neighbour Anthony Tran said he heard a "commotion."
"I heard people, mostly men, screaming and yelling," he said.
"I heard angry yelling. There was a car involved, I heard constant movements of the car.
"It seemed they were fighting in the car between the person in the car and a person on the street.
"I'm quite shocked … I hope they get better."
Neighbour Paul told the Herald Sun the area was notorious for trouble, saying he heard raised voices and a metal crunch.
"The car crash made me wake up to what was going on, I could hear a metal crunch when one car hit another," he said.
"It sounded like car to car but it could've been something else. I heard raised voices."
Inspector Kelly Lawson from Victoria Police said there was "an incident" last night.
"There was an altercation between two groups of males," she said.
"Two of the males have been assaulted, one of the males did have injuries to the head."
She could not confirm if a man was stabbed in the neck with a machete.
Paramedics confirmed they were called out to a disturbance around 9.30pm.
"Paramedics attended to two men with upper body injures, both were transported to hospital in a critical condition," Ambulance Victoria spokesman John Mullen said.
Police believe the offenders fled the scene in the silver or grey hatchback car. The Herald Sun believes it was dumped in a nearby suburb.
Detectives have not made any arrests.
Anyone with information is asked to contact Crime Stoppers on 1800 333 000 or submit an anonymous report at crimestoppersvic.com.au.