Violent Union Thugs Attack Milo Fans in Melbourne
No stopping the Milo train.
Despite hundreds of violent antifa thugs turning up at Kensington last night, the show went on.
Immigrant thugs from the public housing estate across the road attacked police with road signs and rocks.
The police did an amazing job under the circumstances and seemed well prepared.
It appears that unlike some previous events, everyone who had a ticket got in.
Anyway folks, enjoy the pictures. This is your tax dollars at work. It's our guess that few if any of the unwashed have paying jobs.
LATEST
:
Left
–
Wing protesters
and
residents have thrown bottles
,
pelted rocks
and
ignited fireworks outside
a
Melbourne hall
where
controversial
conservative commentator Milo Yiannopoulos was speaking.
HERALDSUN.COM.AU
.
Milo event in Melbourne exposes the ugly faces of leftwing fascists, unwashed anarchists and anti-democratic thugs.
.
Leftist thugs out in force, paid for by George Soros' Getup!
Protestors have clashed outside a Melbourne venue where controversial far right-wing commentator Milo Yiannopoulos is speaking.
Why has Victoria let the violent Left decide who may speak and meet?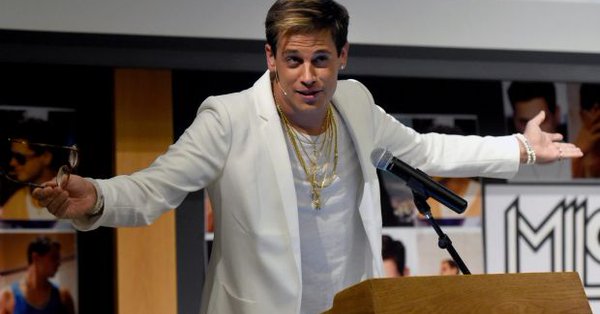 Controversial alt-right commentator Milo Yiannopoulos took aim at Indigenous Australians, Muslims and Australian media personalities …
Note those two pejoratives at the very start of the report.
And here's the shocking, shocking thing Milo said of one of those "media personalities:
He took aim at Walkley Award-winning journalist and social commentator Waleed Aly, calling him a "foghorn" who was "dedicated to the destruction of Western civilisation".
Horror!
It gets worse!
Yiannopoulos then launched into a insulting tirade about feminist blogger Clementine Ford, describing her as "high-pitched, mildly irritating, but basically pointless and ineffective noise"…
Er, yes. And?
The Australian media also came in for a tongue-lashing, with Yiannopoulos saying it was a "disaster".
Actually self-evident.
Then this attempt to diminish:
Yiannopoulos, who has sold more than 10,000 tickets nationwide… The talk went on in this way for an hour as the audience, made up mostly of men, laughed and cheered each comment.
The ticket says, as he tells his audience, are actually more than 13,000. The audience, from my observation, included very many women. The oldest audience member in Perth was an 87 year old woman, and most of the people ringing my on air last night after seeing the show were women.
If these comments represent the very worst of what Milo said last night, can anyone explain to me the violent protests against him? Can anyone explain the ban imposed on him by the ABC's Jon Faine? And Faine's spluttering about the "alt right", "far-right" "provocateur"?
Really, this skirts-clutching screaming and these dramatic fainting fits are beyond parody.
All that rage from the Left about what Milo merely says, with no concern about what the Leftists outside his venues actually do:
MILO Yiannopoulos has warned Australia could turn into a divisive US-style society if it allows violent protesters to hijack its streets.
Police say protesters at last night's wild riot outside a Melbourne hall where the conservative commentator was speaking were engaging in "Kardashian-style politics".
A left wing protester is restrained by police.  (Actually, its a union thug, as you can see from his shirt.)
Terrified residents have recounted the wild scenes that turned their Kensington neighbourhood into a violent and hate-filled nightmare.
Founder of the Australian Muslim Party on fraud and drugs charges
Diaa Mohamed accused of setting up fake businesses with four other men
Police strike force investigation over 'hundreds of thousands of dollars'
Mr Mohamed will also face cocaine possession charges
The aspiring western Sydney politician pleaded not guilty to the charges 
He announced his new party just days after the deadly Paris attacks 
The founder of the Australian Muslim Party who once slammed radical Muslims as 'whingers' who only had themselves to blame for their 'bad reputation' has been charged with fraud and cocaine possession.
Diaa Mohamed, 35, launched his party last year amid much controversy in the aftermath of the Paris attacks.
The 'devout Muslim' faces court on Wednesday after a long-term investigation led to police searching his western Sydney home in May.
Mr Mohamed faces at least nine fraud offences worth hundreds of thousands of dollars and is expected to be further charged with other fraud claims, according to a report in Fairfax Media. (More below he fold)
Prison officer-turned-Hollywood actor Serag Mohamed was originally listed as the director and secretary of his brother's Australian Muslim Party
The aspiring politician, who took a swipe at members of the Islamic faith on a website four years ago, will plead not guilty to the charges.
It's alleged Strike Force Nicolena police were investigating a series of fake businesses who'd applied for business loans for unspecified equipment.
'Muslims can be whingers and they tend to blame everyone but themselves for the way people view them,' Mohamed wrote on his website mypeace.com.au in 2011.
'A lot of Muslims point the finger at the media for giving them a bad reputation but it's nobody's fault but our own.
'Muslims haven't done the job when it comes to being out there and showing who they are and what their values are.
'A lot of the things we see on television are acts by extremists and radical Muslims.
'That is not who we are.'
That's exactly who you are. You read the same Qur'an. You follow Muhammad, the meshugga profit Islam. You lie.
Diaa Mohamed, 35, faces a raft of fraud and drugs charges in Parramatta Court
His party also came under close scrutiny when it was revealed his former prison officer turned Hollywood actor brother Serag Mohamed was listed as a director and secretary of the party.
His acting profile says Serag, 30, studied at the National Institute of Dramatic Art (NIDA) until 2010 and worked as 'a correctional officer in a maximum security prison' in Sydney before he moved to the US.
But Mr Mohamed said at the time his sibling had no association with his new party and Serag's name would be taken off the ASIC documents.
The business name The Australian Muslim Party Pty Ltd was registered in Victoria but lists an address in Panania, in Sydney's inner south-west.
Mr Mohamed previously founded My Peace, an organisation that aimed to improve the relationship between the religion and mainstream Australia.
But the company went into liquidation after it was unable to foot the $40,085.87 bill owed to 2GB, according to the Daily Telegraph.
He said the aim of the new political group was to field at least one candidate in each state and territory when Australia headed to the polls in 2016.
Diaa Mohamed's brother Serag worked as 'a correctional officer in a maximum security prison' in Sydney before his move to Hollywood
The 35-year-old said he was launching the party in response to critics of the religion who claim leaders were not vocal enough.
'Maybe it is because we didn't know how, or we were a bit too fragmented, so hopefully this will at least give us that opportunity,' he said, according to the ABC. 
But he  was also forced to defend the timing of the announcement of the party, which came just days after the brutal terrorist attacks in Paris.
'I thought it'd be beneficial for both Australians and Australian Muslims that they have a party… anything to do with Muslim right now people are going to oppose, but be that as it may you still need something or someone,' he said, in a video posted by the Brisbane Times. 
In the video, Diaa also said the killing of innocent people was 'strictly' against his religion.
He was unable to gain the necessary 500 members in time to register for the recent federal election.
Read more: http://www.dailymail.co.uk/news/article-3732350/Australian-Muslim-Party-leader-Diaa-Mohamed-charged-fraud-possessing-cocaine.html#ixzz50LNZkdee
Follow us: @MailOnline on Twitter | DailyMail on Facebook