Sunday morning hand grenade in Stockholm
At least two people have been injured, one seriously, after an explosion at the Varby Gard subway station in Stockholm, Sweden.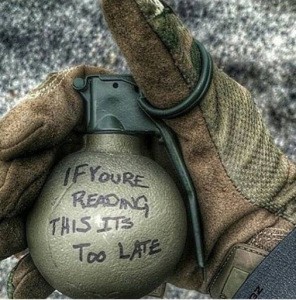 The Stockholm blast was not terrorism, it was just a live hand grenade. It's perfectly normal for live hand grenades to be lying around in train stations on Sunday mornings. I don't know what all the fuss is about. 
Rohingya "Militants" in Myanmar Claim Responsibility for Attack
Rohingya rebels attacked an army truck in Myanmar's restive Rakhine state and wounded five soldiers, state media said.
"A vehicle … was attacked by 20 insurgents from the mountain using homemade mines and small arms," the government said, adding about 10 rebels were involved.
Poor, "oppressed Rohingya!"
Arsa has carried out only sporadic attacks, but early on 25 August last year, it launched assaults on about 30 police and army posts, triggering a fierce military response.
At the same time, the authorities accused Arsa fighters of killing 28 Hindu villagers whose bodies were  found in a mass grave.
Jonathan Head, the BBC's South East Asia correspondent, says that not all Rohingya support the group, and their strategy is poorly formed.—Why are al BeBeeCeera scribblers always on the side of evil?
Myanmar Rohingya "militants" Arsa vow to fight on after attack – BBC.com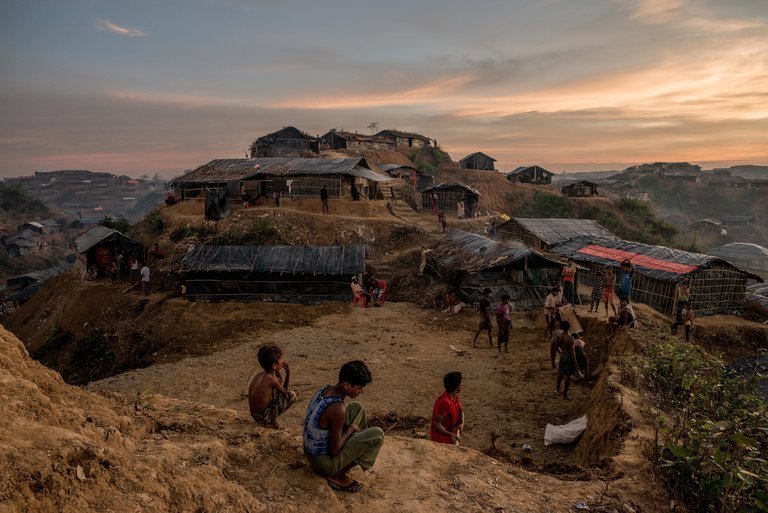 BANGKOK — A resistance group in Myanmar claimed responsibility on Sunday for an ambush of government forces in Rakhine State that left three people wounded, saying it had no choice but to defend the Rohingya from "state-sponsored terrorism."
In a statement posted on Twitter, Atta Ullah, who identifies himself as commander of the rebel group, the Arakan Rohingya Salvation Army, said the attack on Friday morning in Maungdaw had been staged in response to efforts by Myanmar's security forces to drive the Rohingya, a Muslim minority in a Buddhist-majority country, from the area.
Mr. Atta Ullah accused government forces of continuing to kill civilians, rape women and destroy villages in a campaign of genocide.
More than 650,000 Rohingya have fled to Bangladesh since the Myanmar military began its campaign in late August, joining roughly 87,000 who had fled earlier. Survivors have given consistent, harrowing accounts of gang rapes, torture, random killings and the destruction of villages.
The campaign against the Rohingya has been called "ethnic cleansing" by the United States and the United Nations.
Continue reading the main story
"Thousands of Rohingya are still fleeing to escape from endless inhumane persecutions of the Burmese terrorist army," Mr. Atta Ullah said.
Two security officers and a driver were injured in the ambush on Friday, according to a post on the Facebook page of Senior Gnl. Min Aung Hlaing, Myanmar's military chief. Ten members of the Arakan Rohingya Salvation Army, or ARSA, took part in the attack, the post said.
The rebel group, which is known locally as Harakah al-Yaqin, or the Faith Movement, is a small, underequiped group that has struggled to mount significant military operations. But it has claimed responsibility for a few deadly attacks on Myanmar's security forces, including in August.
Richard Horsey, an independent analyst in Yangon, the economic capital Myanmar, said that while the group is small and poorly armed, its actions provoke major responses from the government.
"It's uncertain whether they have the capacity to sustain an insurgency, but even occasional small attacks like this will have a big political impact in Myanmar," he said.
Small operations by the group against security forces in August prompted brutal retaliation from government forces, which in turn contributed to the mass exodus of Rohingya from Rakhine.
The international aid group Doctors Without Borders estimated last month that at least 6,700 Rohingya, including 730 young children, had met with violent deaths in the month after the military campaign began in August.
General Min Aung Hlaing, the country's most powerful figure, has denied that the army committed atrocities against the Rohingya. In November, the military released the results of an internal inquiry that cleared all soldiers in Rakhine of any misconduct. Not a single innocent civilian had been raped or killed by the security forces, the report said.
The government has refused to grant access to the region to independent observers including United Nations officials, aid groups, representatives of foreign governments and journalists.
The government of Myanmar, also known as Burma, has denied most Rohingya citizenship and considers them to be "illegal immigrants" from Bangladesh, factors that complicate their status and their ability to be recognized as refugees or to apply for asylum.
U Zaw Htay, a former army major who serves as a spokesman for Daw Aung San Suu Kyi, Myanmar's top civilian leader, said the ambush on Friday had been intended to derail the repatriation of Rohingya under an agreement between Myanmar and Bangladesh.
"We will start the repatriation process on Jan. 23," he said. "That's why ARSA carried out a terrorist attack on Jan. 5, just to delay the repatriation process."
U Win Myat Aye, the minister of social welfare and resettlement, said that refugees would have the choice of living at a temporary center while their homes are being rebuilt, or of returning to their villages to help rebuild the housing themselves, with the government bearing the construction costs.
The relocation center is expected to accommodate up to 30,000 people in tents from Belgium and China, he said.
"After the construction of their original place is done, they can live in their own place and they can work freely as before," he said.
Despite such assurances, it is unclear how many Rohingya will want to return home given the violent campaign of the past few months.
In his statement, Mr. Atta Ullah said ARSA had "no other option but to combat 'Burmese state-sponsored terrorism' against the Rohingya population for the purpose of defending, salvaging and protecting the Rohingya community."
Mr. Horsey, who has closely followed the group, said the rare statement from the rebel leader was a bid to position the organization as a political representative of the Rohingya.
"We declare, loud and clear, that we will continue our legitimate struggles in hand-in-hand cooperation with the civilized international community until all our demands are fulfilled," Mr. Atta Ullah said. "Rohingya people must be consulted in all decision-making that affects their humanitarian needs and political future."
There are no "Rohingya" people. These Bangladeshi illegals must not be allowed to make demands. They must not be resettled in Burma.