Please note that no one calls them 'refugees' or 'asylum seekers' anymore. 'Migrants' means they are children of the world who have a natural entitlement to settle anywhere they like. The degenerates who are encouraging these savages to invade Europe must be called out and punished.
The Italian government is considering blocking boats carrying migrants from landing at its ports after nearly 11,000 refugees arrived on its shores in five days.
It has been reported that the government has given its ambassador to the EU, Maurizio Massari, a mandate to raise the issue formally with the European commission to seek permission for a drastic revision of EU asylum procedures. One idea being discussed is denying docking privileges to boats not carrying Italian flags that seek to land in Italian ports, mainly in Sicily or Calabria.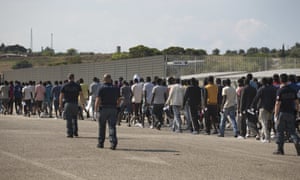 Italy is the main point of arrival for mostly African migrants to European shores this year, and more boats are sent out almost daily. All of those rescued off the coast of Libya are brought to Italy, often by private charities.
Meanwhile, Italy's neighbours have closed their borders to try to keep migrants from moving north, as they did in the past, and some EU partners such as Poland and Hungary have refused to host some asylum-seekers to ease the burden on Italy and Greece, another frontline country.
The surge in the number of refugees reaching Italy prompted the interior minister, Marco Minniti, to turn back on a flight to Washington to address the crisis. An intense debate has raged in Italy about whether NGOs waiting to rescue people off Libyan coastal waters were acting as an incentive for people-smugglers.
The centre-right fared well in local government elections at the weekend, putting pressure on the left-leaning coalition government ahead of elections next year.
Mattia Toaldo, an expert on Libya at the European Council on Foreign Relations described the move to block boats from docking in Italy as "a panic measure".