Mama mia, Ahmadiyya!
Muslim children sing the praises of Aussie home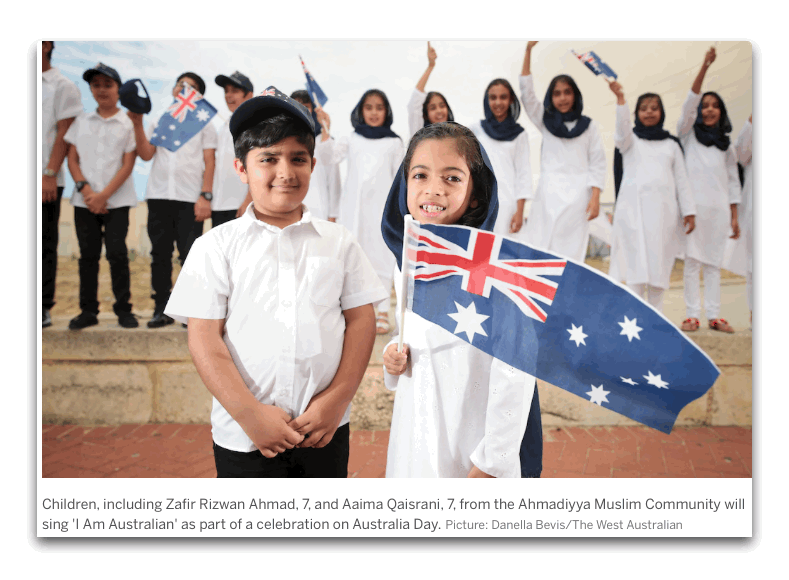 "The most frequently asked question would be about sharia law and the whole concept that Muslims are trying to take over by (imposing) sharia law," he said. "It is one of my favourite questions because … it is absolutely false.
"The Prophet stated that one has to be loyal to and love the country you reside in and be obedient to its rulers. Once people understand that, it destroys that perception that Muslims just want to take over everything."
No. The 'prophet' didn't say that at all. The Ahmadiyya spokesturd is engaged in religiously mandated lying, taqiyya.
After Friday's citizenship ceremony, the Ahmadiyya community will host an Australia Day barbecue at its Bibra Lake mosque which everyone is invited to attend.
A NOTORIOUS Apex gang-linked thug could be out on the streets on parole next week.
The 17-year-old, whom the Herald Sun cannot name for legal reasons, has been locked up in youth detention for much of the past two years following a string of convictions for multiple violent offences.
It is understood the young thug will be eligible for parole in the next week.–HERALDSUN.COM.AU
In other news:
SHORTLY after being appointed immigration minister in 2007, I received a series of phone calls from frontline community workers, including police, about increasing problems from groups of young unemployed immigrants in a…
Brood-sow from hell:
A Sudanese single mother says she is considering moving back to Africa because she cannot control her teenage sons, one of which is in jail.
The Brisbane single mother arrived in Australia with a 2 year old son – she now is a single mum with 6 kids who appear to be out of control – the oldest is 18 and behind bars.
She appeared on Current Affair complaining that her Centrelink payments of $1300per fortnight were not enough to support her family. The two fathers pay no Child Support.
She is considering returning back to Uganda.
DAILYMAIL.CO.UK