Prince Charles's Jewish Problem
"Fake and annoying"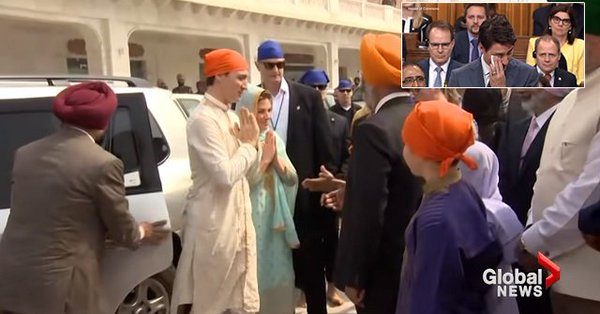 For the first time in my life, I feel really bad for Canadian Prime Minister Justin Trudeau.
From The Daily Mail:
Justin Trudeau has been ridiculed on social media by Indians for his 'tacky' and over the top outfit choices while on his first visit to their nation as Prime Minister.
While many praised his clothing during the first two days of his trip, patience was wearing thin by the time he attended a Bollywood gala on Tuesday night, before the tide turned against him on Wednesday.
Ministers, authors, journalists and ordinary Indians lined up to mock him on Wednesday, saying his wardrobe was 'fake and annoying'.
More below the fold.
 Sudanese asylum seeker Munir Mohammed volunteered for a UK "lone wolf" mission in Facebook chat with an IS commander. He enlisted "strong-willed" pharmacist Rowaida El-Hassan to advise on chemicals for a bomb after they met on dating website SingleMuslim.com. On arrest in December
…Read More…From ITV News
JUSTIN TRUDEAU'S SUB-CONTINENTAL CULTURAL APPROPRIATION TOUR
Canada's great woke hope is systematically alienating near one billion people during his shambolic week-long visit to India.
The fancy dress costumes are one problem. And the politics of Justin Trudeau's Indian train wreck just keep getting worse:
It's pretty clear by now that Canadian Prime Minister Justin Trudeau is not having the most productive time in India.
His itinerary is unusually light and, according to Indian media, high profile politicians seem to be actively avoiding him.
And that was before Sophie Gregoire Trudeau posed with a Surrey businessman, Jaspal Atwal, convicted in a 1986 terrorist shooting in B.C. during the family's trip to India.
It's never a great sign when a visiting foreign leader feels the need to state that he thinks the potentially violent breakup of their country is a bad thing. "We support one united India," Trudeau said in Mumbai this week.
He had to say this due to Canada's long reputation as a home for a diaspora of Sikh fundamentalists who seek to carve an independent Sikh homeland, Khalistan, out of India.
This issue boiled over into devastating violence in India in the 1980s, with vicious anti-Sikh pogroms, a pro-Khalistan insurgency and brutal crackdowns by the Indian military. Most notably for Canada, 1985 saw Canadian Sikh fundamentalists perpetrate the bombing of Air India flight 182, still our worst-ever act of terrorism.
The era was like a deadlier version of The Troubles in Northern Ireland, and there are real fears in India that pro-Khalistan elements living in Canada will one day bring it back.
There are also real fears in India that Justin Trudeau will never leave.
UPDATE. Hindu god Ganesha has eight arms, but for some reason he isn't using even one of them to strike down this prancing Canadian manchild: