Just a reminder:
Australians… $44 million … will be paid this financial. year…[aid to] the Palestinian territories, while the Palestinian Authority… $US347m last year for payments to convicted terrorists and their families under its "martyr payments policy", thus encouraging terrorism.
Hungary:
Janos Lazar, Hungary's chief of the prime minister's office, said he rejects the UN's position that migration has a positive effect on the economy.
Although there's a difference of opinion, the chief of the government office said his country will continue talks with the UN about the current migrant package.
According to Lazar the plans to "remove legal or physical barriers and open up borders" are unacceptable. He added that "making migration organised, continuous, and legitimate" is against Hungary's interests.
A few weeks ago, Hungary's foreign minister, Péter Szijjártó, mentioned there was a chance his country would walk away from the UN negotiations on migration. He then said:
"The principle laid down in the [UN] draft document [that migration has positive effects and cannot be stopped]is false and fabricated.. Migration is dangerous and it can be stopped."
Janos Lazar, Hungary's chief of the prime minister's office, said he rejects the UN's position that migration has a positive effect on the economy.
(Gateway Pundit) – Slovakian Prime Minister Robert Fico announced this week that he will build a great border fence. The conservative prime minister also…
Home affairs minister says some Australia cities 'overcrowded' and migrants who are 'going to be a burden' should be rejected.
(More below the fold.)
Bob Katter wants to restrict migration to just three groups.–SMH
The EU Border Agency (Frontex) says the number of illegal migrants crossing the Mediterranean to Italy has doubled in the space of a month.—BREITBART.COM
Don't bet on it. What they say today is no longer true tomorrow.
Authorities in Iran's capital city Tehran announced this week that women who walk around in public without the proper head coverings will no longer be…
No Moslem is a refugee. Every Mohammedan is a soldier of allah.
Multiculturalism has failed in Europe. Most people are unaware of the consequences of the illegal mass immigration into Europe….
When speech is protected, debate replaces mayhem.
.
Wall Street Journal Reports on University Freedom Of Speech. Why do 34 out of 42 Australian Universities still NOT have an academic freedom policy as required by Australian Law?
https://t.co/egbCsqoY3g
via @WSJOpinion
Continued: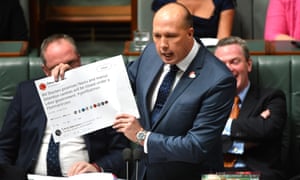 Peter Dutton has said Australia must reduce its intake of migrants "where we believe it's in our national interest".
The home affairs minister told 2GB Radio on Thursday the Coalition had already "considerably" reduced the number of people entering Australia – by 100,000 on the levels when Labor was in government – and was not tied to the current level of migration.
Dutton was responding to Jim Molan's first Senate speech on Wednesday in which the new Liberal senator said he was concerned legal migration was "in excess of the capacities of our cities to absorb".
Since 2017 the former prime minister Tony Abbott has suggested a reduction as part of a "conservative manifesto" to win back Coalition voters, including those who intend to vote for One Nation, whose leader Pauline Hanson advocates stopping migration.
Dutton said it was a "perfectly legitimate argument" that Australia's cities were "overcrowded" including "gridlocked traffic in the mornings" and use of services like hospitals.
"We have to try and encourage people out into regions, we have to reduce the numbers where we believe it's in our national interest," he said. "It's come back considerably and if we have to bring it back further, if that's what required and that's what's in our country's best interests … that is what we will do."
Dutton said some state governments had handled capital city infrastructure better than others so levels of overcrowding were "a different story as you go around the country".
The home affairs minister said the migration program should always "be operated in a way that it acts in our best interests" such as refusing to allow migrants who were "going to be a burden" in favour of people who "make a good contribution".
"But we do have problems where people are concentrating in and around Sydney, in and around other capital cities, including Melbourne. We need to try and disperse people out."
Dutton said some regions and sectors like abattoirs in regional areas needed a foreign or temporary workforce because "the local kids won't do the work".
On Thursday, Molan, a former general and one of the architects of the Coalition's Operation Sovereign Borders policy, said control of the borders and immigration "are important to me as they are to most Australians".
"We now effectively control our borders in a way that few now trust the opposition to do," he said. "However, I am concerned that the level of legal migration … is in excess of the capacities of our cities to absorb, both culturally or in terms of infrastructure.
"We are approaching limits on this, if indeed we have already exceeded them. I don't have the answers, but I certainly have the concerns."
Molan did not express contrition for sharing videos from anti-Muslim group Britain First, but rather thanked the prime minister, Malcolm Turnbull, for backing him over the controversy.
Molan has previously suggested he shared the videos to spark conversation about law and order rather than to suggest Muslims are responsible for violence.
At a press conference on Thursday the jobs minister, Michaelia Cash, praised Molan as an "outstanding individual" who had helped the Coalition stop people smuggling boats.
Asked about his comments on migration, Cash distanced herself by noting that Liberals are "able to express an opinion".
"It doesn't actually mean the government is going to agree with your opinion," she said.
Update:
Seven children and one adult are currently being treated, The male driver with black afro style hair left on foot