The original header said  Police Dropped Cases Against "20 Telford Groomers"  Because They Were 'Too Much Trouble'.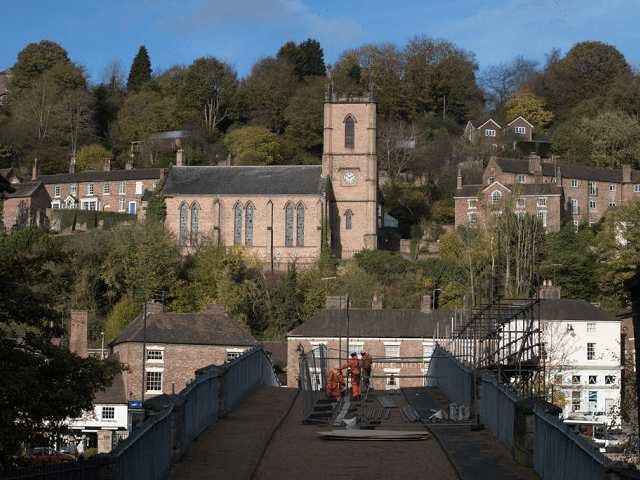 Three police officers have come forward to reveal how cases against Telford rape gang members were allegedly dropped because pursuing court orders was considered "too much trouble".
One officer was said they were "horrified" by the decision and another claimed the scale of the abuse was "huge", after a probe by journalists suggested there could be as many as 1,000 victims in the small town. (Continued below the fold)
Germany: Mosque attacked with Molotov cocktails
Mosque belonging to Muslim-Turkish association IGMG firebombed amid threats by terrorist PYD/PKK group
As usual, its just another "my allah is better than yours" event. Regular Germans are still way too dhimmified to go out and bomb a mosque.
A mosque in the southern German city of Ulm was attacked with Molotov cocktails early Monday amid threats by the terrorist PYD/PKK group to carry out more violence in Germany.
A least one of the police whistleblowers was prompted to come forward after the BBC promoted the views of Superintendent Tom Harding, of West Mercia Police, who argued the numbers had been "sensationalised" by the media.
Furthermore, a mother of one of the victimised young girls who died in circumstances linked to the scandal claims nothing was done after she handed police a three-page list of potential suspects.
The fresh revelations, reported by the Sunday Mirror, come as West Mercia Police confirmed a number of victims have come forward in the wake of recent media coverage.
Authorities have already been accused of failing to act, including ignoring girls found in cars with older men, girls giving birth at 14, and children being given the morning after pill several times a week. There were also claims of a "cover-up" after a police chaplain was suspended for whistleblowing and a police-funded charity forced a worker out of her job after she tried to speak up.
Now, another police whistleblower said the estimate of 1,000 victims could be accurate. "I don't think it's beyond the realms of possibility at all," he said. "I wouldn't be surprised. It was the tip of the iceberg."
Another added: "Two senior officers had a conversation about going for Sexual Risk Orders. It would have meant they would be monitored by the police. It can be effective with a low reoffending rate.
"The question was, should we apply for 20 or 25 of these orders? The view from the senior officer was it was too much trouble. A lot of us were horrified when they didn't want to do that.
"It would have been a lot of work but what price do we put on protecting these kids?"
They also expressed frustration that so few of the attackers, predominantly of the town's Pakistani Muslim community, were put behind bars.
The officer said: "At one point we had 70 cases and one victim had close to 100 offenders. Many officers were frustrated because the CPS was treating the cases as separate when we knew they were linked."
However, West Mercia's Assistant Chief Constable Martin Evans denied that worklad was the reason cases had been dropped: "These civil orders were seriously considered and the decision not to pursue them was for a number of reasons.
"These included the fact that there would have been a requirement for victims to give evidence in court, furthering their ordeal.
"Other measures were put in place to make sure those considered a potential threat were closely monitored and reviewed and this continues to be the case."
One of the abused girls hit back, telling the Mirror: "I was never told about these orders or asked if I would give evidence in court against my abusers. If I had been asked, I would have done."
Responding to events of the past week, Mr. Evans added in a statement: "Following the recent media coverage in relation to child sexual exploitation (CSE) in Telford, a small number of victims have contacted West Mercia Police.
"We are pleased they have had the confidence to come forward and we are ensuring that their reports are thoroughly investigated and the appropriate support is in place.
"In Telford alone, the dedicated Child Sexual Exploitation Team have, since 2016, arrested 56 people, resulting in 29 charges, with a number of investigations ongoing."
Ready for more?
UK: Police told victim of Muslim rape gang not to mention the ethnicity of her rapists
It appears that British officials were willing to go to any lengths, and sacrifice any number of young British girls, to appease the new masters of the country.
"Grooming Gang 'Raped', 'Gave Drugs, Alcohol' to Foster Care Home Runaways," by Victoria Friedman, Breitbart, March 9, 2018 (thanks to The Religion of Peace):
Two "vulnerable" 14-year-old girls who were living in a care home were groomed, given drugs and alcohol, and were raped over a two-year period by a gang of ten men, a court has heard.
Opening the prosecutor's case at Bradford Crown Court, Kama Melly QC told the jury that both girls were in the care of the state at the time, describing them as "sadly ripe and vulnerable to manipulation"….
The prosecution alleged that one victim had run away from the home with a female friend, both aged 14, and were then approached by one of the defendants in a car who began grooming them for sex, reports the Telegraph & Argus.
Ms. Melly then detailed that one girl was taken to meet other men who used "fear" and "manipulation" to "satisfy their sexual desires".
The following charges relate to alleged abuse committed between July 2009 and July 2011:
Saeed Akhtar, 54, Bradford, denies two charges of causing or inciting child prostitution and one charge of rape.
Naveed Akhtar, 42, Bradford, denies three charges of rape.
Izar Hussain, 31, Bradford, denies three charges of rape, and an additional allegation of attempted rape.
Mohammed Usman, 30, Bradford, pleaded not guilty to two charges of rape.
Kieran Harris, 27, Ravensthorpe, Dewsbury, pleaded not guilty to two charges of rape.
Yasar Majid, 36, Milton Keynes, denies a single charge of rape.
Fahim Iqbal, 27, of no fixed abode, pleaded not guilty to aiding and abetting rape.
Zeeshan Ali, 31, Bradford, denies a single charge of sexual assault.
Parvaze Ahmed, 35, Bradford, denies three charges of rape.
Basharat Khaliq, 37, Bradford, denies assault by penetration and five charges of rape.
The case only came to court after one of the alleged victims watched a programme, years after the alleged abuse took place, which was related to the Rotherham abuse scandal where Muslim, Pakistani-heritage men groomed and sexually abused more than 1,500 mainly white girls.
The now young woman then asked her boyfriend to call the BBC Look North television studio where her details were taken and passed onto police, after which an investigation was launched.
Ms Melly told the court: "Frustrated at the lack of coverage… her partner contacted Look North, telling them the abuse was 'much wider than Rotherham'."…
The prosecutor went on to say that the police did nothing to help the alleged victim until her boyfriend called the television studio years later….