Former French Prez Sarkozy Detained over Alleged Millions Received from Libya's Gaddafi
Treason is a virtue in France.
Sarkozy is one of many EU corruptocrats that seek to replace the native French population with a Mohammedan proletariat. The political class everywhere enriches itself with pay to play influence peddling.
Sarko did not only receive millions from Gaddafi. The Emirates got him (or was it his son?) to "manage" a huge money fund and the Saudis found him more than servile. The videos are still on the net. Sarko is but one of many criminally insane European "leaders" who ruined their countries for personal gain.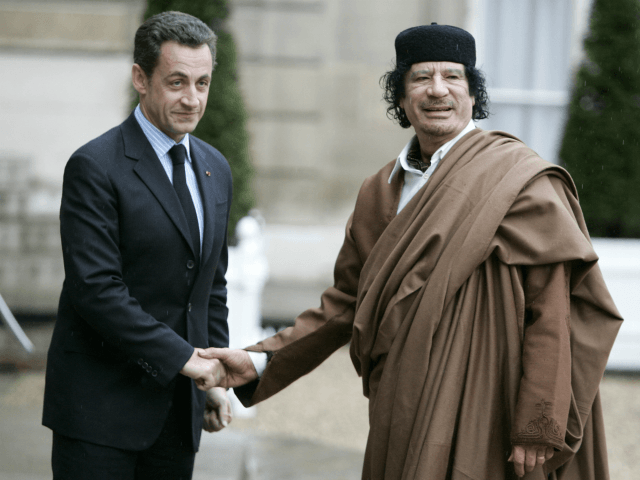 Former French President Nicolas Sarkozy is being detained by police in connection with allegations that he received 50 million euros from Libyan dictator Muammar Gaddafi to finance his 2007 presidential campaign.
Mr. Sarkozy was detained Tuesday morning by the judicial police at Nanterre police station, north west of Paris, and is being questioned as part of an investigation into election campaign financing irregularities, according to Le Monde's sources.
Investigators are examining claims that the establishment politician had accepted €50 million (£44/$62 million) in total from the dictator – more than twice the €21 million legal spending limit for French elections at that time.
Alleged payments would break election spending threshold laws as well as violating laws on foreign financing and failure to declare campaign fund sources.
The Republican, who served as president of France after his 2007 success until 2012, can be held and questioned for up to 48 hours and presented to a magistrates' court for indictment if the Central Office for the Fight Against Corruption and Financial and Tax Offences (OCLCIFF) seeks charges.
The newspaper suggests that the decision to put the former French president in custody points to further evidence having been gathered by judges.
The judicial enquiry was initially opened in April 2013 after, in May 2012, French news website Mediapart published a Libyan document claiming that Colonel Gaddafi had contributed to his campaign.
Three years later, French-Lebanese businessman Ziad Takieddine told Mediapart that he had personally delivered three suitcases from Libya each containing five million euros in cash.
The suitcases were allegedly handed to Takieddine by Gaddafi's intelligence chief, which he brought to then-Interior Minister Sarkozy and his former chief of staff Claude Gueant during trips that took place between late 2006 and 2007.
The French newspaper of record also alleges that records held by the former Libyan oil minister Choukri Ghanem, recovered by the French justice department, also mention the existence of payments to Sarkozy.
Colonel Gaddafi was ousted from power during the fallout of the Arab Spring in October 2011 following NATO bombardment of his convoy by French aircraft and captured by so-called 'rebel fighters', dying in unconfirmed circumstances.
That's BS. The whole world could see how he was murdered by his very own allahuakbaring coreligionists.
His son, Saif Al-Islam Gaddafi, told euronews in 2011 that "Sarkozy has to give back the money he accepted from Libya to finance his electoral campaign. We funded it and we have all the details and are ready to reveal everything."
Mr. Gaddafi then alleged that the Libyans had "all the bank details and documents for the transfer operations".
Asked what he thought of the fact that France was the first country to recognise the Interim Transitional National Council in Benghazi, the de-facto Libyan government that took over from Col. Gaddafi's Libyan Arab Jamahiriya during and after the conflict, he said: "The first thing we want this clown to do is to give the money back to the Libyan people."
At the moment, there are no more "Libyan people", but there are many warring tribes.So that might make it hard.
Mr. Sarkozy has always denied the allegations, calling them "vindictive" and "grotesque".
Of course he would.