Guardianistas seem to be terrified that the invasion of Mohammedan savages could be stopped.  Does that scare you too?
'They are terrified' – Italy election result deepens refugees' deportation fears
Success of rightwing parties leaves recent arrivals terrified they will not be allowed to stay
No Mohammedan is a refugee. All Mohammedans are soldiers of allah.
Nobody from Gambia or Tunisia is a refugee. These people are illegal migrants who don't share our values and never should have been allowed into Europe in the first place. They should all be deported at gunpoint before Europe is raped to death.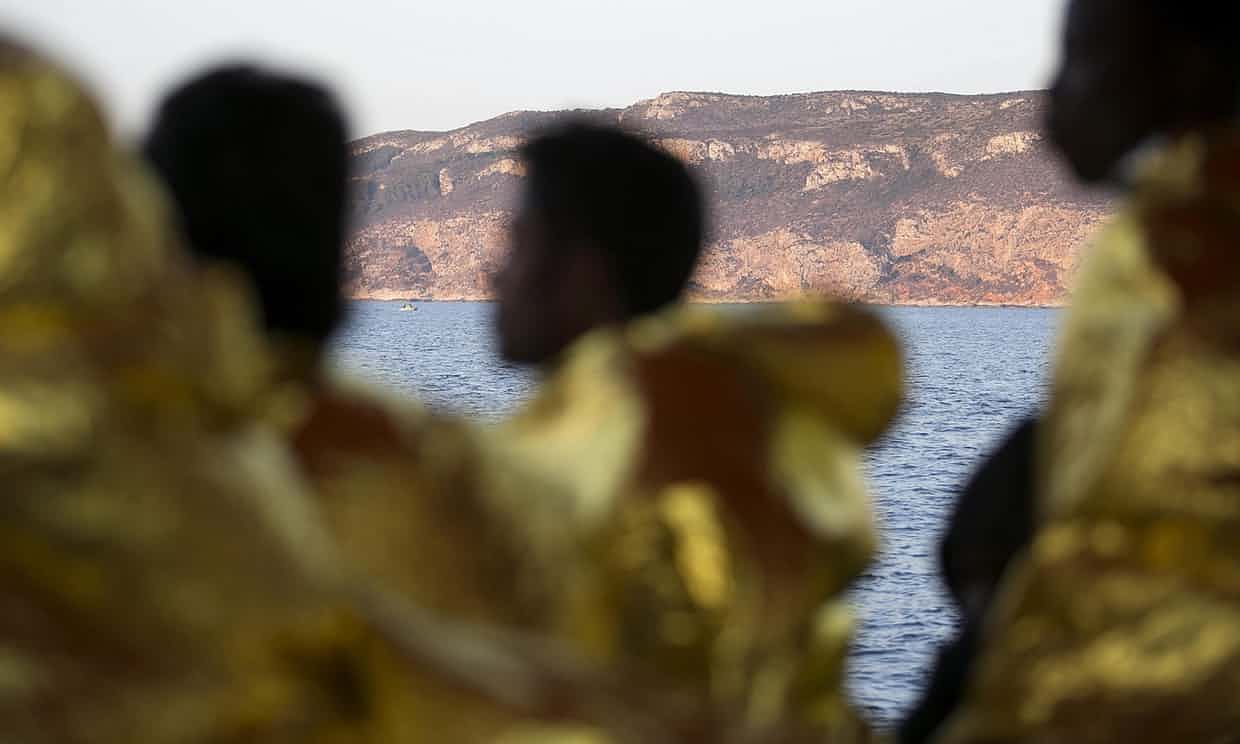 The TV anchor was rattling off Italy's general election results in the early hours of Monday morning and Zak could not fall asleep. He had been restless and sick with worry for weeks, ever since a neo-fascist had shot six Africans in the city of Macerata and the leaders of rightwing parties had vowed to kick 600,000 migrants out of the country if elected.
Zak, 17, comes from the Gambia and lives in a community for minors in Catenanuova, in the heart of Sicily. He made the perilous sea crossing from Libya in a wooden boat and has been waiting for months for a decision on his refugee status.
He bears the scars of torture from eight months of beatings in Libya. His father is Gambian, his mother Senegalese. In Senegal he had been forced to attend Islamic schools. Feeling deprived of his liberty, he had decided to flee.
As the hours went by on Monday, his worst nightmare became a reality: an anti-immigrant coalition of rightwing parties took 37% of the vote. It was not enough to govern, but it gives them a powerful hand in the coalition horse-trading that has already begun. Zak now fears he will never get his papers and that he will soon be deported.
"I followed the Italian election campaign very carefully, and almost all the parties, especially those on the right like the League, blame us for their economic problems and threaten to deport us," Zak said. "In Sicily, youth unemployment is at 57% but nobody speaks about that. The politicians say the main problem is migrants and Italian people believe it."
Related news:
In recent months the number of people waiting outside police stations across Italyfor renewal of their residence permits has multiplied. The officials who process renewals are booked up with appointments until the summer. Many applicants fear being returned to their home countries by the new government before they have a chance to get fresh permits.
Slah Msalem, from Zarzis in southern Tunisia, arrived on the Italian island of Lampedusa in February 2011 as an unaccompanied minor. Tunisians in Italy are considered economic migrants and therefore vulnerable to expulsion.
"I know it will not happen right away, maybe months will pass, but it will happen," said Msalem, 21. "The appointment at the police station was fixed on 18 June. I do not know what will happen in the meantime. If they stop me without documents they will surely take me to the police station and I'm afraid of being sent back to Tunisia."
Agata Ronsivalle, a volunteer Italian teacher in a migrant reception centre, said: "The fear produced by the propaganda of the Italian right among migrants, especially minors, is unforgivable. It is not right. They're just boys and they're scaring them to death."
In other news:
An interpreter from Bangladesh who works in one of the police headquarters of Sicily and has lived in Italy for 18 years said there was a feeling of terror among refugees and migrants after the election result.
"When immigrants come to the police headquarters they ask anxiously for information and clarification, regarding the proclamations of the right," said the man, who asked not to be identified. "They ask me if it is true that they will expel 600,000 migrants or if they will change the laws and further limit the current possibilities. They fear, for example, that medical care will be refused for those who do not have documents. I honestly cannot give them an answer."
Migrants rely on their lawyers, asking them to find a solution that would allow them to stay. "They come to my office every day," said Gaetano Pasqualino, a lawyer from Palermo. "They are literally terrified. The majority come from the Maghreb and are considered economic migrants and are therefore less certain of obtaining refugee status."
With negotiations to form a government expected to last weeks or even months, the Italian right is not likely to be legislating any time soon. Some experts say there is another obstacle to a crackdown on migrants: a lack of money. Deportations have already cost Italian taxpayers millions of euros.
"In fact, neither Italy nor Europe have the economic and political force to send migrants home," said Alberto Biondo, a member of Borderline Sicily, an association that works to defend the rights of migrants.
The legality of of deportations would also be questioned, he said, as "the necessary bilateral political agreements with the countries of origin of the migrants would be lacking".
Last week Gabriella Nobile, the adoptive mother of two African children, wrote an open letter addressed to Matteo Salvini, leader of the League, saying her seven-year-old daughter had burst into tears when she heard of the rightwing party's plans for deportations. The League, formerly the Northern League, took 18% of the vote on Sunday.
"I think it's a clear demonstration of how this country, thanks to people like you, Salvini, is slowly slipping into the abyss," she wrote.
Zak, the Gambian refugee, said: "I understand the suffering of this woman because I understand her children's fears. Now, when they see migrants or black men, people seem scared. They do not know that I am the one who does not sleep at night. They do not understand that the only one to be terrified right now, in Italy, is me."