UN: Islamic State 'Partnering With Extremists Devout Muslims in Africa to Push Millions More Migrants to Europe'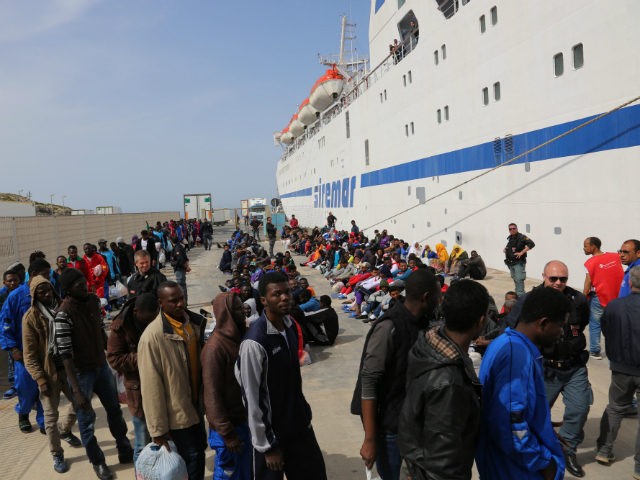 by VIRGINIA HALE26 Apr 2018
The director of the UN World Food Programme has warned that jihadists leaving Syria are working with Islamists in Africa to push a massive new migration wave towards Europe.
David Beasley urged leaders in Europe to "wake up" to the fact that Islamic State fighters forced out of the Middle East are now in sub-Saharan Africa and plotting with local militants from radical Islamic groups to exploit food shortages and create further instability in the region.
"What we are picking up is that they are partnering with the extremist groups like Boko Haram and al-Qaida to divvy up territory and resources and to continue to infiltrate and destabilise in the hope of creating migration into Europe where they can infiltrate and cause chaos," he told The Guardian.
Related:
"My comment to the Europeans is that if you think you had a problem resulting from a nation of 20 million people like Syria because of destabilisation and conflict resulting in migration, wait until the greater Sahel region of 500 million people is further destabilised."
Speaking to the newspaper at a two-day Syria summit in Brussels, Beasley — who supported Donald Trump's U.S. presidential campaign — said the White House wants to see other countries do more to help the World Food Programme plug holes in its budget, stressing the importance of addressing food shortages in conflict regions.
"I have talked to people, not just in Syria – women who will say: 'My husband did not want to join Isis but we had no food, we had no choice.' They have a strategy," he said.
A letter from INTERPOL sent to European counter-terrorism units in November emergedearlier this year, which listed dozens of suspected Islamic State jihadis who had entered Italy and who the agency believed could have been seeking to travel to other EU nations to launch terror attacks.
Former chief of the international police agency, Robert Noble, has criticised the Schengen rules allowing free movement within the bloc as "effectively an international passport-free zone for terrorists to execute attacks on the Continent and make their escape".
With thousands of newcomers from the third world still arriving in Europe in boats each month, the leaders of Eastern and Central EU nations insist that shutting the migrant flow is the only way to solve the crisis.
But rights groups and international organisations say that moves to prevent illegal immigration are unacceptable.
Earlier this week the Council of Europe decried migration controls in Bulgaria, slammingthe nation's border wall for its role in "effectively … preventing [illegal immigrants] from reaching the Bulgarian territory" in a report which lamented that the fence "raise[s] questions about the very essence of the right to seek asylum".
No Moslem is an 'asylum seeker'. All Moslems are soldiers of allah.