Or else…!
RIYADH (Reuters) – Europe must do more to assimilate Muslim immigrant populations and criminalise religious hate speech, said the head of a global Muslim missionary society trying to help Saudi Arabia mend its reputation as a promoter of intolerant ideology.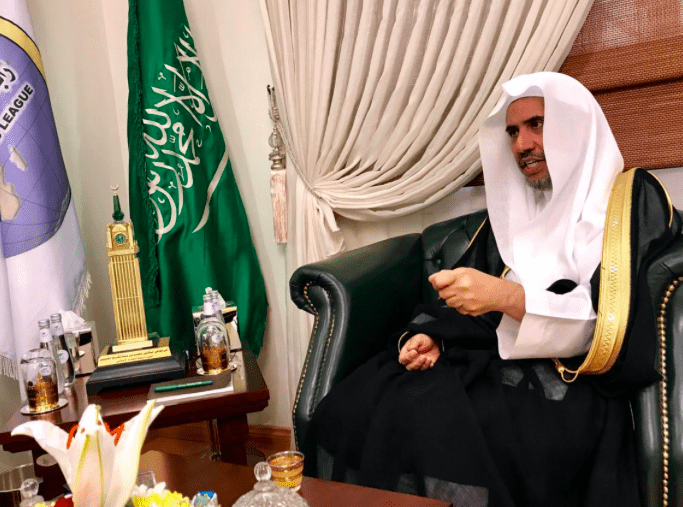 The Muslim World League (MWL) and the kingdom itself have been accused for decades of spreading the strict Wahhabi strain of Islam, often criticised as the philosophical basis for radical Islamist militancy worldwide.
Recent gestures of interfaith tolerance follow Crown Prince Mohammed bin Salman's promise to promote a more moderate form of Islam, and his warning that extremists' main aim is to radicalise Muslim communities in Europe.
Critics say the mosques and Islamic centres around the world controlled by the MWL promote intolerance and hatred of some religions and Muslim sects — a charge the group denies.
Secretary-General Mohammed al-Issa said the organisation, headquartered in Mecca, could assist in assimilation and the eradication of extremist ideology abroad.
"We believe that European countries, where there is much debate now, and other countries around the world … need to enhance national assimilation programmes and criminalise hatred and contempt for adherents of religions because this threatens the safety of the community," he told Reuters in an interview.
"The League has programmes and curricula that enhance national assimilation and which can courageously and forcefully confront all forms of extremism, as well as special programmes to thwart efforts to infiltrate the Muslim community."
He would not elaborate on specific measures.
Saudi Arabia last month ceded control of Brussels' Grand Mosque, previously run by the MWL, to local authorities over concerns that it promoted radicalism.
Prince Mohammed has traced some of the kingdom's most restrictive practices to 1979, the year of the Shi'ite Muslim revolution in Iran and an attack on Mecca's Grand Mosque by Sunni extremists.
WOMEN'S RIGHTS
He has loosened social restrictions in the past two years, scaling back the role of the religious police and allowing women more independence, including the right to launch their own businesses and drive a car.
Critics, however, accuse the 32-year-old heir to the throne of trying to rewrite history and absolve the government of blame for decades of promoting intolerant ideas.
Saudi Arabia, one of the world's most gender-segregated nations, is ranked 138 of 144 states in the 2017 Global Gender Gap, a World Economic Forum study on how women fare in economic and political participation, health and education.
Last month, a U.N. rights watchdog said Riyadh still needed to end discriminatory practices against women and enforce a recent order that would entitle them to obtain a passport, travel or study abroad and access health care without having to seek consent from a father, husband or son.
Issa, who also sits on the kingdom's top clerical body, the Council of Senior Religious Scholars, said there was no reason why women should be barred from obtaining a passport or travel without the consent of a male guardian.
"The intention of sharia (Islamic law) must be understood within religious texts … and we must understand that fatwas (religious decrees) differ according to various times, places and circumstances," he said.
"A woman can nowadays travel anywhere safely and therefore I cannot tell her that she cannot travel … This may take time for individuals to accept but, from a legal perspective, this does not require time."
He said women would still be required to obtain their guardian's consent for marriage in order to "safeguard" society and families.
Saudi Arabia has no written legal code to go with the texts making up sharia. Police and judiciary have long citing social customs in enforcing certain prohibitions on women.
Additional reporting by Sarah Dadouch and Ghaida Ghantous; Editing by Kevin Liffey