German Finance Minister: "We Can't Change The Course Of History. Accept That Islam Is A Part Of Germany Now."
German Finance Minister Wolfgang Schäuble (CDU) told Germans:
"We can't stop the course of history. Everyone will have to deal with the fact that Islam has become a part of our country."
While Schäuble said that Muslims in Germany needed to realize that they live in a country that was not shaped by Islamic traditions, he concluded: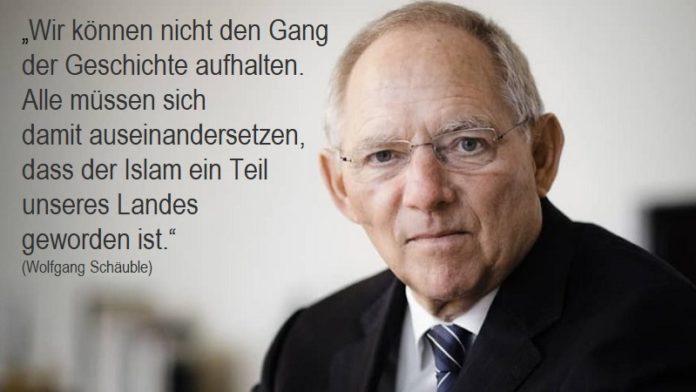 "And the rest of the population has to accept that there is a growing proportion of Muslims in Germany."
The rest of the population has to submit.  Schäuble displays the typical, historical attitude of the subjugated dhimmi, like the Kapo's in the Nazi death camps, who would preemptively obey their Mohammedan/Nazi masters and drive their own people into the gas in the hope to survive.
Wolfgang Schäuble is one of Angela Merkel's most loyal old confidantes; he has served as the Federal Interior Minister under her 2005-2009; and as the Finance Minister from 2009 until present.
EU Top Dog: Islam Is Part of Our History, Present, and Future
No doubt about that. But at what cost? Robert Spencer  in PJ Media:
Last Wednesday, European Commission First Vice-President Frans Timmermans hosted a roundtable with imams from Belgium, Bulgaria, France, Germany, Italy, and The Netherlands. He had a message for them that they doubtlessy welcomed: "The Commission is strongly committed to promoting diversity in Europe. Islam is part of our history, Islam is part of our present and Islam will be part of our future."
There is no doubt that Timmermans' statement is true, but not quite in the way he meant. (Scroll down for more…)
Für Schäuble sind alle Nichtmoslems nur noch der "Rest der Bevölkerung"
Von L.S.GABRIEL | Nun meldet sich auch Bundestagspräsident Wolfgang Schäuble (CDU) zu Horst Seehofers Aussage, der Islam gehöre nicht zu Deutschland, zu Wort und stimmt uns auf die totale Unterwerfung ein: "Wir können nicht den Gang der Geschichte aufhalten. Alle müssen sich damit auseinandersetzen, dass der Islam ein Teil unseres Landes geworden ist."
Offensichtlich betrachtet Schäuble den Islam als etwas wie ein Naturereignis, gegen das man eben nichts machen kann (eher wohl nicht will). Gleichzeitig träumt er ziemlich naiv davon, die gewalt- und hassorientierten Islamhörigen umpolen zu können und zeigt ganz unverblümt wo und wie er die Deutschen in der neuen Gesellschaft, noch während der Umbauphase wohl sieht: Muslime hierzulande müssten sich klarmachen, dass sie in einem Land lebten, das nicht von muslimischen Traditionen geprägt ist. "Und der Rest der Bevölkerung muss akzeptieren, dass es in Deutschland einen wachsenden Anteil von Muslimen gibt."
Die "schon länger hier Lebenden" sind neben den Moslems also jetzt schon nur mehr der "Rest der Bevölkerung"? Schäuble, der bekannt dafür ist, dass durch seine Aussagen, seine eigentliche Einstellung zu einem Thema fast immer nahezu ungeschminkt durchscheint, enttäuscht so gesehen auch diesmal nicht. Da hilft es auch nicht, wenn er dann doch noch Grundgesetztreue ins Spiel bringt, indem er sagt, dass Deutschland nun gesellschaftlichen Zusammenhalt und Regeln brauche, die auf den Werten des Grundgesetzes beruhten. Eine freiheitliche Gesellschaft bliebe nur stabil, wenn sie ein hinreichendes Maß an Zugehörigkeit und Vertrautheit vermitteln würde, so Schäuble.
Den Widerspruch, dass jene, die sich Deutschland verbunden und "zugehörig" fühlen heutzutage aber als Nazis und Rassisten abgeurteilt werden scheint er auszublenden.
Für jene die, die Regeln Deutschlands nicht akzeptieren würden gäbe es ja Polizei und Justiz, aber "natürlich" gehörten auch die Rechtsbrecher und die Gefängnisinsassen zu Deutschland, so der CDU-Politiker.
Für ein bisschen ewigen Schuldkult ist immer Platz
Auch dieser Satz lässt tief blicken: Im Hinblick auf den sich durch den Islam in Europa nun wieder ausbreitenden Judenhass sagt Schäuble: "Das zeigt, wie groß die Aufgabe für freiheitliche Gesellschaften ist, Errungenschaften wie Toleranz und Religionsfreiheit unter den Bedingungen des schnellen Wandels und dieser gewaltigen Migration durchzusetzen."
Man hat also ganz klar nicht vor etwas gegen die weiter andauernde Invasion islamischer Heerscharen zu unternehmen, sondern gibt (noch) vor, dem uns überrollenden Islam schon irgendwie die Schneid abkaufen zu wollen. Dass das noch keinem Land, das der Islam einem Krebsgeschwür gleich kontaminiert hat gelungen ist, ehe er die Regeln vorgab, sagt er nicht dazu.
Dafür aber redet er die Ich-will-töten-Ideologie im Nachgang noch mal ein bisschen schön: Antisemitismus sei kein speziell muslimisches Problem. In den muslimischen Gemeinden gebe es viele, die ein starkes Engagement gegen Antisemitismus zeigten. Der Kampf gegen Judenhass sei "der große Stresstest für die westlichen Demokratien", sagt der deutsche Bundestagspräsident und haut gleich noch mal auf den schon länger hier lebenden "Rest der Bevölkerung" drauf: Deutschland könne Antisemitismus weniger als jedes andere Land dulden, so Schäuble.
Wir fassen also zusammen: Die deutschen "Ungläubigen" bilden nun unter dem Islam nur noch den "Rest der Bevölkerung", der, ewig schuldig wie er ist, die nun unabwendbar zu Deutschland gehörende Hassideologie Islam zu "akzeptieren" hat und gleichzeitig dafür Sorge trägt, dass die islamischen Besatzer sich willkommen (Zugehörigkeit und Vertrautheit) fühlen.
Schäuble bleibt sich treu, wer genau hinhört was er so absondert weiß Bescheid, wohin die Reise gehen soll.
Timmerman, Top Dog, continued….
Last Wednesday, European Commission First Vice-President Frans Timmermans hosted a roundtable with imams from Belgium, Bulgaria, France, Germany, Italy, and The Netherlands. He had a message for them that they doubtlessy welcomed: "The Commission is strongly committed to promoting diversity in Europe. Islam is part of our history, Islam is part of our present and Islam will be part of our future."
There is no doubt that Timmermans' statement is true, but not quite in the way he meant.
Timmermans did hint that he was aware Europe might not travel a smooth and placid path to the glorious multicultural future: "The way we help our citizens — whatever their background may be — to embrace the diversity that is a reality in European societies is going to determine much of our collective future."
In 2015, Timmermans noted: "[D]iversity is now in some parts of Europe seen as a threat. Diversity comes with challenges. But diversity is humanity's destiny. There is not going to be, even in the remotest places of this planet, a nation that will not see diversity in its future."
He didn't note that many majority-Muslim countries have been growing less diverse, while Europe grows more so.
Timmermans added: "Europe will be diverse, like all other parts of the world will be diverse. The only question is, how do we deal with that diversity? And my answer to that is, by ensuring that our values determine how we deal with diversity and not giving up our values to refuse diversity. That will bring us down as a society."
Timmermans concluded ominously: "If we don't get this right, I truly believe Europe will not remain the Europe we built. Europe will not remain a place of peace and freedom, for very long."
In reality, it is because of his diversity project that Europe might not remain a place of peace and freedom.
Timmermans is right: Islam is a part of European history, is certainly a part of its present, and most assuredly will be in its future. And its presence in Europe has, from its beginning, led to the end of peace and freedom for Europeans.
In my forthcoming book The History of Jihad From Muhammad to ISIS (which you can preorder here), I detail how the Islamic jihadis first attacked Europe in the Seventh Century, as Islam itself was coming into being, and continued to harass and terrorize Europeans for centuries thereafter. If Timmermans and other European leaders knew the history of the jihad against Europe (and elsewhere) that I detail in the book, they might not be so sanguine about Islam's presence on the continent.
To take just one notorious example: after over seven hundred years of trying, the warriors of jihad finally entered Constantinople on May 29, 1453. When they did, they made the streets run with rivers of blood. Muslims raided monasteries and convents, killing or enslaving their inhabitants, and plundered private houses. They entered the Hagia Sophia, which for nearly a thousand years had been the grandest church in Christendom.
The Muslims then killed the elderly and weak and led the rest off into slavery.
The Byzantine scholar Bessarion wrote to the Doge of Venice in July 1453, saying:
[Constantinople had been] sacked by the most inhuman barbarians and the most savage enemies of the Christian faith, by the fiercest of wild beasts. The public treasure has been consumed, private wealth has been destroyed, the temples have been stripped of gold, silver, jewels, the relics of the saints, and other most precious ornaments. Men have been butchered like cattle, women abducted, virgins ravished, and children snatched from the arms of their parents.
When the slaughter and pillage was finished, Mehmet II ordered an Islamic scholar to mount the high pulpit of the Hagia Sophia and declare that there was no God but Allah, and Muhammad was his prophet. The magnificent old church was turned into a mosque; hundreds of other churches in Constantinople and elsewhere suffered the same fate. Millions of Christians joined the ranks of the dhimmis; others were enslaved, and many were killed.
The Muslim advances in Europe generally followed this pattern. Even the vaunted proto-multicultural paradise of Muslim Spain was only remotely livable for Christians and Jews when they passively accepted the daily harassment and discrimination mandated for non-Muslims in Islamic law.
If Timmermans knew the history of Islam in Europe, would it make a difference?