On Monday, in an attempt to depict America's decision to open its embassy in Jerusalem as a provocative act of incitement, Hamas-backed terrorists attacked the Gaza border en masse, seeking to harm Israeli soldiers and invade Israeli territory. Israeli soldiers were forced to respond, and some 50-plus Palestinians have now been killed. The media dutifully reported the Hamas line, suggesting that Israel was to blame for the violence against "protesters."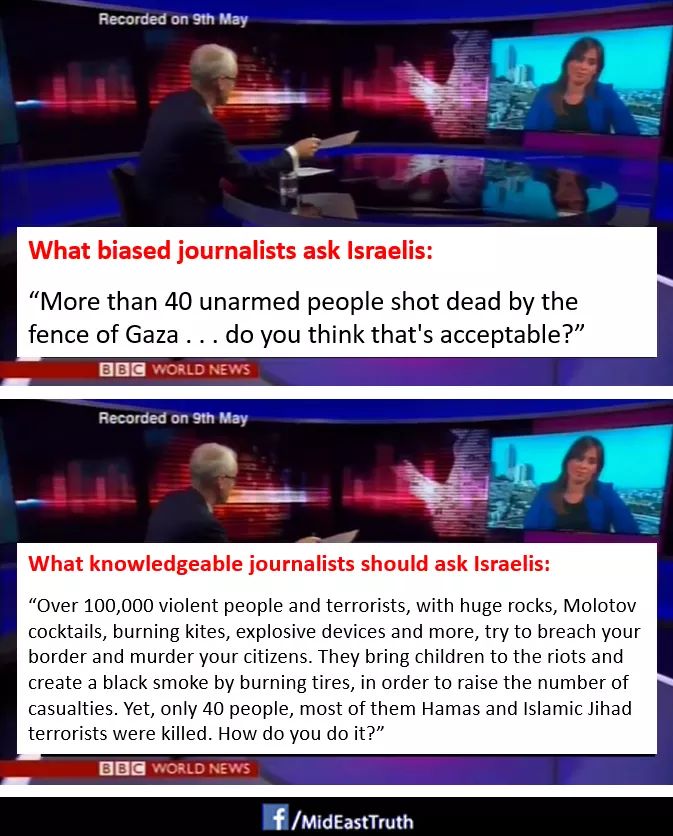 Take, for example, this Washington Post headline: "Israelis kill dozens of Palestinians in Gaza protesting US Embassy move to Jerusalem." This makes it sound as though a bunch of peaceful protesters gathered in Gaza for a sit-in. Not so much. The same article quotes one of the "protesters," 23-year-old Mohammed Mansoura: "We are excited to storm and get inside. … Whatever is possible, to kill, throw stones." The New York Times similarly headlined, "Israeli Troops Kill Dozens of Palestinian Protesters." The Wall Street Journal headlined, "Scores Killed, Thousands Injured as Palestinians Protest US Embassy Opening In Jerusalem." That same article acknowledged, however, that "Yahya Sinwar, the leader of Hamas in Gaza, which controls the territory, suggested last week that more than 100,000 people could storm the fence on Tuesday. Israeli military officials say it has information that Hamas is using the protests as a pretext to stage an attack into Israel. Earlier in the morning Israel's military dropped leaflets over Gaza warning residents not to approach the border."--more from Ben Shapiro
Obama plant John Brennan throws hissy fits: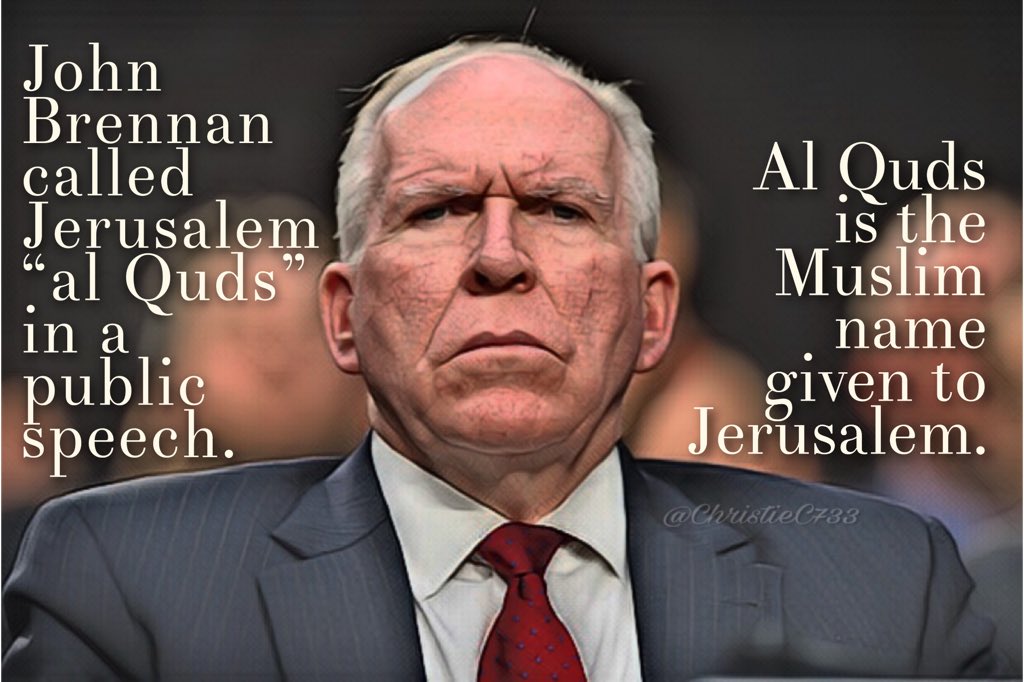 "Deaths in Gaza result of utter disregard of Messers Trump & Netanyahu for Palestinian rights & homeland. By moving Embassy to Jerusalem, Trump played politics, destroyed US peacemaker role. New generation of Israelis/Palestinians need to isolate extremists to find path to peace."– John  Brennan, Obama lackey.
Iranian Group Offers $100,000 to Blow Up New U.S. Embassy in Jerusalem
"The Student Justice Movement will support anybody who destroy the illegal American embassy in Jerusalem," the poster states in Farsi, Arabic, and English, according to an independent translation of the propaganda poster provided to the Free Beacon.
There will be a "$100,000 dollar prize for the person who destroys the illegal American embassy in Jerusalem," the poster states.
An estimated 35,000 Palestinians Arab fanatics gathered on the edges of Gaza as the U.S. Embassy opened in Jerusalem, fanning out along the fence in the largest demonstrations yet.
The relocation of the embassy from Tel Aviv, a key campaign promise of President Trump, has infuriated the Palestinians, who seek east Jerusalem as a future capital.
"An IDF patrol foiled a bomb-laying attack by a cell of three armed terrorists near Rafah, close to the border," the Israeli military said Monday. "This is a particularly violent protest point. The troops responded with fire at the terrorists. The terrorists were killed."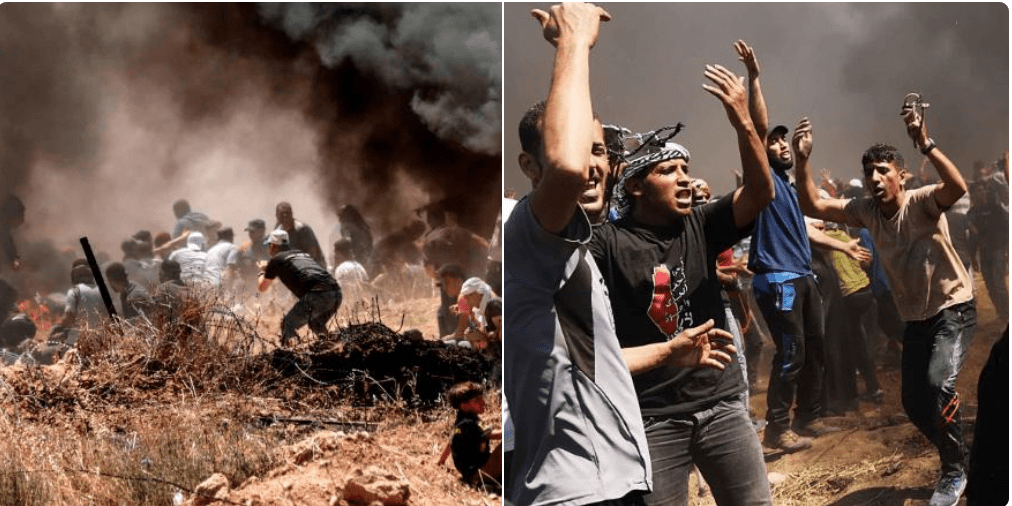 Death toll rises to at least 52 people during clashes along the border fence between Israel and Gaza, Palestinian Arab officials say. More than 2,400 people have been injured. Follow live updates….
The IDF DID NOT open fire on protestors in Gaza today, as the lying MSM is claiming The IDF did open fire on invaders to protect Israel's sovereignty from Hamas terrorists.
The call for an attack on the new embassy is just the latest escalation by hostile Islamic states and leaders who have lashed out at the United States and President Donald Trump for making good on a campaign promise to relocate the embassy from Tel Aviv to Israel's declared capital city of Jerusalem.
News of the bomb threat was first reported by the University Student News Network, a regional Farsi-language site that aggregates relevant news briefs.
ZEITOUN, Gaza Strip — Israeli soldiers on Monday killed 52 Palestinians demonstrating along the border fence between Israel and the Gaza Strip and wounded more than 2,400 in the bloodiest day in the enclave since the 2014 war with Israel, according to the Gaza Health Ministry. (WaPo)
Pali-Arabs prepare to bury their dead after day of bloody protests saw 58 killed by Israeli forces 'including baby who breathed in tear gas'
Dozens were killed in a day of bloodshed along the Gaza border on Monday
More than 35,000 protested opening of new American embassy in Jerusalem
Palestinians are preparing to bury their dead today during a day of funerals
It comes amid Palestinian claims a baby had died after inhaling tear gas
Via Vlad Tepes:
For the moment, The Guardian has a video:
BBC: Gaza clashes: Dozens killed as US opens Jerusalem embassy
BBC does full on propaganda for Gazans who are attacking in numbers with projectiles and fire, on the Israeli border. But listen to her opening paragraphs.
This is interesting:
Mike Pampeo @SecOfState70
Liberals are more upset about 52 Palestinian terrorists killed than 4 Americans killed in Benghazi.
Let that sink in.