"Fear Of Islam Must Not Drive US Foreign Policy"
-The Hill
So Love of Islam should instead? Islam Drives Jihad. Once we accept that, this article by a Muslim (Huma Yasin) would be seen as the Enemy Propaganda it is. Imagine this article in WW2, "Fear of Nazism Must Not Drive US Foreign Policy."
Is fear  a vice,  a kind of wrongdoing, rather than a natural reaction to a genuine threat that must be met with prudent resistance? The implication of Yasin's article is that there is no jihad threat, and thus no need for U.S. officials to try to protect Americans from that threat. If her words were heeded, the global jihad would be able to advance unopposed and unimpeded. The Hill is extremely irresponsible to publish such an article, even with its hollow disclaimer.
Imam says he wants to make Austria an Islamic State and introduce Sharia law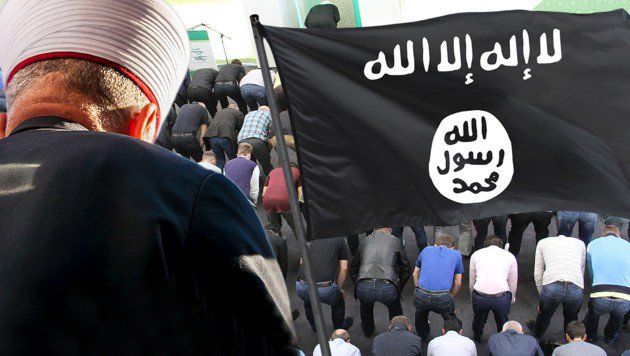 An imam of Vienna's As-Sunnah mosque has called to establish an Islamic State and wants to introduce Sharia Law on Austrian territory, Austria's Kronen Zeitung reports.
Anne Marie Waters:
Sweden: Muslim leader says "We are in Sweden only to spread Islam….Sweden will be a Muslim country"
"SWEDEN'S Muslim: 'Our mission is to make Sweden Muslim,'" Save My Sweden, May 1, 2018:
The young Muslims who listened to Dominic Driman were educated in the basic idea of ​​Islam: spreading religion everywhere. It is, according to Driman himself, the only reason why humans exist.
And to the young Muslims in Sweden, the call was clear. They must first organize themselves to make the Rock, otherwise known as Sweden, an Islamic country.
A film was posted on Young Muslims on the Facebook page of the Rock, but soon it was taken down. Thanks to the Swedes, the newspaper Svegot has received it.
Sweden: After getting permission in one city, Muslims now plan to broadcast call to prayer all over the country
 While a clear majority of Swedes are against broadcasting the Call to Prayer, Muslims now seem to want them all over the country, Fria Tider reports. Avdi Islami, spokesman of Växjö's Muslim Foundation, explains that he wants more mosques to do the same as in Växjö and apply for permission for prayer calls,
so that the Muslim message can be heard across the country.
Sweden to reconsider not studying relation between migration and crime after "high demand" for data
Two studies in Sweden, one by a mainstream newspaper, have already found that the vast majority of gang rape convicts are Muslim migrants. It does not stop there:
Despite the mess that Sweden is in, there is a sense of surrender in the country. The Swedish people are progressively being subjugated.
"Sweden To Reconsider Not Studying Relation Between Migration and Crime Following 'High Demand,'"
Muslims have a serious Islamophobia problem.
Either there's something wrong with Muslims in America. Or with the idea of Islamophobia.
Fear of "Islamophobes" drives Britain's immigration policy:
Tore Rasmussen had been detained at Gatwick Airport, London, because British authorities believed his views represented a "serious threat" to the UK.
 I am currently detained at Gatwick airport and have been refused entry to the UK. According to the Home Office, I "share values which do not commensurate with UK society" which is newspeak for
"You reject Multiculturalism".
Unexpected support for our cause: