The Dutch police said the strike was a "deliberate action" and revealed a manhunt was underway after a suspect managed to escape the scene.
Just last week, an Amsterdam building housing two other publications, the Panorama and Nieuwe Revu, was attacked with a rocket launcher.
Nothing-to-do-with-Islam, as usual….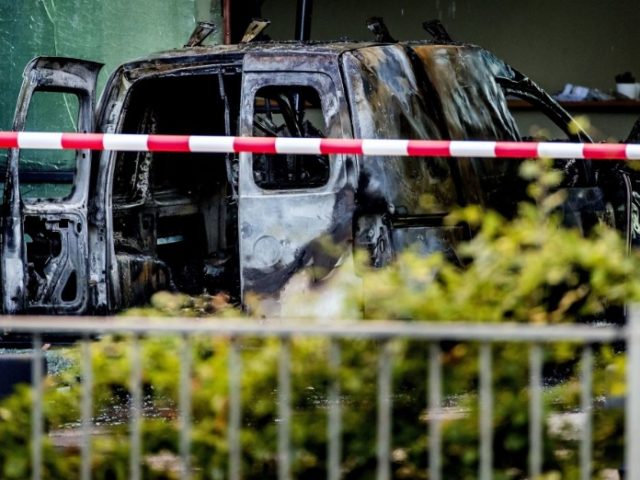 A van was driven into the offices of a "right-wing" Dutch newspaper in Amsterdam Tuesday morning, bursting into flames and causing significant damage in what is being called an attack on the news organisation.
De Telegraaf, the publication targeting at around 4:00 am on Tuesday morning, described the incident as an "attack" in their coverage.
Security footage of the attack released by the newspaper shows the van driving into the glass wall at speed, but only causing limited damage.
The driver of the van then appears to reverse the truck away to make another attempt to ram the building, stalling the vehicle in the process. After his second attempt to ram the vehicle through into the building, the driver disembarks, wearing a heavy hooded coat and carrying a plastic bag. Igniting some form of explosive in the back of the truck, the man then flees on foot. No arrests have been made.
No one was injured but flames reportedly rose to 50 feet high and there is "considerable" damage to the building which houses the country's best selling paper.
Writing on Twitter, Prime Minister Mark Rutte said the "attack" was "a slap in the face for the free press and Dutch democracy".
Editor-in-Chief Paul Jansen commented: "Everything points to an attack. We will not let ourselves be intimidated."
The local fire service fought a fierce blaze and brought it under control fairly quickly.
The publication took extra security measures after the massacre at the Charlie Hebdomagazine in France in 2015, perpetrated by Islamic extremists. Thick glass on the building and concrete blocks were credited with helping protect the building on Tuesday.
"There are large heavy concrete flower boxes in front of the facade. Only if you really want to, can you get to the door," Deputy Editor Wim Hoogland explained.
The paper, which has a conservative and populist style, has previously published images of the Islamic prophet Mohammed after the Danish cartoon scandal and received a bomb threat in 2006 after doing so.
"It is clear that we do not have friends everywhere. We will have to wait and see what the investigation of the police shows, but we will continue to do our work," added Mr Jansen.
He continued: "Since we do not know who the messenger is, we do not know what the message is. It is clear that we continue with our important journalistic work."
Just last week, an Amsterdam building housing two other publications, the Panorama and Nieuwe Revu, was attacked with a rocket launcher. A 41-year-old man was arrested for that attack, in which no one was injured.