EUSSR Calls on Member States to Cough up For 'Africa Trust Fund'
WTF came up with the idea that Europeans have to accommodate unlimited numbers of African & Mohammedan savages & pay for their upkeep?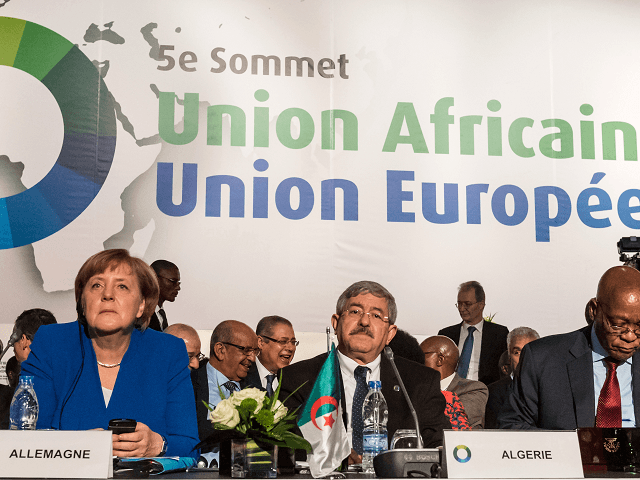 BRUSSELS (AP) – European Union foreign policy chief Federica Mogherini is urging EU member countries to put more money into an Africa trust fund as the bloc looks to set up migrant screening centers outside Europe.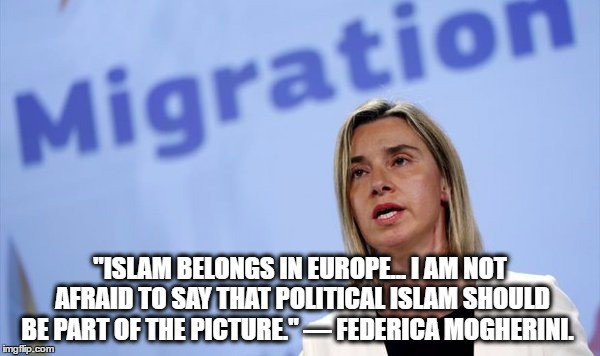 Mogherini said Monday that the fund "has proven to be useful, it has brought results and this is why we are asking for more money from member states."EU leaders are set later this week to greenlight plans to screen migrants for eligibility as asylum-seekers at centers in countries including Algeria, Egypt, Libya, Morocco, Niger and Tunisia.
The plans mirror a deal that the EU clinched with Turkey in 2015 aimed at encouraging Ankara to stop refugees setting out for the Greek islands. That deal has cost more than 3 billion euros ($3.5 billion).
Europe wants to outsource asylum processing. Critics say it's abdicating its responsibilities.
When was it decided that white Europeans had an unlimited obligation to host culturally-unassimilable savages from the 3rd world in their countries and expropriate the wealth of their own  citizens in order to subsidize those people's lives (and sky-high birthrates)? Rot in hell, seriously. This is not the responsibility of Europeans, Canadians, Australians and Americans. What about our own poor and unemployed?
.
ROME — Europe's splintered leaders proved during an intense summit this week that they could still unify behind one big idea: pushing this continent's migration challenges farther from its shores.
In an agreement reached Friday, the European Union's members said they would explore ways to build new centers, probably in Africa, where migrants could be screened for asylum — and from where only legitimate refugees might move on to Europe.
The idea echoes discussions elsewhere in the developed world, including in the United States, on how to outsource the contentious asylum process and cut down on the flow of arrivals. In Europe's case, the proposal also broadens an existing strategy of using African countries as partners that are willing to crack down on smugglers and intercept migrant vessels.
The European Union says the processing centers would reduce the number of people who attempt to cross the deadly Mediterranean Sea and would better enable a triaging of the crisis — separating the neediest refugees from migrants seeking economic opportunities. Remote vetting would also let the E.U. avoid the quandary of what to do with migrants whose asylum applications are denied but who come from counties with which Europe doesn't have deportation agreements.
But critics, including some politicians and analysts, say that Europe risks abdicating its responsibility at a time when migrant flows are drastically reduced from their 2015 peak, and that it would be inviting additional challenges with facilities hosted by poorer and less-stable countries, where people — including minors — could languish in unsafe conditions.
"Europe is really rolling the dice," said Jill Goldenziel, an associate professor at the Marine Corps University, who is writing a book on the global migration crisis. "Europe would be required to maintain its own standards. It is incredibly hard to guarantee that, and particularly hard in a place like Libya or other developing countries that don't adhere to the same human rights standards."
In recent weeks, U.S. and Mexican officials have been discussing a somewhat different "safe third country" agreement, which could require Central American migrants crossing through Mexico to apply for settlement there and allow the United States to send back asylum seekers who do not do so. The United States and Canada have a similar agreement in place.
That would benefit the Trump administration by shrinking the number of Central American asylum seekers applying to live in the United States, but it remains unclear whether Mexican officials will embrace such a plan or whether they intend to use it as leverage in the ongoing trade talks with Washington.
Australia, meanwhile, has relied on a widely criticized strategy of holding asylum seekers in prisonlike detention centers on remote islands. At those centers, thousands of asylum seekers have been detained for years, and some have committed suicide.
The E.U. migration deal, which also calls for the creation of processing centers within Europe hosted by volunteer countries, offers few specifics about how the new system would work.
"This is, in fact, the easiest part of the task," European Council President Donald Tusk said Friday of the agreement, "compared to what awaits us on the ground when we start implementing it."
.
The E.U. said centers in outside countries would operate in "full respect of international law," but it did not address how and where refugees would be resettled — a point of tension, because some countries in the bloc have refused to accept them, and swift handling of asylum seekers is necessary to prevent a backlog.
One key requirement, experts said, would be that the facilities have cooperation from outside monitors, including the International Organization for Migration and the United Nations' refu­gee agency. In a joint letter Friday, the groups said that any reception centers must be "adequate, safe and dignified."
Goldenziel said that although it is legal under international law to process asylum claims in one country before transferring successful applicants to another country, any resulting mistreatment of migrants — and the possibility that they might be sent back to places where their lives were endangered or they might be tortured — could raise challenges in the European Court of Human Rights.
Others have criticized the idea of the facilities on moral grounds. Gabi Zimmer, a member of the European Parliament and of Germany's left-wing Die Linke party, said that the "E.U. is transferring its humanitarian responsibility onto other countries."
The E.U. has gravitated to Africa in part because it has struggled to forge delicate agreements among its members about how to share the burden of asylum seekers once they arrive. Hungary's anti-migrant leader, Viktor Orban, suggested two years ago that the E.U. should set up a "giant refugee city" in Libya to process asylum seekers as a way to keep the continent's borders under "total control." French President Emmanuel Macron has also been an advocate of the processing centers, saying last summer that if migrants were dealt with in Libya, they would avoid "taking crazy risks when they are not all eligible for asylum."
"It's the failure to reach key agreements [within Europe] that is driving this alternative agreement," said Frank Mc Namara, an analyst at the Brussels-based European Policy Center.
As of Friday, no third country had offered to host the migrant reception centers, and at least two had rejected the idea outright.
On Thursday, Morocco's foreign minister, Nasser Bourita, told reporters after meeting with his Spanish counterpart that such outsourcing of reception centers by the E.U. would be "counterproductive." He criticized the proposed measures as "easy solutions" and said Morocco had always turned down that kind of approach to managing the flows of migrants.
If Morocco stands by its decision, it immediately throws a wrench into the E.U. effort to stop migrants from leaving North Africa's shores. Morocco is becoming a key waypoint for migrants, who have increasingly moved westward in their route across the Mediterranean.
Tunisia, another country viewed by the E.U. as a possible host for migrant centers, has also reportedly rejected the idea. Tahar Cherif, Tunisia's ambassador to the E.U., told the Guardian newspaper that his country had dismissed a similar proposal a few months earlier. Tunisia, he said, has "neither the capacity nor the means to organize these detention centers." The country, he said, is grappling with high unemployment and other economic woes, as well as the spillover from the civil war in neighboring Libya.
France, one of the key proponents of the E.U. migration deal, considers Libya an ideal location for the processing centers, since it remains the primary migrant launchpad to Europe. But human rights groups and nongovernmental organizations have long criticized the E.U.'s policy of supporting the Libyan coast guard, which intercepts migrants' boats and returns people to Libyan shores, where they are often warehoused in decrepit, overcrowded detention centers and face exploitation and violence. The E.U. said Friday that it would "step up its support" for the Libyan coast guard and other parts of the country.
Karline Kleijer, emergency program manager for Doctors Without Borders, said in a statement Friday that the E.U.'s goal was to "block people at the doorstep of Europe."
"They attempt to pay off countries to do their dirty work, while seeking to ensure there are no inconvenient witnesses," she said.
Last weekend alone, some 2,000 people were returned to Libya by its coast guard, the charity said.
Raghavan reported from Cairo. Joshua Partlow in Mexico City, James McAuley in Paris and Luisa Beck in Berlin contributed to this report.
Read more
The retreat of rescue ships from the Mediterranean is a sign of changing odds for migrants
Abuse of migrants is becoming systematic in Libya
Five myths about refugees and migrants
Today's coverage from Post correspondents around the world
Like Washington Post World on Facebook and stay updated on foreign news