Euro Human Rights Judges 'Will Block UK Plans to Waive Death Penalty Protection for ISIS Torturers'
– They aren't UK citizens or even citizens of another EU country
– They aren't in the UK
– Their crimes weren't committed in the UK
– They aren't being held by the UK
– They killed American citizens abroad in one of the most gruesome manners possible
Why does the EU care so much about foreign criminals, and not just ordinary criminals, but the worst sort. Do they want to give them asylum?
Leftists, Senior Tories Fight to Save ISIS Killers from Execution, Despite Public Support for Death Penalty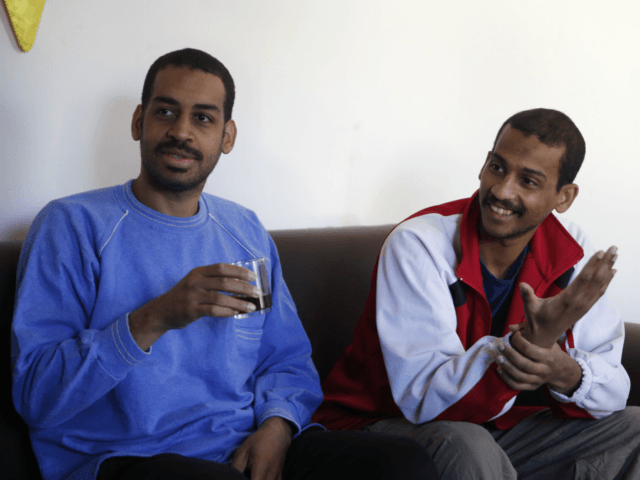 European Court of Human Rights judges would almost certainly rule plans to not block the death penalty for Islamic State terror suspects unlawful and could order Britain to pay damages to the alleged 'Beatles' members, experts have said.
A letter from the Home Office to the U.S. Attorney-General, which was leaked to the media last week, prompted outcry from self-proclaimed human rights campaigners who noted Home Secretary Sajid Javid said Britain would not demand a 'no death penalty' assurance in the cases of Alexanda Kotey and El Shafee El-Sheikh.
On Thursday, it was revealed that Britain has since been forced to pause intelligence-sharing with the U.S. regarding the two remaining members of the so-called Beatles — a terror cell accused of beheading Western hostages — after El-Sheikh's mother launched legal action against the Home Office.
According to Gareth Peirce, the human rights lawyer representing the complainant, Mr Javid's decision not to seek extradition for the two men — who were stripped of their British citizenship earlier this year — so they can face trial in Britain, is illegal.
While the suspension was described by the Home Office as "only a very short-term promise" pending a judicial review, legal experts told The Telegraph that even if British justices say Britain is entitled to allow Kotey and El-Sheikh be tried in the U.S., the decision is almost certain to be struck down by the European Court of Human Rights (ECHR).
Related:
Plans to end European Court of Human Rights' jurisdiction over Britain have been scrapped in the Tory manifesto. 
UN International Criminal Tribunals judge and former UN Special Rapporteur on Counter-Terrorism and Human Rights, Ben Emmerson QC, told the newspaper that Mr Javid's decision "is in the clearest possible breach of the European Convention on Human Rights".
"The Home Secretary's decision in this case is subject to a general provision of that statute that makes it unlawful for a minister to take a decision that is incompatible with the Convention rights," noted the London-based lawyer.
Human rights barrister Ben Keith added: "If the High Court was to  refuse to hear or dismiss the challenge, European proceedings could follow quite quickly, in a matter of months."
"To my knowledge the US has never failed to give assurances to Britain over the death penalty when asked," he told The Telegraph. "It is bizarre, surreal they have not been asked to provide them."
The ECHR has previous form in demanding that liberal standards of justice be upheld for terror suspects, in 2010 overturning a High Court decision made in Britain relating to Iraqis accused of murdering two soldiers.
Britain was ordered to pay damages to Faisal al-Saadoon and Khalef Hussain Mufdhi after the court in Strasbourg ruled that Britain had violated the human rights of the pair by putting them "at real risk of being subjected to an unfair trial followed by execution by hanging" when they were handed over to Iraqi authorities.
The European Convention on Human Rights and associated European Court of Human Rights are technically not European Union (EU) institutions, being associated with the older, larger intergovernmental Council of Europe.
This point is often stressed by EU loyalists after the European Court of Human Rights has handed down a ruling in favour of a terrorist, murder, child abuser, or other dangerous criminals, but "it is in practice not possible [to leave the ECHR and remain in the EU]" — at least according to Lord Falconer, who was asked about the relationship between the two as constitution minister in 2006.
"I say 'in practice' because the EU has made it clear that they expect all members to adhere to the ECHR. Indeed we make it a condition as a European Union before anybody who is new joins in …. to all intents and purposes, I believe it is not possible to be a member of the EU and to have left or denounced the ECHR," he explained.
Indeed, a guarantee to remain subject to the ECHR is one of many concessions Prime Minister Theresa May has made to the EU in her ultra-soft Chequers plan for Brexit.