France: How muslims establish dominance
Third night of riots after France police shooting
Update:
This is a pattern in France. When police act to enforce the law, violent riots (largely Muslim) break out. A similar incident took place in 2005, which set off an intense wave of violence and car burnings. This attrition and low grade civil war ebbs and flows, but it has remained a consistent terror of French life. (Pamela Geller)
Dozens of cars and several buildings were set alight Friday in a third night of rioting in western France over the fatal police shooting of a young man, the latest flare-up of tension between police and youths in poor suburbs with large immigrant populations.
Fifty-two cars were torched overnight in Nantes, including the mayor's personal vehicle, and eight buildings were damaged by fire or vandalism, including a bar in a shopping centre which was destroyed by arson, officials said.
More below the fold…
Update:
Macron Muzzles the Media
.
France: Macron plans to tax halal food and pilgrimages to Mecca, and to integrate Muslims based on French principles
Robert Spencer
The taxes will lead to complaints of "Islamophobia" and possibly to increased rioting. The Muslims in France are almost certain to reject any French government plan to bring Islam in line with French principles. This is because the French government is not Muslim. Would Christians accept the dictates of a commission established by an Islamic government that presumed to dictate what Christianity was and was not? Of course not, and in this case, the unlikelihood of Macron's plan succeeding is compounded by the fact that the Qur'an calls Muslims "the best of people produced for mankind, enjoining what is right and forbidding what is wrong" (3:110), while the unbelievers are "the most vile of created beings" (98:6). Should the best of people, who know what is right and wrong, accept dictation from the most vile of created beings? As I show in my new book The History of Jihad From Muhammad to ISIS, there is scant historical precedent for this.
"Le Monde publishes Macron's plan to reform Islam in France," ANSAmed, July 5, 2018 (thanks to The Religion of Peace):
(ANSAmed) – PARIS, JULY 5 – A confidential statement to French President Emmanuel Macron by one of his closest collaborators and published Thursday by French daily Le Monde outlines a plan to regulate Islam by making financing transparent and better integrating the community based on the principles of French social and economic life.
The plan was drawn up by Macron collaborator Hakim El Karoui, and provides for the creation of an association managed by French Muslims that will train and pay the imams, remodel the mosques and manage communication.
It will be financed by a tax on halal food products and on pilgrimages to Mecca…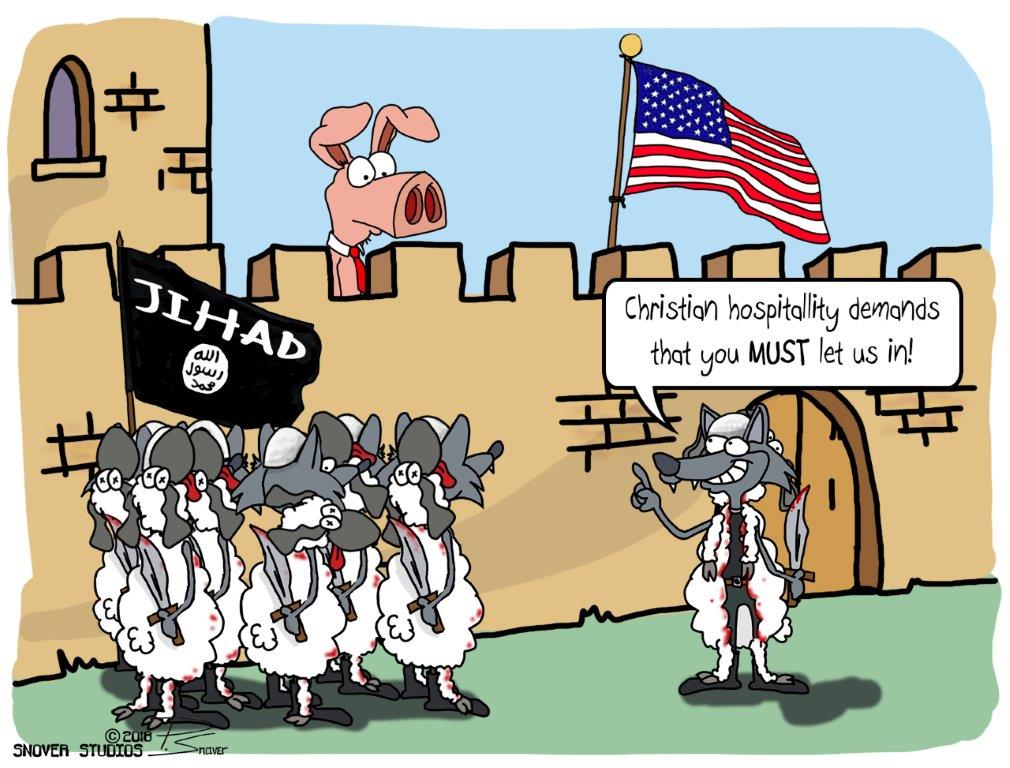 Continued:
There were also arson attempts on a high school and a petrol station, but no injuries were reported and the violence subsided at around 6:00 am (0400 GMT).
Four people were taken in by police including a 14-year-old found with a petrol can and matches, and as on previous nights a police van was struck with a molotov cocktail.
There have been more than a dozen arrests over the riots, including one in the Paris suburb of Garges-les-Gonesse where the slain 22-year-old grew up, after youths threw Molotov cocktails at police and set dumpsters alight early Thursday.
On Thursday evening, around 1,000 people marched in Nantes calling for "justice for Abou" and demanding that the circumstances of his death be revealed.
Prime Minister Edouard Philippe visited Nantes and condemned the riots, promising "the fullest transparency" about the man's death.
Interior Minister Gerard Collomb said the government would do everything in its power "to calm the situation … it is our duty to restore calm to Nantes, as we wish to do countrywide."
Aboubakar F. was under surveillance as part of a drug-trafficking investigation when he was stopped by police on Tuesday.
He was also wanted for robbery and other offences.
Police in Nantes said he was not carrying ID, gave a false name, and they attempted to arrest him.
Nantes prosecutor Pierre Sennes said the driver then "apparently tried to escape the search by quickly reversing".
Police sources said he drove into one of the officers, prompting his partner to open fire — but a witness said the car was halted when the driver was hit in the neck by a single bullet.
The officer who fired the shot has been detained by a police oversight body, the IGPN, which is investigating the killing.
Sennes said he was being held on suspicion of "voluntary violence by a person in authority leading to unintentional death".