No female should ever be tasked to represent Australia in an Islamic environment. This ignorant fool eagerly tries to  get with the program by wearing the chador, the  dreadful shrouds of Islam.
Embarrassing.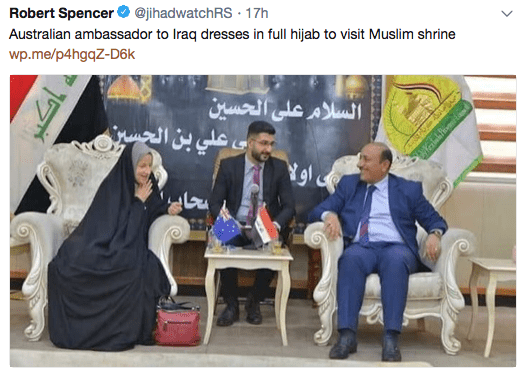 This is presented as respect, but it looks like submission.
"Iraqi ambassador visits Karbala (photo)," translated from "بالعباءة العراقية السفيرة الاسترالية تزور كربلاء (صورة)," Non14.net, July 26, 2018:
The Ambassador of Australia to Iraq (Dr Joanne Loundes) visited the holy city of Najaf today. She met with the President of the Governorate Council.
She expressed Australia's readiness to support humanitarian causes and support the restoration of stability in the region. Her visit was to explore opportunities that could contribute to economic and educational development, cooperation in livestock development, agriculture, the possibility of academic cooperation and sending scholarships to Australia.