Czech PM calls for no illegal migrants in Europe ahead of visit to Italy
Billionaire Czech PM Andrej Babis.
.
Billionaire Czech Prime Minister Andrej Babis said on Monday August 27th that a comprehensive action plan is necessary to stop illegal migration, which he will address on a visit to Italy and Malta this week.
.
"If Italy and Malta won't welcome (the migrants), then Spain will. And so we're sending the message to migrants that it's possible to come to Europe, from Morocco via Spain," Babis wrote in an opinion piece in the Czech broadsheet daily DNES.
"This has to stop. Otherwise we'll never stop the migrant influx," added the businessman and head of the populist ANO movement. "I plan to discuss this with EU leaders and take part in implementing a comprehensive action plan."
Continued below the fold…
Salvini 'ready' for arrest over detention of Invaders!
Italy's Deputy PM, Matteo Salvini, refuses to allow SOROS & the EU to DESTROY Italy: "I am proud if you want to question me & ARREST me because I defend the borders & security of my country, and welcome you with open arms"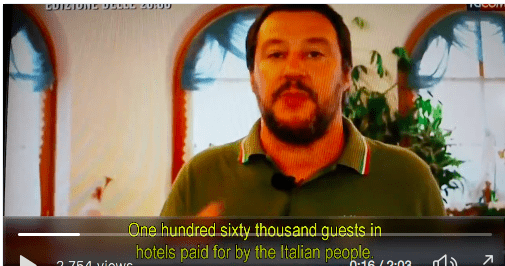 The Czech premier's visit to Italy and Malta will coincide with that of Hungarian counterpart Viktor Orban, who maintains the same hard line on illegal migration.
"I want to discuss the issue with my partners in Italy and Malta and of course also with German Chancellor Angela Merkel, who recently negotiated with Spain," Babis said.
"We need to begin cooperating in a serious way to find a solution because we needlessly lost three years to an inane debate on migrant quotas."
Migration is a hot political issue in the Czech Republic, an EU and NATO member of 10.6 million people where just a handful of refugees have settled since the migrant crisis of 2015. Babis reiterated Monday that the Czech Republic would welcome "no illegal migrants".
"It's a key move, a symbol and a message to migrants and migrant smugglers that it's pointless to take a boat destined for Europe," Babis said.
Last month Babis said Italy's request that EU peers take some of 450 migrants stranded at sea was "a road to hell".
READ MORE: Italy lets migrants off stranded boat as deal reached
READ MORE: Four suspected people smugglers among migrants rescued by Italian coastguard