This is an awful story about how a twisted kid got a dose of too much Islam.  But why is no one checking out his mosque, his imam, his companions?
….it was a distortion of Islam that, according to police, Johnson believed had showed him how to make war on unbelievers. And a voice he believed was Allah calling for it …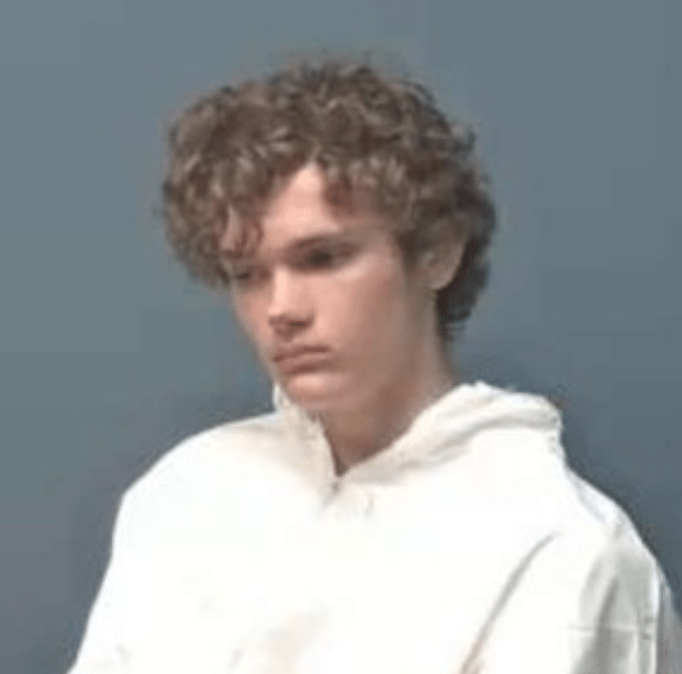 "My name is Mustafa," the 17-year-old boy wrote in purple crayon from his holding cell. "Or Corey Johnson."
Johnson sat in the Palm Beach Gardens police headquarters, his soiled clothes replaced by a white jail jumpsuit. He'd just been arrested on one count of first-degree murder and two counts of attempted murder.
Read the whole sordid story below the fold.
Italian Interior Minister Matteo Salvini has requested that the Tunisian government repatriate Tunisian migrants who arrived in Italy illegally. Meanwhile, leaders of the Italian Catholic Church publicly voiced their opposition to Mr. Salvini's migration policies.
In other news, Italian Interior Minister Matteo Salvini says that he will close all 148 illegal Roma squatters' camps within the next five years.  (From GoV)
(One of) todays 'nothing-to-do-with-Islam' events:
A 19-year-old "asylum seeker" injured three people with a knife in the centre of Ravensburg in the Lake Constance region.
The motive of the offender is still completely unclear in the evening, as the investigators emphasize. One excludes a terrorist background first, says a police spokesman.
Katie Hopkins to the OSCE: NGO Rescue Boats Are Part of the Business Model of the Trafficker
Thanks to the Gates of Vienna
Working Session 14: Humanitarian issues and other commitments, including combating trafficking in human beings
Intervention read by Katie Hopkins, representing Hopkins World
Many thanks to Vlad Tepes for uploading this video:
Below is the prepared text for Ms. Hopkins' intervention:
Johnson sat in the Palm Beach Gardens police headquarters, his soiled clothes replaced by a white jail jumpsuit. He'd just been arrested on one count of first-degree murder and two counts of attempted murder.
Not far away, a woman and her 13-year-old son lay in hospital beds, each slashed with a $7 knife. Back at their BallenIsles Country Club home, another 13-year-old lay dead in the loft, his body stabbed nearly 50 times and his throat slit.
What Johnson, now 18, had scrawled in his multipage note — part of more than 3,000 documents collected by prosecutors and obtained by The Palm Beach Post through a public-records inquiry — suggests that a teen from a broken home had found a calling in extremism.
In this case, it was a distortion of Islam that, according to police, Johnson believed had showed him how to make war on unbelievers. And a voice he believed was Allah calling for it.
The records include:
• Body-camera video of city police gingerly approaching a home that still contained an active killer.
• Written descriptions about how Johnson hid in a closet until police forced him out with shotgun-propelled bean bags and canisters of pepper spray.
• Written descriptions of images found on Johnson's cellphone, time-stamped fewer than 30 minutes before the attacks, of him holding the knife and of two of his three victims sleeping. Johnson's friend Kyle Bancroft, the only person in the house who was not stabbed, later would say he and Johnson watched instructional videos by terrorist groups about the best way to kill a man.
• A copy of a grocery-store receipt showing Johnson spent $13.47 on pitted dates and a fruit drink. And a utility knife.
• Videotape of Johnson being arrested, and of him talking to police, the sound muted because state public-records laws exempt confessions.
This story contains embedded social media content. If you don't see that content, please click here.
• An interview with family-law attorney Elaine Simon, the mom at whose Sunset Bay Lane home a sleepover had ended with white tile floors and closet doors spotted red with blood.
• Video interviews, blurred by prosecutors, with her son, Dane Bancroft, who said he stumbled onto Johnson's attack on his mom, only to have Johnson turn on him and stab him 30 times. The boy would lose a kidney.
• And video interviews with the parents of Jovanni Sierra, cut 49 times in the early hours of his 13th birthday. He'd died where he'd slept. Still in his pocket: birthday cash and a gift card. And on his cellphone, evidence that a half hour before he was murdered, he'd been awake and had watched a video that shows how tiny Earth is in the vastness of the universe.
Its title: "187 seconds that will make you question your entire existence."
The statement
Johnson's handwritten statement, from a boy at an age where most are trying to skip school or sneak a beer, justified murder as an act of service to a holy cause.
He wrote he was a prisoner of war, specifically in "the war that will not end until the day when every son of Adam will stand in fear of their Lord." He said the war was between mankind and unbelievers, and that it that had worsened in the past few decades.
He quoted Abu Musab al-Zarqawi, the jihadist who was infamous for his beheadings and bombings until he was killed by U.S. bombs in 2006 and referred to him as "our beloved"; Johnson said al-Zarqawi had declared that a "spark had been lit" in Iraq.
He praised a man who killed two French police officers in 2016, and another who, the year before, took hostages at a Paris-area Jewish supermarket, killing four of them. And the man who in May 2017 blew himself up, killing 22, as people left a Manchester, England, concert by Boca Raton-native Ariana Grande. 
Finally, he praised Treasure Coast security guard Omar Mateen, who in June 2016, gunned down 49 people at the Pulse night club in Orlando.
"I could go on and on about the various successful attacks on the crusader coalition," wrote Johnson, whose self-declared Arabic name of Mustafa means "chosen one."
Johnson also wrote: "I am being slandered from every facet of the controlled media, yet not one of them has even attempted to reach out to me to see my side of the story or why I really am here rather than just calling me a 'terrorist.' " At that point, reporters were not permitted access to him, since he was in juvenile custody.
Johnson would write that people who worshiped other gods than Allah "now are not even safe in their own homes, or in their own cities."
The end of the note is redacted, as were other parts of documents that appeared to feature confessions.
Reports do say Johnson confessed to police that he stabbed Jovanni after Dane said he and Jovanni had "made fun of" Johnson's professed Islamic faith.
Kyle said the FBI had visited him a week before the attacks to ask about Johnson, including his opinions on the Feb. 14 high school mass shooting in Parkland.
In a video interview, Kyle's mother told police the FBI wanted to talk to Kyle because the agency knew Kyle was Johnson's only friend. Agents wanted Kyle to tell them if he noticed anything that would be of interest.
FBI agents told her they had been working with Johnson's family for about a year and thought Johnson was going in a "positive direction," because he was going to a mosque where he was learning about Islam the right way, she said in the video.
As she tried to wean Kyle off his computer and away from Johnson's influence, Simon sent him to spend the summer with his grandparents in Massachusetts. They let him get a computer, on which he kept gaming with Johnson.
"He always found a way to get a computer," Simon said.
When Simon would talk to her older son about Johnson's extreme views, she said, he would tell her "Corey's Corey, and I'm me."
'We will kill every single infidel'
In his 17 years, Johnson already had moved halfway across the country, suffered through a parental divorce fight, lost his father to a drug overdose and withdrawn from William T. Dwyer High School.
His mother, part of a family with roots in northern Palm Beach County dating at least to the 1960s, had married a U.S. Marine in the St. Louis area. They separated in 2008, and the mother and three children returned to South Florida. In 2011, the father died of an overdose.
In 2014, when Johnson was 13, a fellow student at Jupiter's Independence Middle School complained to school police that he was stalking her on Instagram and Snapchat, asking her for sex, taking her picture with his cellphone and posing disturbing questions such as, "Can you stab me for free?"
A year later, Johnson's hostility toward Jews and gays and his claimed support for the Ku Klux Klan sparked another Palm Beach County school police investigation. While the Jupiter teen denied an affinity for the KKK, he said his Christian faith taught him Jews and gay men were condemned to hell and he had no use for them, an officer wrote.
In school, Johnson was described as having "violent tendencies" and spoke about places to put a bomb. In 2016, his younger sister told her teachers she had been sleeping with a pocketknife for protection.
Johnson previously had been investigated for instances of disturbing behavior on the internet as well.
Both local and federal authorities monitored his social media posts after threats on Instagram aimed at a Catholic school in England were traced to Johnson. In 2016, one threat read, "We have our sights set on you, and by Allah we will kill every single infidel student at this school #McAuleySchoolMassacre." Parents kept nearly 100 kids out of school as a precaution that day.
Both the FBI and a counterintelligence agency in Europe were ready to charge Johnson with the threats, court documents show. Just days before the stabbings, the FBI told local authorities that the arrest affidavits would "be coming in the next several weeks."
'I didn't like him'
Johnson's pivot point in the murders was Kyle Bancroft. He and Corey Johnson had been friends since preschool, and he previously stayed overnight at the Palm Beach Gardens home. It was Kyle who had invited Johnson to sleep over.
In a video, when a city detective asks Elaine Simon if she ever had reason to fear her son's friend, she says, without hesitation, "I didn't like him."
At one point, she texted Johnson's mother, saying, "Please keep your son away from my son," she tells a detective in the interview. Documents provided by prosecutors and police do not include interviews with Johnson's mother.
Simon explained she was trying to get Kyle to spend less time on his computer so that he could improve his social skills. She also tried to talk to him about God.
"I started feeling Corey's influence. He didn't want to go into 'There is a God,' " Simon told the detective.
She was excited when Kyle once went to a group gathering at Christ Fellowship. She thought it was a good step when Kyle and Johnson started going for long walks, getting away from computer screens, and when Johnson got a job at a Winn-Dixie store.
Kyle later would tell The Palm Beach Post Johnson was on antidepressants but had stopped taking them about a week before the attack. At the time, Kyle said, Johnson was estranged from his family and was sleeping in an abandoned office suite at North Beach Plaza on U.S. 1 in suburban Palm Beach Gardens.
Kyle would tell police Johnson had sympathized with white supremacists and Nazis in the past, but within the last year had begun to follow Islam. He said Johnson told him he prayed daily and used a floor mat, and he said he watched Johnson pray several times.
An officer at the scene of the stabbing is recorded by her body camera saying, "Corey's been trying to get Kyle to learn all about Allah, but he said he wasn't interested and knew of the knife but no other weapons."
Kyle said Islamic videos Johnson had showed him were about killing people and one described how to do it: first the abdomen to keep the victim from shouting, then the inner thigh to keep him from escaping, then the throat "as the final killing blow."
Dane was a seventh-grader at Watson B. Duncan Middle School in Palm Beach Gardens. So was Jovanni Sierra. On March 11, Sierra celebrated his 13th birthday a day early with a round of paintball with friends and then a meal at an Italian restaurant. At the eatery, he saw some other friends and asked his mother if they could join his party.
One was Corey Johnson.
'Commotion upstairs' 
Jovanni Sierra's mother, Karen Abreu, later told The Post she'd urged her son, "Please come home. It's your birthday tomorrow. I want to give you a hug and a kiss." She said he told her, "Mommy, I love you. I want to hang out with my friends."
The sleepover, she told police, was impromptu. Jovanni didn't have a change of clothes with him, but Dane had missed the paintball party earlier, so the boys wanted to keep having fun.
She woke up at 5:45 Monday morning and sent Jovanni a text message. When he didn't respond, she assumed he probably was still sleeping.
"I had him on my mind all morning. The cops came to my work around 10:30, and that's when I got the news. I couldn't believe it," she told a city detective in the video, taped soon after the murders. "I didn't even know Corey's name until we just found out the other day."
Dane would tell police that, at some point during the night, Johnson started watching "Islamic-type videos," Dane said. After 20 minutes, Dane said, Kyle asked Johnson to turn them off.
That night, Kyle said, Johnson had in his backpack a large knife he'd bought earlier in the day. Police would find a receipt for it.
Kyle said he went to sleep at about 1 a.m. Dane told police he and Jovanni had planned to stay up all night but that Dane fell asleep sometime near 3:30 a.m.
Simon told police she went to sleep downstairs at about 1:30 a.m. after working on business plans for a few hours following dinner with a friend, also at Downtown at the Gardens, where she knew her boys were.
On Jovanni's phone, police found he'd watched the earth-and-the-galaxy video at 4:43 a.m.
On Johnson's phone, police would find a photo, time-stamped at 5 a.m., of Johnson holding the knife. One at 5:05 a.m. of Dane asleep on an air mattress. And one at 5:18 of Jovanni asleep on the loft floor with his phone in his hand.
Simon would tell police she was awakened at about 5:45 a.m. "by commotion upstairs," where the boys' bedrooms were. She said she heard what sounded like Jovanni moaning and climbed the stairs to investigate.
She told detectives in the video that she asked what was going on and why they were so loud. Johnson came to the stairs and yelled, "Go back into your room! Go to sleep! Don't worry. I'll take care of them. Everyone will be going back to sleep."
She said she went back to her room, but she kept hearing moaning, louder this time. She ran upstairs to see what was wrong.
That, she said, is when Johnson lunged at her with the knife.
'Why are you doing this?'
In her video, made days after the attack, with a crutch alongside her and a healing gash in her forehead, Simon showed a police investigator how she said Johnson struck at her in strategic spots — chin, neck, chest and wrists.
"I was fighting him, (saying), 'Corey, stop. Why are you doing this? Why are you doing this?' "
She said he continued stabbing her, eventually knifing her foot and causing her to fall.
Johnson nearly was silent the whole time he was stabbing her, she said in the video.
"He would just look at me, stare at me," Simon said. "He was going to kill me. He wouldn't stop."
As she was being attacked, she said, Dane ran toward Johnson, who turned and began to stab him.
Dane would tell police he was awakened by his mother's shouts and ran out to see Johnson on top of her. He said Johnson chased him back to his room and said something — police redacted it — and that as Dane said, "Please don't hurt me," Johnson attacked him.
Johnson's back was to Elaine Simon, and she ran outside to the home of a neighbor, Art Brinker.
Brinker heard the doorbell. He told police, recording him in the street with a body camera, that he opened his door to find Simon "slouched over, bleeding from her head."
He told the detective, "She was in bad shape. Her forehead was dripping blood. Her chin was dripping blood. Her arms were bloody. Her legs were bloody."
Back in Simon's home, Dane left the room after Johnson had stopped stabbing him, tried to unlock his cellphone to call 911 but his fingers, slippery with blood, couldn't get traction, he told police. By then, Johnson had returned to the loft and started stabbing him again.
Dane's family later would say he underwent several surgeries, including the removal of a kidney and treatment of damage to his liver.
Dane said Johnson left again after the second stabbing attack, and Dane went to wake up Kyle.
Dane said he then went to a bedroom window and jumped from the second story to the ground. By then, he said, police already were there.
'He might have a knife'
In a police body-cam video, an officer talks to a person whose image is blurred but who clearly is Kyle. The boy says he doesn't know what happened. "I just heard yelling."
He says Johnson, who still is in the house, is a friend. An officer asks where Johnson lives. When Kyle hesitates, the officer says, "C'mon man. This is serious business. We don't need to play games today."
Kyle answers, "I'm not playing games."
An officer asks if police "should be afraid of any bombs or anything," Kyle says no. What about guns? No.
"Anything else?"
Kyle: "He might have a knife if he stabbed someone."
Later, in a report, Kyle said he was awakened by yelling. At first, he said, he thought the other boys were pulling a prank. He then realized it was officers shouting at him from inside the home. He saw a boy who he thought was his brother covered in blood. He went downstairs and encountered the officers, who handcuffed him.
Kyle told officers he'd overheard other officers saying Johnson had stabbed his brother and mother. He said he had assumed Jovanni had run away and called 911. He didn't know where Jovanni was.
On police body-cam video from the street outside, dawn lightens the sky as officers order people who've come out of their homes to return inside. In reports, officers said that as they entered the home, one heard what sounded like a gun being "racked," and the cops backed out until the SWAT team arrived and cleared the residence.
When police had approached the home, an officer looked in a window near the front door and saw Johnson lying face down on the floor, a knife in his right hand, a report said. Johnson had crawled backward and into a nearby closet when he saw police through a window, one officer reported.
After police sent a robot into the closet, Johnson threw out the knife. During the confrontation, officers fired two 12-gauge bean bag rounds and two pepper-spray rounds.
At one point, while he's in police custody but still at the scene, Johnson starts asking about Kyle, in an exchange recorded on a police body camera.
"Somebody finally tell me where Kyle is. I was willing to talk when I was in there," he said, meaning the house. "I just want to know where my friend is."
Inside, the officers found Jovanni. They could tell right away he was dead.
'Why would you hurt someone?'
In transcripts of police interviews, Johnson's responses are heavily blacked out because of the exemption for confessions. But it's not hard to read, literally, between the lines.
An officer asks if he'd stabbed the woman and her son. After the answer, the officer asks, "Was he 13?" That's the age of both Jovanni and Dane.
After the answer, the officer asks, "What did the kid do?"
Then, "Why would you hurt someone?"
A detective asks, "How long ago did you know you wanted to hurt some disbelievers?"
The detective also asked if the wounds to Jovanni's arms were defensive.
Among the items found on Johnson: a Winn-Dixie name tag, saying "Corey" and "Associate in Training."
The grocery chain confirmed he worked at a now-closed store in Jupiter. He'd been there for three weeks.