Unelected EU bureaucrats punish Hungary's majority government for being 'undemocratic'
Viktor Orban, Hungary's tough Prime Minister, has strongly opposed any compulsory EU long-term quota on redistribution of migrants. As such the EU voted to pursue unprecedented disciplinary action against Hungary over alleged 'breaches' of core values.

European Parliament votes to punish Hungary for "erosion of democracy"
A bloody joke. All the top kadres of the EUSSR are diehard commies. The EUSSR is a cartel of unelected globalist apparatchiks who think they have the right to dictate Hungarian values. Disgusting. None of them was ever democratically elected. Their "policies" are anti-democratic & destructive. Victor  Orban is a hero who deserves the Nobel Prize. Hungary defends  values that are conservative and Christian. Hungary defends its borders as is the right of every sovereign country. No amount of EU money is worth giving up Hungary's national identity. There was never an agreement that EU membership meant unlimited migration of millions of unassimilable African savages &  Islamisation of Europe.
(CNN)The European Parliament on Wednesday voted to punish Hungary for cracking down on democratic institutions, setting off a process that could ultimately lead to the suspension of the country's voting rights in the European Union.
This is preposterous. #Orbán got more than 50% of the vote at the last election. The #EU is an enemy of democracy. It ignores or overturns democratic votes that don't go its way. Its "core values" are totalitarian. The sooner it collapses the better.
It gets crazier every day: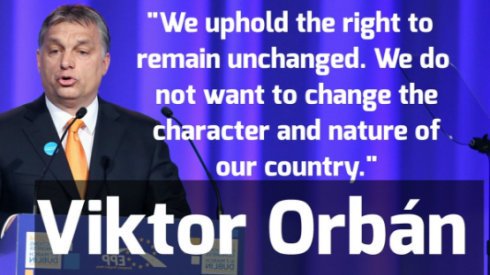 Viktor Orbán in the European Parliament: The EU is Blackmailing Hungary
Hungarian Prime Minister Viktor Orbán spoke at the European Parliament on Tuesday prior to the vote on whether Hungary would be sanctioned for refusing to agree to accept its share of "refugees". The vote went against Hungary, needless to say.
Below is a video of Mr. Orbán's remarks. The translation is in simultaneous voice-over, so that the Hungarian original can't be heard. However, our Hungarian translator CrossWare says: "The English translation must be correct, otherwise the Hungarian government would complain."
Many thanks to Vlad Tepes for uploading this video:
And here's a response by Nigel Farage, who vigorously supports Mr. Orbán:
After the vote Italian Interior Minister Matteo Salvini announced Italy's "absolute solidarity" with Hungarians. And Poland pledged to veto any sanctions against Hungary.