Mexico has always been brutal in enforcing their immigration laws against people from Central America….. until now.
 Why? Because they want this caravan of invaders to make it to the border. If they wanted to stop this caravan, they could.
Update:
Suspected explosive device found at George Soros' New York home   @GlobeBusiness
Just in case anyone buys the fifth column media's predictable spin that the Central American migrant caravan consists of benevolent victims of circumstance that America is obligated to take in rather than an arrogant invading army that uses babies instead of rifles for weapons, see how they have treated Mexican authorities for slightly impeding their march north:
Univision correspondent reports … If people all the way from Bangladesh are infiltrating the caravan, imagine who else could be too … ISIS? Gang Members ?
Who is providing food?  Transport? Shelter? Medical care? Security? I smell a Soros….
This is not a caravan coming into US, it is an invasion: Art Del Cueto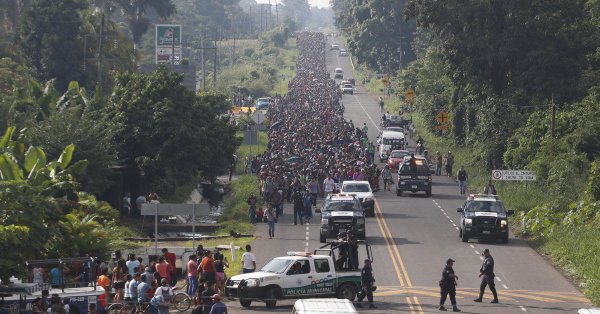 Louie Gohmert: Use anti-racketeering law to track down people funding Central American caravan
Rep. Louie Gohmert, R-Texas, said Attorney General Jeff Sessions should instruct the Justice Department to look into who is paying people to walk from Honduras north through Guatemala and Mexico.
Look no further than George Soros…
Thousands of young men who are waving foreign flags — and who have made highly disparaging remarks about the U.S. — are marching toward the U.S. border with the intent of illegally entering. What's that called again?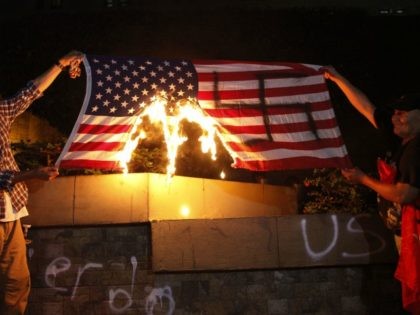 A photo from the Associated Press shows protesters burning an American flag with a swastika painted on it in support of the migrant caravan heading through Central America for the United States.
UK urged to take back Islamic State 'foreign fighters'
US-backed Syrian Democratic Forces  (Al Qaeda operatives) say they have captured 700 foreign fighters from more than 40 nations, including the UK.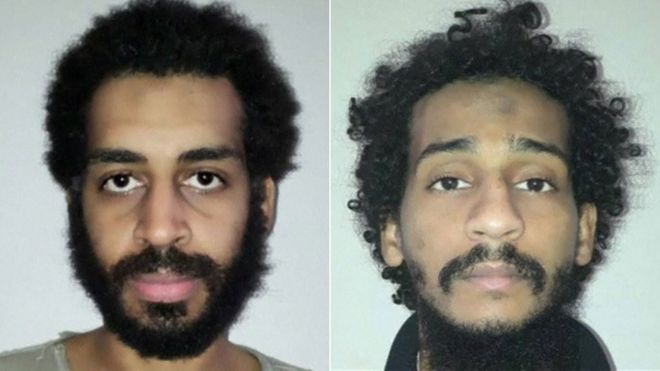 A senior US military commander has called on the UK to take back Islamic State fighters who have been "caught on the battlefield" in Syria.
Maj Gen Patrick Roberson, commander of US special ops, also called on the government to repatriate two Londoners who have been called the "IS Beatles".
The UK says El Shafee Elsheikh and Alexanda Kotey have been stripped of their British citizenship.
The government is negotiating for them to face trial in the US.
Read the whole thing below the fold.
Speaking to the BBC from a jail in Syria in August, Mr Elsheikh and Mr Kotey disputed the claim that they had been stripped of their British citizenship.
Asked whether Mr Elsheik and Mr Kotey should be repatriated to the UK, Gen Roberson told the BBC: "We would certainly like them to be."
He said the Syrian Democratic Forces (SDF) and the US were "working very hard to make sure that the countries of origin get these foreign terrorist fighters back into their custody".
So far only a handful have done that.
Gen Roberson admitted it was a decision for each country involved, but he added: "I think the SDF and us would certainly like them to be repatriated to where they came from."
He is the first senior US military officer to publicly call on the UK to take back its nationals and former nationals.
US-backed Syrian Democratic Forces say they have captured 700 foreign fighters from more than 40 nations, including the UK.
The SDF has not said how many are British – or former British nationals – but it is believed to be fewer than a dozen.
Mr Elsheikh and Mr Kotey, who were captured in January, are believed to be part of an IS cell which became known as "the Beatles' by their hostages because of their UK accents.
The two men were associated with another Briton, Mohammed Emwazi – also known as "Jihadi John".
He was seen in a number of high profile IS execution videos that showed the beheading of Western hostages, including US and British citizens.
Emwazi was killed in a US drone strike in Raqqa, Syria, in 2015.
The UK government has been in discussions with officials in Washington about sending the pair to the US to stand trial over their alleged involvement in the killing of a number of hostages.
If found guilty, they could face the death penalty.
Both men have questioned whether they could be stripped of their citizenship and tried in the US.
The comments of Gen Roberson suggest the US would prefer them to stand trial in the UK.
The mother of Mr Elsheikh has begun a legal challenge against the British government.
At a hearing at the High Court earlier this month, lawyers for the government confirmed that Mr Elsheikh had been stripped of his UK nationality in December 2014.
They have argued that there is insufficient evidence to prosecute him in the UK.
Mr Elsheikh's mother is challenging Home Secretary Sajid Javid's decision to share evidence with US authorities without seeking assurances the men would not face execution if they were extradited and tried there.